By Evanne Ní Chuilinn
In 2012, a TV network promotional video ahead of the London Paralympic Games dubbed the athletes, 'The Superhumans'. The video went viral, and that aura of inexplicable strength caught on. Four years later, "Burning the limits, making the impossible possible" was the slogan for RTÉ's 2016 promotional video. Now I understand why.
The Paralympic Games are like nothing I've ever reported on. I want to admit that I had a lump in my throat from the moment I saw the first swimmer walk on her stumps towards the pool. But that emotional reaction feels better left unsaid because it sounds flippant, and pitiful, and weak.
There is a fine line between respecting and patronising. These athletes don't want your sympathy. They don't want you to look at them on the track or at the range and see only their disability. To ask them if they are delighted just to be here is insulting, and to avoid asking why they didn't perform to their best is worse. Yes, there is a deep sense of injustice. Yes, there is guilt at not realising how lucky you are, and there is shame at perhaps not making the most of your own physical ability.
When Ailbhe Kelly lowered herself into the pool ahead of her freestyle heat on Day 1, that feeling of unfairness was overwhelming. She was the only swimmer who didn't start on the blocks, and so, as her competitors dove over her head and into the water, she was at an immediate disadvantage. Why? Because she was assigned an S8 classification based on how her arthrogryposis affects her swimming.
Not surprisingly, the backstroke is Kelly's strongest discipline, because everyone starts on a level playing field, in the pool. Did she quit freestyle? No. Did she complain? No. Was she too proud to chase her competitors home? No. Kelly came, she competed, she smiled, and she conquered that sense of injustice, Not for the first time and she's not the only one either.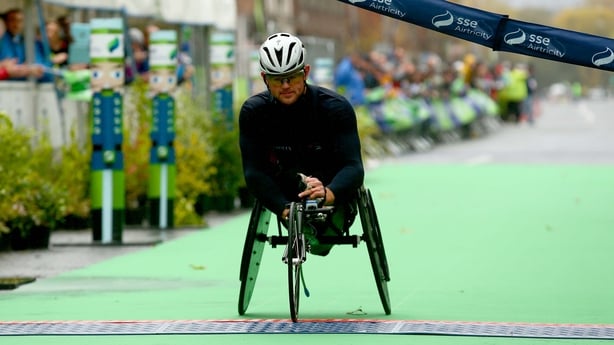 Jason Smyth, Michael McKillop, Ellen Keane, Catherine Walsh. These are household names, but what of Patrick Monahan who only started wheelchair racing when he was inspired by what he saw at the London Paralympics? The son of well-known Gaelic football referee Mick Monahan, Patrick was a sports mad teenager, and lived an active life until a devastating car accident changed his life forever. He was 21, and he never walked again.
43-year-old para-canoer Patrick O'Leary had to have a leg amputated five years ago for medical reasons. He has since finished fourth at the 2015 European Championships, and has made A finals at World and European Championships a staggering six times.
Dr Austin O'Carroll's mother was given thalidomide while she was pregnant, and he has been living with pain and disability since he was born. A long time sailor, he's making his Paralympic debut at 54 years of age.
Philip Eaglesham is a proud husband and Dad to three kids. He's 34, and his faculties are deteriorating with every passing month due to Q Fever – an airborne bacterial disease he contracted when on tour with the Royal Marines in Afghanistan. The mental strength that Eaglesham has had to conjure up is indescribable. Two years ago, he tried to take his own life.
Once a well-built marine, his physical condition changed utterly and he no longer recognised the man in the mirror. He grew a beard and wore a baseball cap, so that he wouldn't be known on the streets of his home town, Dungannon, Co. Tyrone.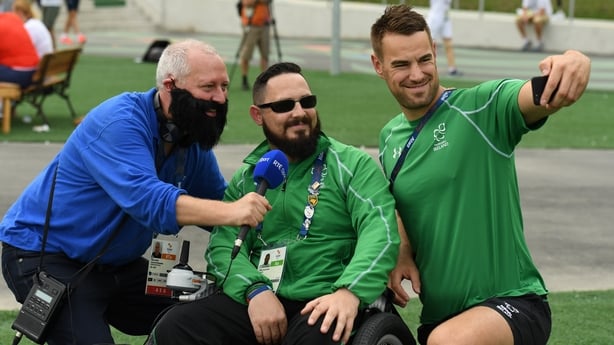 Eaglesham still sports that beard, and while it began as a disguise, the beard is a now a nod to those struggling with mental health. The hashtag #philsbeard is his outlet, and he wants to encourage people to join in the conversation. He took up the sport of shooting and it has helped him deal with the pain of mourning the life he had. Reading his story, it's not just dramatic click-bait to say that the Paralympics helped save his life.
There is a story behind every athlete; a story behind the sport, which has to be told to understand the sheer accomplishments of the athlete. There is a battle, both mental and physical, and they've won those battles before ever taking to the pool or the court or the ocean.
The Paralympics are not a postscript to the 'real' Olympics. Nor are they a politically correct tribute to those less fortunate than the world's able-bodied superstars. The irony is that para-athletes are the 'real' athletes. They push boundaries that able-bodied athletes don't even know are there.
The high performance preparation is on a par, if not superior. The gulf in class only becomes apparent when you consider the constant 'snámh in aghaidh easa' or uphill battle, that Kelly, Monahan, O'Leary, Eaglesham and their Irish team-mates are forced to go through, and feel privileged to do, in the name of realising a dream.
Next time you see a Paralympian from any nation break a world record, improve on a personal best, or simply cross a finish line; ask yourself if you lost a limb, or four, would you have the mental resolve, the unyielding ambition and the physical strength to recover, to rehab, to train and to qualify for the greatest expression of fitness, in all its guises, the world has ever known.
This really is, more than sport.