In Seoul, 1988, Roy Jones Junior was infamously cheated of an Olympic gold medal when he lost to local boxer Park Si-Hun, writes London 2012 Olympian Darren O'Neill.
Following the controversy AIBA changed the scoring system to a computer method that counted each landed punch.
In 2013, AIBA decided to revert to the old style and with it came back the unfair and unjust decisions as witnessed this week in Rio.
In my 20 years involved in competitive boxing I have witnessed, and suffered, many wrong doings and farcical decisions but never have I seen the likes of this.
Credit to the Brazilian crowd they were not afraid to voice their opinion and unfortunately they were left hissing decisions on numerous occasions this week.
Sitting at the commentary desk with Hugh Cahill I found us questioning our opinions after every round and questioning everything I know and love about our sport.
I consider myself to be quite fair in assessing boxing and a good judge of fights but on more than one occasion this week I was left flabbergasted at what unfolded in front of me.
The Roy Jones Jr. travesty has long since remained in the mind of boxing people and since then I have never witnessed such a mockery of athletes' efforts on the Olympic stage until this week's heavyweight Olympic final.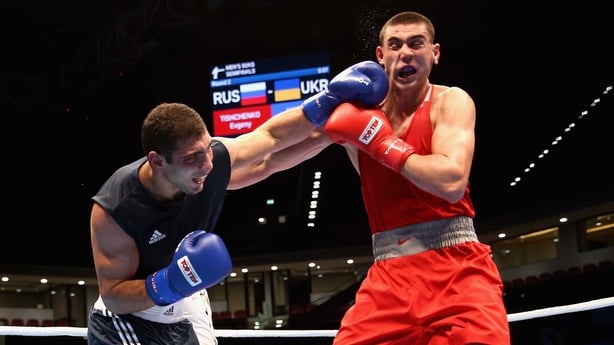 Monday night, Russia's Evgeny Tischenko, a boxer I have twice boxed, once beating and once narrowly losing to, was crowned Olympic heavyweight champion under the echoes of a large booing crowd that called poppycock. AIBA's new scoring system is based around five principles: dominance, technical superiority, competitiveness, infringement of the rules and clean scoring punches.
In a fight dominated from round one by his Kazakhstani opponent Tishchenko not only failed in all of these criteria but was beaten from rope to rope and looked in danger of being stopped in the final round.
With Kazakhstan's boxer pummeling Tishchenko in the final round, outrageously, the Russian was deemed by one judge to have won the last stanza. And with the final decision, Vasil Levitt joined Roy Jones Jr in boxers shamefully robbed of Olympic gold. Hokum!!
Monday's final for me was just the beginning of what feels like the result of a brain aneurysm and the beginning of a streak of decisions that seem like a vivid nightmare for our once glorious sport.
I witnessed Turkey's Gozgec batter Germany for nine minutes to have been deemed the loser of each round, Billy Walsh's US boxer Gary Russell outbox Uzbekistan to lose on a split decision, Kazakstan's Alimkhanuly beat up an Azerbaijani and again lose by a split and in our very own Michael Conlan outbox, outfight, outskill and outclass Russia's Nikitin to lose on every judge's card.
Michael Conlan irate after controversial loss. Watch here: https://t.co/Sg2KTSRTDS https://t.co/4fXhWtjbsK

— RTÉ Sport (@RTEsport) August 16, 2016
I can't verify what has happened in Rio or what happens at an AIBA level but Michael Conlan's post-fight interview sums up essentially what we all think and believe.
I have often been asked would I recommend Olympic boxing to my kids.
The answer was always yes but this week's outcomes and hullabaloo has me questioning our sport and questioning the reason why we dedicate our lives to ultimately suffer such outcomes.
Ireland's poor results will call for an inner review and AIBA's public fiascos and contemptible decisions will cause people to lose faith. I can't promise or predict what will transpire from these Olympics but I still thank my sport for the wonderful opportunities and gifts it has given me. Would I still recommend it for my kids? I think so - and the work being done around our country by the hundreds of selfless coaches is testament to our sport and its benefits.