Lewis Hamilton has started negotiations with Mercedes over a new deal.
The seven-time world champion indicated during the Silver Arrows' launch at Silverstone on Wednesday that he is "planning to stay a bit longer".
And Mercedes team principal Toto Wolff later revealed discussions over an extensions to Hamilton's £40 million-a-season deal (€45m), which expires at the end of the year, have begun.
"We have had a first chat, but I don't want to commit to any timeline," said Wolff.
"That is not important for him or for us. His current contract runs a full year and we will find the right time.
"We have done a few of these contracts in the past and it is not usually complex apart from the obvious terms."
Hamilton turned 38 last month with his next deal - which likely to be a multi-season contract - is set to carry him beyond his 40th birthday.
Wolff added: "The age plays no role for this next contract. If you look at how well top athletes have pushed the boundaries, and I am thinking about Tom Brady, who is 45 and has been on a pitch and being tackled.
"In terms of the contract, we have always found good solutions that reflect his value to the team, and the sport, and Mercedes is the place he wants to be. Nothing is dragging on, the alignment is great and this will be a journey that continues."
Our W14. 🖤❤️ What do you think Team.. 💭 pic.twitter.com/zfs4lt3Nlp

— Mercedes-AMG PETRONAS F1 Team (@MercedesAMGF1) February 15, 2023
Hamilton recorded his worst championship finishing position in F1 last year after the Silver Arrows failed to master the sport's new regulations.
But Wolff continued: "How he appears to me is in great form, very positive, motivated, energised, and maybe the best so far I have seen in those 10 years at Mercedes after the winter.
"He knows what he has with the team. We have won eight constructors' titles in a row, and we got it wrong last year. The resource and the capability is there and we just need to continue to develop like we have done last season.
"I don't think it plays on Lewis' mind, that he is in any doubt that the team can perform. We will. Eventually."
Earlier Hamilton said: "I have been here a long time. I continue to love racing and that is never ever going to change. It is part of my DNA and I always believe I can get better.
"I love the challenge of the mental and the physical elements, of having to deep dive, and see how I can extract more performance from me, the people around me, and the car that is constantly evolving.
"There is always a new log-book and new tools that you have to get used to, and I love that so I am planning to stay a little bit longer."
Meanwhile, Hamilton is set for a collision course with the FIA after telling Formula One's governing body that he will not be silenced.
The FIA has recently updated its rules to prevent drivers from making "political, religious or personal" remarks without prior approval.
Their controversial clampdown comes after drivers - including seven-time world champion Hamilton and the recently-retired Sebastian Vettel - have spoken out on issues such as racism, diversity and the environment in recent seasons.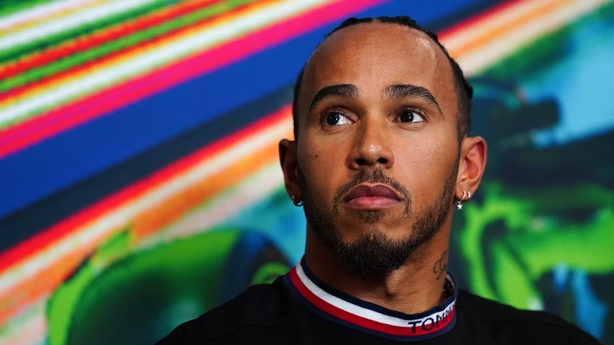 However, the sporting federation, and its under-fire president Mohammed ben Sulayem, has attracted a backlash for the new law, with a growing number of the grid venting their frustrations.
Earlier this week, McLaren's Lando Norris called for a U-turn and said F1 drivers should not be treated like school children.
Asked about the FIA's move to effectively gag the drivers, Hamilton, 38, said: "It doesn't surprise me.
"But nothing will stop me from speaking on the things that I am passionate about and the issues that there are.
"I feel the sport does have a responsibility to speak out on things and raise awareness on certain topics, particularly as we travel to all these places, so nothing changes for me."
Amid ongoing tensions between Formula One and the FIA, F1 boss Stefano Domenicali recently said he "will never put a gag on anyone". He also said he expected the FIA to clarify its position.
As it stands, Hamilton, who last season clashed with Ben Sulayem over the wearing of jewellery in the cockpit, would face a sanction from the FIA if he opposes its contentious rule.
"It would be silly to say that I would want to take penalty points for speaking out on things," added the Mercedes driver at the team's Silverstone launch.
"But I am still going to be speaking my mind. We have this platform and there are still a lot of things that we need to tackle.
"The support of Stefano has been amazing and all the drivers are very much aligned on freedom of speech."