Max Verstappen put down a marker as he set the pace in first practice ahead of his title showdown with Lewis Hamilton at the Abu Dhabi Grand Prix, before the reigning champion fought back in the afternoon to record the fastest lap of the day.
The pair are locked on 369.5 points heading into the season-ending race at the Yas Marina Circuit.
The Red Bull of Verstappen set the early bar at the altered track, posting a time of one minute 25.009 seconds to finish 0.346secs clear of Hamilton, who was third behind his Mercedes team-mate Valtteri Bottas in the morning session.
However the seven-time world champion was impressive in the second session, topping the timesheets with a lap of one minute 23.691 seconds, with Verstappen only able to set the fourth-fastest time, 0.641secs adrift.
Esteban Ocon was closest to Hamilton in second, still 0.343s off the pace, with the sister Mercedes of Bottas in third.
Red Bull boss Christian Horner has likened the Formula One title fight to Squid Game.
Red Bull and Mercedes are also still contesting the constructors' championship, although the latter hold a strong 28-point lead in that fight.
However, for the first time since 1974, two drivers enter the last race of a season neck-and-neck and, while Netflix have their own behind the scenes F1 series, Horner instead feels this year has played out like the hit South Korean show Squid Game, which saw competitors try and survive to win a huge cash prize.
"I think the mood is one of excitement," Horner said at a press conference alongside Mercedes counterpart Toto Wolff, a man with whom he has verbally sparred throughout the season.
"I think that the way we have fought the way we have pushed in this campaign, no-one has come close to challenging this team in the last eight years and here we are in the final race in with a shot, a long shot in the constructors and a equal shot with drivers.
"It has been tense, frustrating on occasions, we have pushed the limits, pushed each other and pushed our competitors and here we are at the final race for the showdown.
"It almost feels like Squid Game that we have ended up here on equal points."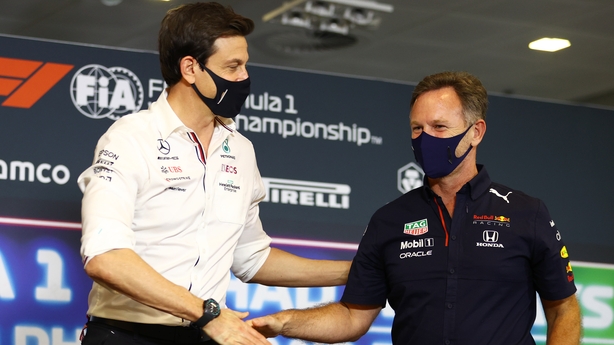 Wolff was magnanimous when asked if he had a message for Horner, the two team principals having exchanged barbs across a campaign fraught with tension.
"Good luck. May the best man and the best team win," he said.
"It is exciting, both teams have had their fair share of luck and bad luck and from where we sit it is that team and driver are both married to win.
"The journey so far has been very happy at at times, exuberant and very frustrating in different moments and to find each other here competing on equal points, it is good for spectators but also for us.
"It has pushed us to new limits, they (Red Bull) have done a formidable job this year and that is why it is all-in for this Sunday, whoever wins, deserves to win."
Horner also suggested that Verstappen has been on the receiving end of a narrative which has been pushed to suggest the Dutchman is a dangerous racer – claiming Hamilton has used "every tool available" to heap pressure on his title rival.
By virtue of winning more races this season, Verstappen would take the crown if neither driver finishes.
Verstappen's driving style has been widely criticised, including by Hamilton, who labelled his rival "f****** crazy" after an incident at the Saudi Arabian Grand Prix last weekend.
That has led to suggestions he could look to take Hamilton out of the race on Sunday to ensure his maiden world title, but Horner was bullish when asked if Verstappen – who was hit with two time penalties in Jeddah – is right to feel unfairly treated by race stewards and feels there has been an agenda to influence people against his driver.
"I think that on occasion he has been treated harshly, he has come under scrutiny that we haven't seen applied consistently with other incidents and he feels aggrieved by that," Horner said.
"I think the problem for Max is that the scrutiny is on him. He has the spotlight positioned on him, he is running at the front and competing against a seven-time world champion.
"He has had allegations about his driving, his driving style and driving standards – there has been a narrative pushed to put pressure on him. He has driven fantastically well all year.
"Lewis is a seven-time world champion, most successful of all time, has a standing within the sport. What he says carries a lot of weight.
"He has used every tool available to him to put Max under pressure this year, he is a competitive animal, you don't become a seven-time world champion without being a competitor like he is.
"I believe, aided by the Mercedes media machine, a huge amount of pressure had been placed on Max. He is a young lad who does it with bravery, passion, skill and determination.
"He is just a guy living his dream, doing his job but is up against not only Lewis but a huge machine in Mercedes-Benz, all credit to him for the way he has handled it this year and hasn't been drawn into it, he has just gone about it, hasn't changed from Bahrain to Saudi.
"This 'Mad Max' scenario, calling him crazy, there has been a very clear narrative."