This time last year the Formula One season - like most sporting organisations - was in limbo waiting for a schedule to be announced.
Here in Ireland we were motoring through our first national lockdown with season two of Netflix's Formula 1: Drive to Survive keeping half the country entertained. Fast forward a year, and we find ourselves in a similar position of lockdown, hooked on another dramatic season of the thrilling sports documentary.
One of the most alluring aspects of the high intensity viewing is the fully immersive exposure to the entire process of F1 racing together with the array of colourful personalities both on and off the track.
Yet, it was the cameo appearance of Patrick Harding with his unmistakable accent and rustic red beard deep into episode six that caught the attention of Irish viewers.
The 38-year old Laois man has been Alex Albon's performance coach for the last three years and has travelled to over a dozen countries with the 2020 Formula One Red Bull driver.
"I spent more time with Alex in the last three years than any other person on the planet," Harding tells RTÉ Sport.
"I think last year I did 78 flights. It is very demanding, physically and emotionally. You wouldn't exist in my job if you didn't have a good relationship with your driver. Luckily for me, Alex is a really good guy with a really good sense of humour.
"A lot of these guys because they grew up in a sport bubble, their maturity and their chronological age are very different. In some ways he's very mature because of the stuff that's happened in his life and he's only 25.
"Then there's times he'll say something or do something and he's like a big child. Walking through airports he'll hand me his passport because he doesn't trust himself with it. Sometimes I laugh when people ask what I do and I say, 'I'm an au pair for an adult'."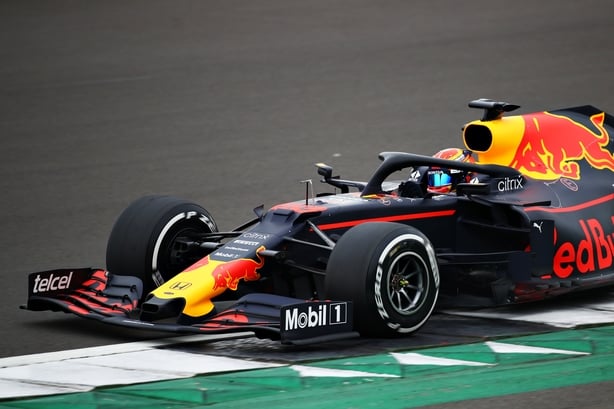 Formula 1 is no child's play though. The combustion of a modern Formula One car's fuel tank can reach temperatures of 2,600 degrees celsius, that's just under half the temperature of the surface of the sun.
The maximum speed of an F1 car is 360km per hour, that's roughly the same take-off speed of a Concorde turbojet.
Not exactly synonymous with the term 'athlete', F1 drivers could be more appropriately classed as superhuman adrenaline junkies to withstand such extreme risk and conditions for sport. The physical demands on drivers operating at that level are some of the most intense that there is, Harding explains.
"With Formula One it's probably like boxing where you actually need quite a high level of multiple aspects of physical fitness to perform well.
"Races can be anything up to two hours and you've got five sessions across a race weekend. You need a really, really strong aerobic capacity to be able to tolerate those extended periods of exercise.
"There are times like in a qualifying race and they're defending a position or sections where there are overtaking manoeuvres and their heart rate will sit at 170 plus for an extended period of five, ten, 15 minutes.
"But what's really unique about motorsport is the G-force on the neck. Your average head with a helmet is about 7 kilos. Take Silverstone track in the UK. There's about four corners there and it's a 5G, 3G, 5G, 4G corner so you've got four changes in direction between them in any one sequence it's about 140 kilos through the neck and they're doing that sequence at least 100 times in a race weekend.
"Then you add in environmental factors. Take Hungary last year for example. The track temperature was 56 degrees. Alex is sitting pretty much on an engine. He's got two layers of fire retardant kit on. He's got a balaclava and a helmet. He's got gloves. There's no air flow. He has one litre of water that he can drink but by your second lap, that's warm from the car.
"I didn't fully understand the physical demands of it until I started working in F1. When you see what those guys do, it's so impressive. The level of accuracy required. We're talking about a 100th of a second difference between being first and fifth.
"Alex may have up to 14 or 15 switch changes to make on his steering wheel to maximise the car across that lap. His ability to maintain that level of concentration and reaction as well as being technically competent and taking in the environmental factors is actually mind blowing.'
Demanding, dangerous and undeniably cutthroat, Albon fell victim to the competitive nature of the sport in 2020 after finishing 109 points behind his Red Bull teammate, Max Verstappen.
Despite achieving his first two ever podiums in F1 racing last year, the young British-Thai racer saw his 2021 seat snatched by Sakhir Grand Prix winner Sergio 'Checo' Perez.
"Of course the Netflix series is going to be dramatised," says Harding.
"What you saw on the ground was a young driver on his second season, promoted to a top-two team after 12 races, trying to get to grips with the technical aspects of a tricky car and also dealing with the weight of expectation that he puts on himself.
"Alex has said he doesn't read the articles in the media because the pressure and scrutiny he puts on himself is far greater than anything he gets from the media. He is very self-reflective and self-aware. I think he handed it brilliantly.
"There's a presumption that time and experience have an exponential line with performance but that just doesn't happen. If you look at any of the young drivers like Lando [Norris] or George [Russell], none of them were consistent across every race weekend because they're young.
"Over time you develop skills and learnings and experience and a mental resilience and you put that together more consistently. Like Checo who took Alex's seat, I think it was 100 races before he won. But the expectation was there, when you're with Red Bull, you need results. That's what he was dealing with across the season.
"Before the decision was announced we were sitting at dinner in London and he said to me, 'I'm content with whatever they decide. I couldn't have done anything differently. I feel I left everything on the table'. That's a guy demonstrating incredible maturity, resilience and desire to continue and stay true to yourself in the face of huge pressure and scrutiny."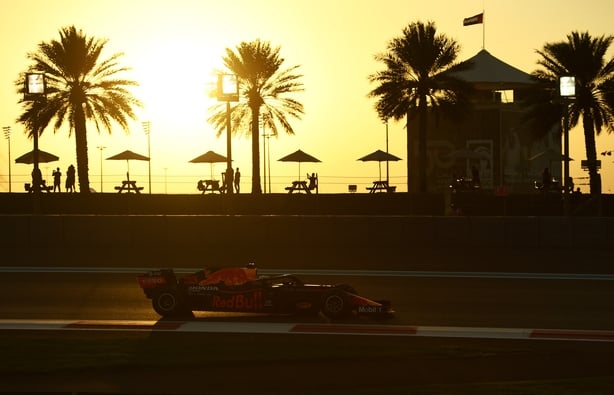 From humble beginnings in Portlaoise GAA, Harding's seen his professional resumé raise quite a few eyebrows across the globe throughout his career.
After years spent in AFL in Sydney, he found himself working with Team GB for London 2012 and progressed to become the lead physiotherapist with the canoe team for Rio 2016 before taking a job in Premier League football with Arsenal, not to mention having been personally headhunted by golfer Paul Dunne and boxer Michael Conlan.
Harding is one Irishman who certainly has a few stories to share.
"You get these little moments where you just have a look around and think, 'how have I ended up here?'" he chuckles.
"One that really sticks out for me is Monaco in that first year with Alex when he was at Toro Rosso.
"That track is so tight. The majority of people leave the grid with about four minutes to go but you stay with four of his mechanics. At the very last minute you step back to the grid wall and the cars drive by. And I mean, your heels are to the wall because these cars fly past about a foot away. You can feel the vibrations of the car against the wall. I was a very surreal moment.
"Like everything, when it becomes your everyday you get used to it. But I can be out with Alex on a press trip in Thailand or a race weekend in Singapore and people go crazy when they see him on the street.
"To me he's just Alex, the loveable idiot. My friend. Then you remember these guys are people's heroes. It's very special."