Christmas has come early for Waterford's Craig Breen and his Killarney co-driver Paul Nagle as it's been confirmed that the Irish duo, along with Spain's Dani Sordo, will share a third Hyundai i20 Coupe for the 2021 World Rally Championship [WRC]. 
Latvian Ott Tanak and Thierry Neuville of Belgium will continue to be the Korean manufacturers' two main drivers and will contest all rounds of the 2021 season, with Neuville starting his eighth season with the team. 
Sordo will also be extending his collaboration with the team into an eighth season, having played an instrumental role in this year's manufacturers' title victory with his second successive win in Rally Italia on Sardinia.
The Spaniard will be alternating with Breen, starting with the Monte Carlo Rally, which is due to run in January. The Irish pair will take over the car for round two - Rally Sweden in February. 
Breen and Nagle impressed the team this year with a strong charge to second place in Estonia, their standout performance in a season curtailed by Covid-19. 
Hyundai Motorsport will get its 2021 title defence underway at Rallye Monte Carlo from 21 to 24 January, with Tanak, Neuville and Sordo.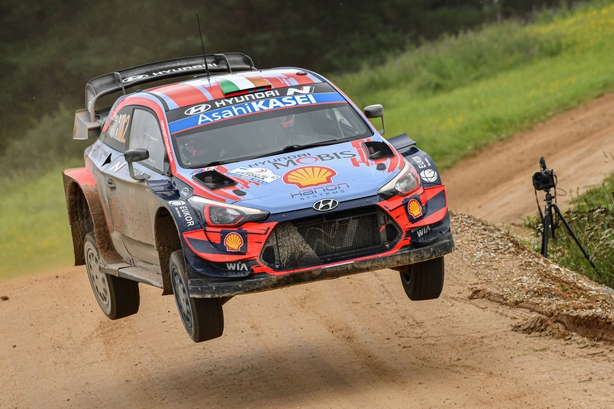 "To have the opportunity to compete on the stages of the World Rally Championship with Hyundai Motorsport has genuinely been a dream come true for me," said Breen.
"Although I have joined the team in occasional rallies since 2018, this year we were really able to demonstrate our potential, with second place in Estonia, and it gives us something from which we can build.
"The team has placed its faith in myself and Paul to deliver more of these results in 2021 and we'll give everything we've got, starting from Rally Sweden." 
The 2021 WRC season kicks off with the traditional season-opening Rallye Monte Carlo in the French Alps. It will be followed by Rally Sweden, the series' only pure winter fixture. 
Croatia is a new entry into the rally series. It will host the third round and will be held on 22 to 25 April in Zagreb. 
Portugal's late-May fixture is the first of three hot-weather gravel rounds. It is followed in June by Italy and Kenya for the first time since 2002, which completes the opening half of the championship. 
Estonia and Finland open the season's second half in July ahead of August's United Kingdom date. 
Wales Rally GB however is still only a provisional fixture amid talks of a possible WRC round in Northern Ireland. The WRC promoter is in discussion with the UK governing body, Motorsport UK, which is working to confirm the required British government funding.
Two of the final three rounds take place outside Europe. Chile and Spain precede Japan, which hosts the final round in November.