Ireland's Craig Breen has marked down a return to action in the rescheduled European Rally Championship at the Rally Di Roma Capitale in Italy next month.
The rally will run from 24 to 26 July, the first round of eight in a redrawn ERC series.
Breen and his co-driver Paul Nagle from Killarney are signed to race in the Hyundai i20 R5 car this season, and will also compete in Rally Finland - slated as the opening round of the 2020 World Rally Championship - for the Korean manufacturer's team.
The Waterford ace was due to get his ERC season under way in the Azores in April, having finished seventh in the WRC Rally Sweden in February, and was also due to compete in the West Cork Rally in March.
However, the second round of the Irish Tarmac Rally Championship (ITRC) was called off at the last moment due to the coronavirus outbreak with all the crews already in situ at its base in Clonakilty.
Postponements and cancellations have left Breen and Nagle sitting on the sidelines in Ireland since, but with Europe now starting to open up once again, the ERC has drawn up a rescheduled calendar that has been extended into December.
"There are restrictions in place in the application process for me and Paul to run in Italy and the organisers will have an app running to ensure that we stick to the routes planned," Breen told RTÉ Sport.
"The ERC has seen many of its events postponed, but there is now a revised calendar which hopefully will take us to the Canaries Rally, which is now due to run in December.
"There is also a round to be run in Poland, but that has yet to get an official date and it could well be run early in 2021 to make up an eight-round championship."
This year, Breen had been working with Hyundai on two fronts: Developing an i20 R5 car and the MRF tyres for Irish tarmac conditions, while also driving a Hyundai run by the BRC outfit in the ERC and competing in selected WRC events for the factory team.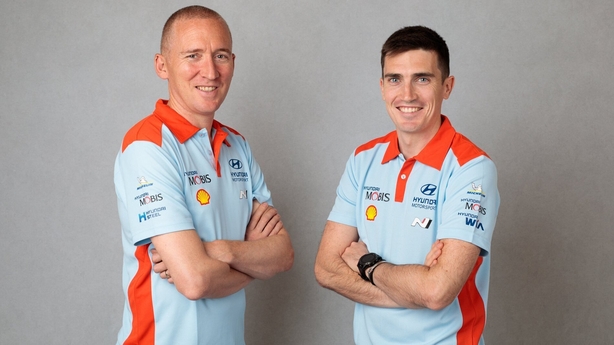 Last week, it was announced that Breen and Nagle would be part of a three-pronged Hyundai team for Rally Finland, which is scheduled from 6-9 August.
However, the biggest sporting event in Finland could well be moved back to September as the WRC calendar for 2020 remains fluid, with the likes of Portugal cancelled and New Zealand unlikely to go ahead later this year.
If the New Zealand round is pushed back to 2021, Finland could well move into its September date and open the 2020 WRC.
"Finland was always part of the plan between ourselves and Hyundai for 2020 and we are hoping that it will go ahead in August, but we are not at this moment fully sure that it will and it could be postponed until September," said Breen.
"For the moment, all we can do is continue to train and be ready when the call comes to get back rallying again."
Breen stayed in Ireland at his family home after the postponement of the West Cork Rally and he and Nagle have been keeping in shape with their own fitness plans.
"We will take the advice given to us as necessary and the rally in Rome is still a few weeks away, so for the meantime, all we can do is wait and continue my fitness programme," he said.
"Funnily enough, I don't think I've even been as fit as I am now as I'm not moving between events trying to squeeze in a fitness routine between events and travelling, and Paul is pretty much the same, although he has two young children at home.
"I've also been working hard on the simulator learning the roads on which we will hopefully be competing in the not too distant future."