What you would give right now for some sporting entertainment. Anything... rugby, GAA, football, golf, tennis, motorsport....Anywhere...home, away, here or there, near or far and if there was an Irish element to it, all the better.
Time to rewind.
The early part of my broadcasting career was spent covering football, rugby, GAA, Aussie Rules and ....the Formula One World Championship, that travelling motor racing circus, now inhabited by Lewis Hamilton, Sebastien Vettel, Max Verstappen and friends, but back then, the names of Schumacher, Hakkinen, Hill, Irvine and Jordan were to the fore.
Did I appreciate it? I certainly did. Did Irish sports fans realise how fortunate they were to have a team competing in the F1 World Championship? Most didn't fully grasp the magnitude of what Eddie Jordan was achieving. But, not only was there an Irish team, we also laid claim to another Eddie, Eddie Irvine, a driver from the island of Ireland racing first of all for Jordan, but ultimately achieving the lofty position of team-mate to Michael Schumacher at Ferrari. How lucky we were and it's worth mentioning, both Jordan and Irvine had earned their stripes and were there on merit.
It was not unusual at the time to see Irish tricolours sprinkled around some of the world's legendary motor racing circuits.
From Melbourne to Monza, Monaco to Montreal. Racing enthusiasts from Mallow to Moville, clocking up the air miles to watch the Irish compete at the absolute pinnacle of global motorsport. The sport of iconic names such as Fangio, Lauda, Prost and Senna, now had an Irish contingent. The support, particularly for Jordan's F1 team, blossomed.
Something often struck me about the Irish attendees at the British Grand Prix in Silverstone. It wasn't the fact that they turned up in great numbers to what was the closest race to home, that was expected. But many turned up wearing the county jerseys of Tipperary and Clare. Hotbeds of motorsport enthusiasts? I really don't know. To this day it's an unexplained phenomenon.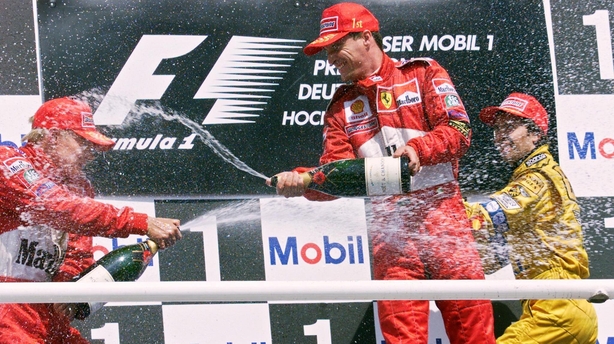 But let's get back on track and let us not not forget there were other Irish in F1 at the time. John 'Boy' Walton, a handsome devil with a distinctive Dublin drawl, once of Jordan, John Boy went on to become team manager at Minardi.
Gary Anderson, chief designer during the formative years at Jordan, went to Stewart Ford, which became Jaguar and then to the even loftier heights of the RTÉ F1 commentary team. What a signing.
I remember sitting mesmerised each evening over dinner as Gary explained in great detail the performance characteristics of each car. His understanding of how and why mechanical parts and aerodynamic bits worked in unison was spell binding. A top man in every sense of the word.
Mark Gallagher was also a member of the Jordan team and a font of knowledge when it came to the commercial wrangling and political machinations of Formula one.
David Marren. A name most of you are probably not familiar with, but a man who played a significant role in getting Eddie Irvine to F1 and keeping Eddie Jordan in F1. Dave sourced the all important 'moolah', not it all needless to say, but significant amounts at important times and it's probably fair to say he was one of closest confidantes to 'The 2 Eddies'.
Ireland also had influence in the corridors of power. Brian Brophy was an FIA steward. Part of his official role during race weekends was to keep teams and drivers in check, monitoring every moment of practice, qualifying and racing, looking for the misdemeanours that could cost the teams dear.
Between you and me, even though Brian was a man who adhered fairly rigidly to the rulebook, whether you were Ferrari or McLaren, he was inclined to cut a certain Irish team some slack when they strayed beyond the boundaries.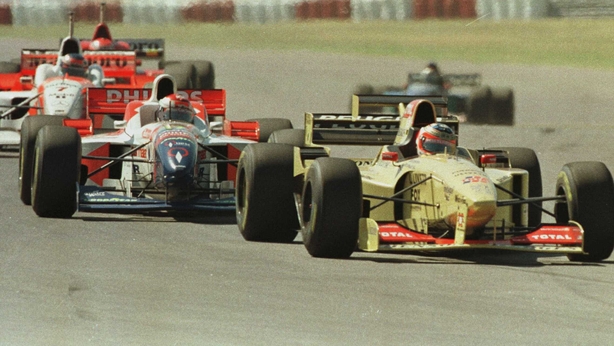 Then there were those regulars who relayed the message of Jordan's success and Irvine's shenanigans, during a remarkable period for Ireland in F1. Brian Foley, Martin McCarthy, Ken Ryan, Maurice Hamilton, Declan Quigley and Justin Hynes, just some of the Irish journalists who understood the significance of what was happening at the time. Former GP winner John Watson was also a paddock regular in his role as a TV pundit and colour commentator.
What of the drivers who we welcomed into the Irish fold? Heinz Harald Frentzen, Giancarlo Fisichella, Jarno Trulli, Rubens Barrichello and the not so exotic sounding, but hugely successful, Damon Hill all drove for Jordan and all featured as regularly on RTÉ as the 'sure look it's' we see week-in-week-out these days. By the way, If the Jordan Grand Prix story is one you're not familiar with, it's worth looking up. Google it.
Group head of RTÉ Sport at the time was Tim O'Connor, one of the few people ever to play hard ball with Bernie Ecclestone. In 1995 he secured the F1 rights for RTÉ and off we went. Legendary producer Michael O'Carroll, ex-F1 driver and Le Mans winner David Kennedy and myself were charged with the not too shabby prospect of bringing Grand Prix Motor Racing to the greater Irish audience on RTÉ.
Later we beefed up the team with Declan Quigley joining as pit lane reporter. RTÉ's coverage lasted an uninterrupted ten years, until the Jordan light began to fade.
We accumulated hundreds of thousands of air miles during those years, and quite a few stories along the way. Here's just one.
It was a sunny Saturday afternoon we had been invited to lunch by the Benetton team. As we sat eating our pasta, the legend that still is three-time world champion Jackie Stewart strolled in to what was a very busy dining area seating no more than about 30people. He glanced at the spare seat at the RTÉ table and politely said, "Hello Michael, would you mind if I joined you"? Needless to say we told him to take a hike (joke of course). I must admit I was mightily impressed that our producer was obviously held in such high regard and respected by the great Jackie Stewart, impressive.
I have fond memories of each and every person I've mentioned.
Each one of them appreciated what was happening at the time. An Irish team in Formula One. Will it ever happen again? Anything is possible, but it is most unlikely. An Irish driver in F1 is a more likely scenario.
F1 may not be your bag, some other sport probably floats your boat and right now you're probably missing it like hell, like you never thought possible. So, when it returns and it will, appreciate it while it's there, enjoy it while it lasts just like we did when Ireland was a real player in the glamorous world of Formula One.