An investigation into the crash which killed Anthoine Hubert in Belgium last August has cleared all drivers involved of any wrongdoing.
Frenchman Hubert died after his stationary car was struck by Juan Manuel Correa at almost 140mph during the Formula Two race.
Ecuadorian-American Correa suffered spinal injuries and two broken legs in the accident.
Giuliano Alesi, the son of former Formula One racer Jean Alesi, and Swiss driver Ralph Boschung were also involved but escaped without injury.
More than five months on, motor racing's world governing body, the FIA, delivered their findings on Hubert's death and determined "no specific cause but multiple contributory factors" led to the tragedy.
It deemed there was "no evidence that any driver failed to react appropriately in response to the yellow flag signal or to the circumstances on track", and that Hubert was killed by a "non-survivable trauma".
The FIA also concluded that "the reaction of marshals and race control in deploying signalling and rescue services is considered timely and good".
Hubert, 22, raced for the Arden team - run by Garry Horner, the father of Red Bull boss Christian Horner - in the Formula Two championship which acts as a feeder series to Formula One.
He became the first driver to be killed during a grand prix weekend since triple world champion Ayrton Senna died at Imola in 1994.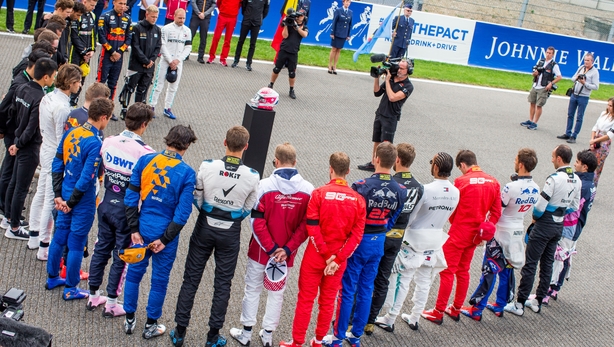 The accident occurred on lap two after Alesi lost control of his car on the exit of the fearsome Eau Rouge corner. In their attempts to avoid the Frenchman, Boschung and Hubert took evasive action.
A statement from the FIA explained: "During this manoeuvre, Boschung slowed more abruptly than Hubert, who took action to avoid a collision by moving further to the right.
"Despite this move, Hubert made contact with the back of Boschung's car, losing his front wing and causing a right rear tyre puncture to Boschung ahead.
"Travelling at 262 km/h and with his front wing missing, Hubert lost control and was set on a trajectory towards the barrier on the right-hand side of the Turn 4 exit run-off area.
"In the meantime, Correa was approaching the scene of Alesi's accident. He hit debris left behind from Alesi's car.
"The impact with the debris... resulted in front-right suspension damage and the loss of the front wing, causing Correa to lose control.
"His car veered to the right, off track and into the run-off area of Turn 4, setting him on a trajectory that would result in the car-to-car impact with Hubert 1.6 seconds later.
"Correa hit the left-hand side of Hubert's car at an approximate angle of 86 degrees and a speed of 218 km/h, while the car of Hubert was virtually stationary."
The accident sequence lasted less than 15 seconds before Hubert was pronounced dead at the on-track medical centre one hour and 28 minutes later.
Correa was airlifted to a hospital in nearby Liege and then transferred to London for further treatment.
He underwent a 17-hour operation to save his right leg in October, and was released one month later. He is continuing his recovery in Miami.