Craig Breen has reflected on "a cruel year" that culminated in him looking for a new team and cursing some rotten luck.
The Waterford driver's three-year contract with Citroen has not been extended, with six-time world champion Sebastien Ogier and Finland's Esapekka Lappi occupying the two cars they will run in in the World Rally Championship next season.
Breen will now weigh up his options and told RTÉ Sport's John Kenny that misfortune at crucial times left him kicking his heels in frustration.
"I'm desperately trying to put something together," he said.
"I'm disappointed we lost our seat at Citroen. I think we did a reasonable job all things considered. If you were to really delve into the depths of the reasons we didn't get the results this year, it was purely bad luck.
"It was a difficult year. It was a transitional year, drivers chopping and changing. The atmosphere was difficult sometimes in the team. We tried our best."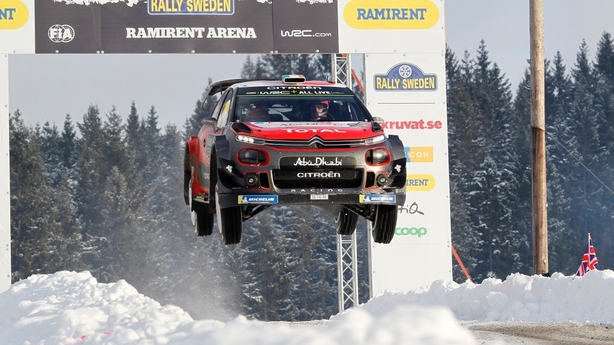 Things had started well. In February, Breen and co-driver Scott Martin produced a superb performance to finish runner-up at Rally Sweden, the second round of the World Rally Championship.
But that would prove the high point of a year that saw Citroen sack Northern Irishman Kris Meeke because of an "excessively high number of crashes".
"It was very much up and down," added Breen, who found himself benched for Sebastien Loeb for a couple of rallies after his strong Swedish showing.
"We'd a lot of speed, which is something we've been working on for the last couple of years. We started the season really well, obviously to get a second place in Sweden everything was looking rosy.
"We missed the two rounds early in the year, having to give the car to Seb for the few rallies. That hurt us a bit. We struggled to the the momentum back really after that we'd some really, really unlucky rallies. It turned out to be quite a cruel year. It's been a tough one.
"Once you have a bad Friday you're penalised for the rest of the weekend. That's how it is. Last year we had some really good Fridays... we kept out of trouble and we'd have a good road position for the est of the weekend. Lo and behold we brought back all those good results. This year it wasn't to be."
Breen remains upbeat despite those frustrations, and says the setbacks he's suffered are simply par for the course.
"Unfortunately it's a sport where talent doesn't always prevail. I can't go in the back garden and do my sport every day. It's a lot of financial effort and a lot of financial involvement to get yourself right up to it.
"But at the end of the day I'm doing my dream job, it's all I ever wanted to do. Whenever the pressure gets too much I just try to think about that and realise no one is putting a gun to my head to drive this car. It's because I love doing it."