Lewis Hamilton has said a "double bogey" performance by his Mercedes team denied him the chance to wrap up his fifth world championship at the US Grand Prix.
His title coronation will now have to wait at least a week - in Mexico - after he finished only third, with Kimi Raikkonen claiming his first victory in more than five years following a dramatic race here in Austin, Texas.
The British driver was handed the championship initiative when Sebastian Vettel spun on the opening lap, his eighth mistake of the season, after he banged wheels with Daniel Ricciardo, and dropped down the order.
Hamilton was second, after losing the lead to Raikkonen at the start, but seemingly had the speed to beat the veteran Finn in a straight shoot-out.
Yet the Englishman lost track position when Mercedes moved him onto a different tyre strategy, bringing him in on lap 11, while his rivals remained on track.
His rubber would not last the course, and after emerging from the pits for a second time, 12 seconds behind Raikkonen, and 10 down on Max Verstappen, who finished second after starting a lowly 18th, his thrill-a-minute charge ran out of steam.
"We just made it so hard for ourselves today," Hamilton said. "I am not sure about the reasoning for the early stop. It was a difficult day and not our best.
"I didn't really have any problems but collectively as a team we didn't perform that great which is not something we usually do.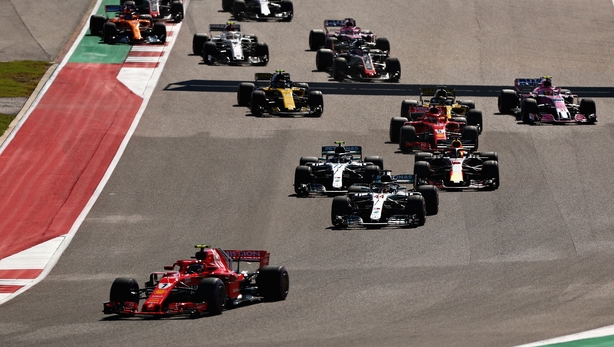 "The decision to come in was a bit of a surprise, but you can't always get it right. We will go back to the drawing board and regroup. This was an over-par display for us. This was a double bogey."
Despite Hamilton's failure to win, he extended his lead over the faltering Vettel to 70 points with just 75 remaining. He needs only to finish seventh in Mexico to join Juan Manuel Fangio on a quintet of titles.
At first, Mercedes' decision to bring him in for an early stop looked an inspired one, but it soon emerged that he would need to come in again.
When he left the pits for a second time, the message from his engineer, Pete Bonnington, was clear. "We just need everything now," Hamilton was told.
The rampant Briton did precisely that as he delivered fastest lap after fastest lap to reel in both leader Raikkonen and Verstappen. With eight laps to go, the top three were covered by a little more than two seconds.
At that stage, with Vettel only in fifth, second would have been enough for Hamilton to take the championship and he went wheel-to-wheel with Verstappen in a gripping finale.
But the Dutchman held firm, and Hamilton also ran off the road. That was that. A recovering Vettel then fought his way past Valtteri Bottas, meaning only a win would have been enough for Hamilton to take the spoils in Austin.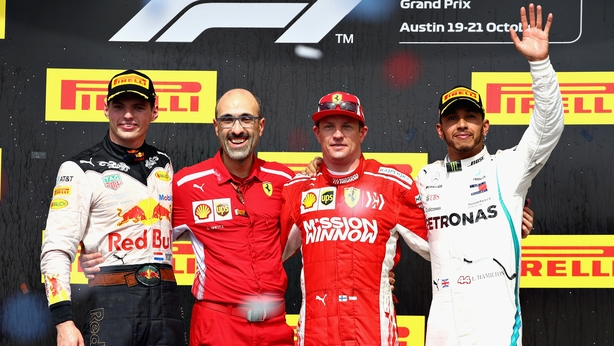 Vettel, starting in fifth after he was penalised for failing to slow under red flags in practice, was out of contention for the win after just 13 corners.
He roared past Ricciardo on the back straight, only then to go too deep on his brakes at Turn 12, and lose the position.
In a desperate attempt to get back past the Australian at the right-handed ensuing corner, they touched and Vettel spun round in a plume of tyre smoke, dropping to 15th.
"I have mixed emotions," Vettel said. "I'm really happy for Kimi, but not happy with my race."
Raikkonen, who turned 39 last Wednesday, becomes the sport's oldest winner since Nigel Mansell in 1994.
"It's been a great weekend," the Finn, who is leaving Ferrari at the end of the year, said. "It's been a long time but here we are."