Northern Ireland road racer William Dunlop has been remembered as thoughtful and gracious as well as a great sportsman.
The narrow country roads around Garryduff Presbyterian Church on the outskirts of his hometown of Ballymoney were packed with mourners, many wearing their road racing leathers, on Wednesday as the funeral service took place.
Dunlop, 32, died on Saturday following a crash during a warm-up session at the Skerries 100 race in Dublin.
He is from a North Antrim racing dynasty which has also been marked by tragedy.
His father Robert and uncle Joey, also champion road racers, died following crashes.
Robert died at the North West 200 in 2008, and Joey was killed in a crash in 2000.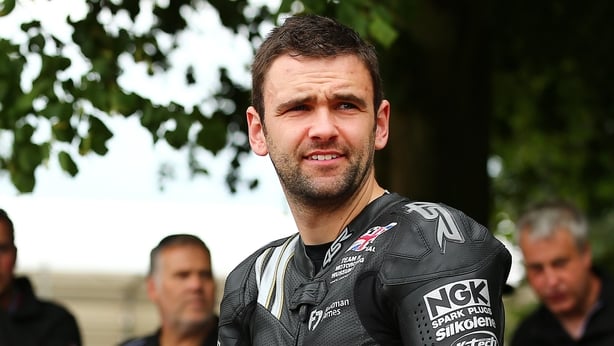 Their funerals were held at the same rural church where they were also laid to rest in the adjoining graveyard. Among the mourners was DUP North Antrim MP Ian Paisley.
The Reverend John Kirkpatrick said he considered it an honour to have been asked to speak at the funeral.
He also led the funeral services for Robert and Joey.
The Rev Kirkpatrick told Dunlop's partner Janine, daughter Emma, his mother Louise, brothers Michael and Daniel, and his grandmother May that this day was primarily for them.
"You who knew him best, loved him the deepest, and miss him most," he said.
"I count it an honour to be asked to speak today and as I do so I have in mind - three families.
"William's partner Janine and daughter Ella, his Dunlop family and the racing family.
"Many wonderful tributes have already been paid to William, no one tribute or indeed all together will suffice, there are as many stories and memories as there are people here, as we share them and treasure them, we celebrate the full and meaningful life William lived, and we enable his story to be told.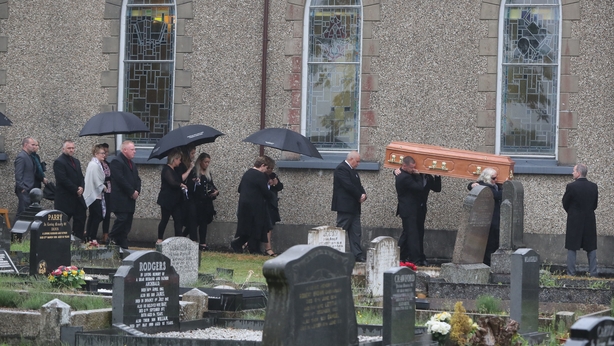 "In preparing for today I have read and researched much about William's life and career.
"As I listened I've heard about his thoughtfulness as a child, his strong bond with his brothers, his kindness to his mum and his deep devotion to his dad.
"I have witnessed the moving love between William and Janine and his delight as a father to Ella."
The Rev Kirkpatrick paid tribute to Dunlop's racing career which started at 17, and included 108 national and 11 International wins.
"We have watched his smooth style on the track and his gracious and thoughtful manner off it," he said.
"As Michael said in his book 'nothing made his dad more proud than giving William a bike that he then goes out and wins on' ... 'class will always tell and Dad and William have it in spades'."