A dominant Lewis Hamilton took advantage of Sebastian Vettel's opening-lap crash with Valtteri Bottas to move back to the summit of the world championship.
Hamilton ruled from start to finish on Formula One's first return to France in a decade to claim his third win of the season and move 14 points clear of Vettel.
Vettel smashed into Bottas's Mercedes on the 210mph opening-bend charge here at the Paul Ricard Circuit, and he was forced to stop for a new front wing.
The German was penalised with a five-second penalty, and recovered to finish fifth, but it marked his fifth high-profile mistake in the last 12 months.
Max Verstappen crossed the line in second place as Kimi Raikkonen overtook Daniel Ricciardo in the closing stages to complete the podium positions.
Hamilton has been in emphatic form this weekend, and after topping both practice sessions on Friday, sticking his Mercedes on pole, and then nailing the start, his win never appeared in doubt.
There was chaos behind the British driver as Vettel roared off the line, but then lost control of his Ferrari under braking at the first corner and thudded into Bottas's Mercedes.
After banging wheels with Hamilton in Azerbaijan last year, crashing out at Singapore, tangling with Hamilton and Verstappen at the start in Mexico, and running off the road in Baku in April, Vettel was left to rue another costly error.
The four-time world champion limped back to the pits, while the helpless Bottas also had to stop for new tyres after sustaining a left-rear puncture.
There was drama further back, too, when two of the three Frenchmen competing here crashed out on the first lap as Toro Rosso's Pierre Gasly smashed into the Force India of Esteban Ocon.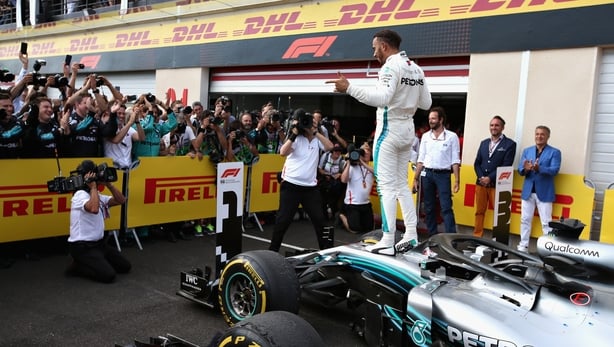 Out came the safety car, and Hamilton led from Verstappen with Carlos Sainz up from seventh to third. Vettel and Bottas were at the back following their repairs.
The race restarted on lap six, and Vettel wasted no time passing Fernando Alonso as he squeezed his way through at Turn Four.
Alonso spun, and took aim at the Ferrari man. "I touched with Vettel," Alonso said. "I hope he has damage. It was a stupid move."
Vettel showed no signs of damage, and began his charge back through the field. He was in the points on lap 10, and passed Sainz for fifth 10 laps later. The Ferrari had made 12 places in 14 laps.
Up front, and Hamilton, armed with his brand new engine, was cruising. He stopped for new tyres on lap 33, momentarily losing the lead, before regaining it when Raikkonen stopped a lap later.
Vettel had to stop again, too, and after making it as high as third, was back in fifth. That is where he would remain.
McLaren have endured another disastrous weekend, and Alonso did not get to the end.
After moaning about Vettel earlier in the race, Alonso was on the radio again. "I have no tyres, no brakes, and
I am out of the points," the Spaniard cried. "I am trying to do whatever. I don't care too much."
He is out of contract at the end of the year, and on the evidence of McLaren's miserable form, only money will stop him from quitting.
Alonso won the last of his two championships back in 2006, but here Hamilton has taken a big step to claiming his fourth title in five years, and his fifth in all.
Following England's 6-1 World Cup win against Panama, Hamilton said: "I am so happy for England. It's a beautiful Sunday. Happy Sunday, everyone."