Lewis Hamilton lapped in a league of his own on Saturday to seize pole position for the title-deciding Abu Dhabi Grand Prix with Mercedes team-mate and championship favourite Nico Rosberg joining him on the front row.
Rosberg has a 12-point lead and can afford to let Hamilton win Sunday's day-night race, knowing a podium finish at Yas Marina will secure him a first championship to match father Keke's 1982 triumph.
Hamilton, who now has 61 career pole positions and 12 for the season as well as four in a row, has to be in the top three to have a chance of becoming Britain's first four-time world champion.
He gave himself the best chance under the floodlights, setting a series of fastest sector times that left little doubt about his determination to try to beat the overwhelming odds against him.
"It's been such a privilege driving this car," Hamilton said. "This weekend so far I've got the car in a real sweet spot... and yeah, I'm in a perfect position for tomorrow."
His time of one minute 38.755 seconds was a real statement of intent, the champion a mighty 0.303 faster than Rosberg's best effort.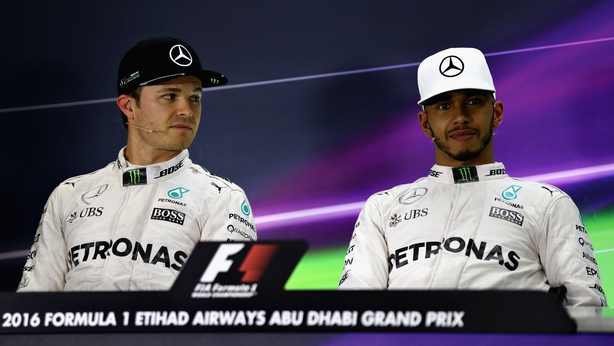 It was the first time Hamilton had out-qualified his team-mate in Abu Dhabi, with Rosberg on pole in the last two years, but it could all come to nothing with the title outcome out of the Briton's hands.
"I'm not ecstatic by today. Lewis just did a great job and was a couple of tenths quicker," said Rosberg. "It just wasn't possible for me to do that time today... for sure, I'll try to go and win.
"It was feeling good out there, I had a good balance and everything so I was quite pleased. As qualifying went on it got  better and better. I got a good lap in at the end of Q3 (the final phase of qualifying) but not good enough."
Hamilton could end the season with 10 wins to Rosberg's nine, and needs rivals to get between him and his team-mate, but Rosberg will be reassured that Mercedes again looked in complete control.
Australian Daniel Ricciardo qualified in third place for Red Bull, with a lap more than half a second off Rosberg's pace, and will share the second row with Ferrari's 2007 world champion Kimi Raikkonen.
Hamilton reminded Ricciardo of the Australian's 'winner, winner chicken dinner' catchphrase and said he wanted to hear it on Sunday - but with the Red Bull driver one of those behind him and ahead of Rosberg.
Ferrari's Sebastian Vettel, who secured his first championship against the odds at the circuit with Red Bull in 2010, starts in fifth place with Red Bull's Max Verstappen sixth.
Britain's Jenson Button, the 2009 world champion, will line up for his farewell race in 12th position for McLaren.
"A bit of understeer lost me a bit of time but to be fair, it's not a bad place to be in my last race," said Button, who will be handing over to Belgian Stoffel Vandoorne after his 305th start.
Brazilian Felipe Massa, also leaving after Abu Dhabi, qualified 10th for Williams.