Lewis Hamilton feels he faces "pretty impossible odds" going into Formula One's Abu Dhabi title-decider, while Mercedes team mate and rival Nico Rosberg says he will treat Sunday's race like any other.
Both are being disingenuous, of course. Hamilton knows he still has a real chance and Rosberg is well aware just how much is at stake.
While Rosberg is the favourite to win the 'Duel in the Desert', needing only to finish on the Yas Marina podium to become Germany's third world champion after Michael Schumacher and Sebastian Vettel, he will still be on tenterhooks.
"I will give it everything to end the season with a win,"  said Rosberg, the son of Finland's 1982 champion Keke, even if cynics suspect he would be happy enough to settle for a fourth successive second place.
"I'm faced with pretty impossible odds no matter what I do this weekend" - Lewis Hamilton
"I've had a great week, relaxing and catching up with my family and friends, so I feel like I'm in a good place.
"In Brazil ... I was joking that I would still be taking things one race at a time. But, the more I think about it, the more that's actually not as crazy as it sounds. I have to treat this like any other race."
That has become Rosberg's mantra, his increasingly-implausible mechanism for dealing with the pressure as the title talk grows louder.
That stress will be greater than ever on Sunday, a lifetime's ambition within reach after years of being beaten by Hamilton.
How he handles it in the day-to-night race could be crucial.
Hamilton, who started the year tipped to become Britain's first four times world champion but goes into the season-ender 12 points adrift, has less pressure.
He must finish in the top three to have any hope but, in his mind, has nothing to lose and everything to gain.
"I'm faced with pretty impossible odds no matter what I do this weekend. But I can't and won't give up. You never know what might happen, however unlikely it may seem," said the reigning champion.
In fact four of Hamilton's nine wins this season (Monaco, Canada, Austria and Germany) came with Rosberg off the podium - a result that if repeated for a fifth time in 21 races on Sunday would hand him the title.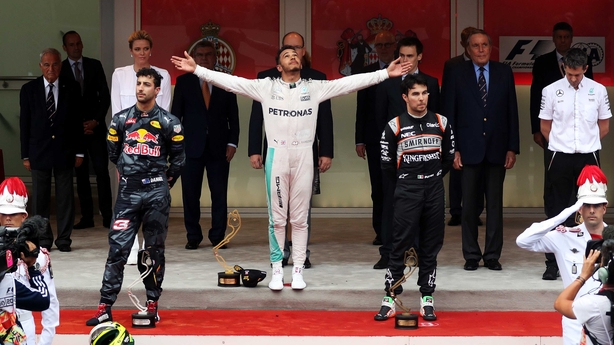 Not quite the impossible odds he suggested.
Hamilton, who has won the last three races and could end the year with more wins than Rosberg (nine each at present), knows only too well that a mechanical failure or first corner collision can change everything in an instant.
At Abu Dhabi in 2014, Hamilton won both race and title while Rosberg started on pole but had a power unit problem and finished out of the points.
There is also the prospect of rivals - and particularly the Red Bull pairing of Daniel Ricciardo and Max Verstappen -  getting in among the title contenders.
Verstappen in particular showed in Brazil, with a superlative drive through the field to third in the closing laps and wet conditions, that he is no respecter of reputations, nor is he afraid to get stuck in.
Further back, Williams's Brazilian Felipe Massa will be bowing out after his 250th race start in what also looks likely to be a farewell for 2009 world champ Jenson Button at McLaren.
"It's going to be another emotional one," said former Ferrari driver Massa.
"I really hope the final, and 250th race of my Formula One career, can be a fantastic one. We will of course have a big party. Hopefully we can celebrate with a great result."