Red Bull team principal Christian Horner has heaped pressure on Formula One's governing body to sanction Sebastian Vettel for his expletive-fuelled outburst against race director Charlie Whiting on Sunday.
Vettel, the four-time world champion, publiclly told Whiting to "f*** off" over the team radio as he lost his cool while fighting Dutchman Max Verstappen for position in the closing stages of the Mexican Grand Prix.
Vettel apologised to Whiting, the Englishman who has been involved in the sport for more than four decades and served as its race director for 20 years, following the conclusion of the race.
But Horner, who oversaw Vettel win four consecutive titles at Red Bull between 2010 and 2013, believes the FIA should take action against his former driver.
In any sport, you can't give abuse to the referee essentially, so I would be surprised if that went unreprimanded - Red Bull team principal Christian Horner
"Look, of course in the heat of the moment there is always going to be emotion from the driver," Horner said.
"I am sure in football if players had microphones on, then there language would be an awful lot bluer than what is going out on the track.
"But in any sport, you can't give abuse to the referee essentially, so I would be surprised if that went unreprimanded.
"It is not an attribute he had when he drove for us. Obviously his frustration he is vocalising, and everybody can hear that."
It is unclear whether the FIA will take action against Vettel, but president Jean Todt, who was not in Mexico, is unlikely to be impressed by his furious outburst. The FIA could choose to fine the Ferrari driver, or at the very worse, suspend him from the next race in Brazil.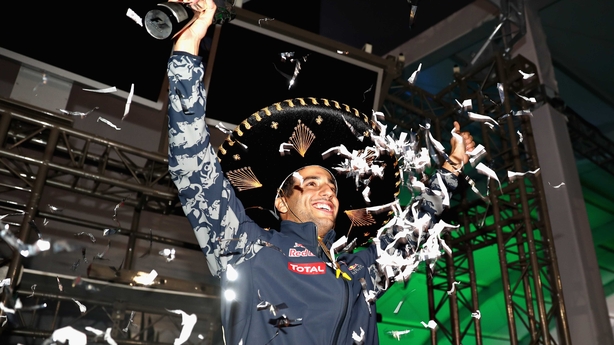 Vettel moved to Ferrari from Red Bull in 2015, and won three races in his opening campaign, but the 29-year-old German has failed to register a single victory this term, and Ferrari have fallen behind Red Bull in the chase to catch Mercedes.
To make matters worse for Vettel, he was also stripped of his podium finish after he was ruled to have defended his position against Daniel Ricciardo in a dangerous manner following a post-race investigation on Sunday night.
Ricciardo was bumped up to third, with Verstappen fourth, and Vettel fifth in the final order.
"I definitely sense he has been a bit more frustrated this year," Ricciardo said of his former Red Bull team-mate. "He has shown in the past he can be quite emotional, but this year it seems to be a bit more.
"He is obviously a bit frustrated with how the season has gone, and he probably thought they had a chance to fight Mercedes and it hasn't obviously worked like that.
"We have seen in the past Seb gets frustrated, but it has probably been a bit more uncharacteristic this year, and probably a bit too much.
"If your instinct is to press the radio button and start squirting a whole lot of stuff, you have to be a bit more sensible than that."