Nico Hulkenberg believes Renault can play a "challenger role" in Formula One in the future after signing for the team from next season onwards.
The 29-year-old German was widely expected to be announced as Renault's first driver for 2017 and current team Force India released a statement on Friday morning confirming Hulkenberg would be leaving at the end of the year.
Now the 2015 Le Mans 24 Hour winner has been confirmed with the Enstone-based team on a multi-year deal, reported to be a two-year agreement with the potential of a third-year extension.
Speaking after the confirmation of his move, Hulkenberg paid homage to compatriot and seven-time world champion Michael Schumacher, who collected his first two titles with the team - then known as Benetton - in 1994 and 1995.
"I'm very happy to join Renault Sport Formula One Team in 2017," he said.
As a part of the Renault family, I want to develop the car and write new success stories
"Renault has always been a big player in the motorsport world that brings up incredible memories : in his stint with Renault, Michael Schumacher not only helped make Germany an F1 nation, he also sparked my enthusiasm and fire for racing.
"As a part of the Renault family, I want to develop the car and write new success stories."
Hulkenberg has yet to stand on an F1 podium, with three fourth-placed finishes the best he has achieved so far in his career, but he is hoping Renault will be in a place in the coming years to take advantage of rule changes coming into effect next season.
"It has always been my dream to work for a manufacturer team," he added.
"F1's new regulations will change the game and give our team a good opportunity. In the years to come, Renault will play a challenger role, which fits my approach to racing 100%. I can't wait to become part of the family."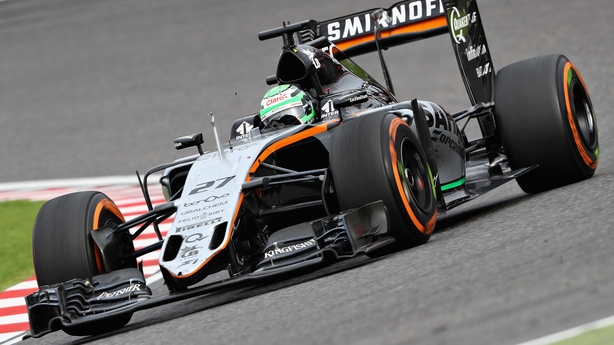 With one seat at Renault now likely to be taken, it remains to be seen who will race alongside Hulkenberg, with current Renault drivers Jolyon Palmer and Kevin Magnussen among those believed to be in with a chance.
Hulkenberg's move also leaves a seat open at Force India, who already have Mexican Sergio Perez remaining for 2017.
The Silverstone-based marque confirmed they had allowed Hulkenberg to leave at the end of the season, with team principal Vijay Mallya sending his best wishes.
"Everybody at Sahara Force India wishes Nico well as he embarks upon a different path in Formula One," he said.
"Having spent five years with us, Nico has become a great friend and contributed a huge amount to the team's success.
"He's an outstanding driver, who has scored more points for this team than anybody else. While it's true we will miss Nico, we respect his decision to explore fresh opportunities and it would be wrong to stand in his way."
Meanwhile, Hulkenberg pledged to give his all in his final four races with Force India as his second stint with the team comes to an end.
"For the remaining races this year, I will give my best for Force India to reach fourth place in the constructors' championship," he said.
"This would be a great achievement for the whole Force India team, the biggest success in its history and a great end to a fantastic time there. I am grateful that Force India has given me the chance to take up this new opportunity."