A distracted Lewis Hamilton shut down talk of his engine horror show in Malaysia as he fooled around on his phone in the official drivers' press conference ahead of the Japanese Grand Prix.
Hamilton, who now trails team-mate Nico Rosberg by 23 points in the title race, was leading in Sepang when his engine blew up with just 15 laps remaining on Sunday.
But the incident, which provoked a furious Hamilton to hint at sabotage from within his own Mercedes camp, appeared far removed from the Briton's mind in Suzuka on Thursday.
At one stage, Hamilton, who was joined in the press conference by five other drivers - including Fernando Alonso and British rookie Jolyon Palmer - wiped away tears of laughter using his sleeve as he uploaded a number of short videos to his Snapchat account.
Using an application on his phone, Hamilton, 31, posted a video in which he was "wearing" drawn-on rabbit ears, whiskers and carrots, accompanied with the words: "This s*** is killing me."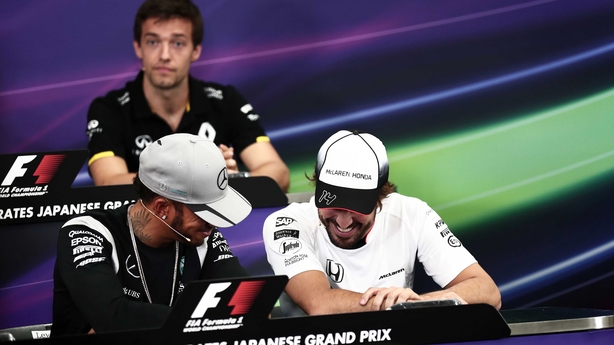 Hamilton also took a video of Carlos Sainz, sitting behind him, before adding a fake fox's ears and nose to the Spaniard's face.
With the press conference, which is aired live on television, still ongoing, Hamilton then showed the videos to Alonso and Sainz who each shared a smile.
Asked what was so amusing, Hamilton replied: "It's quite funny. Just some snaps of us drivers. We've been doing this [format of press conferences] a long, long time and it's the same. Just got to keep adding new things to it."
Hamilton, who is bidding to become the first British driver to win four championships, suffered his third engine failure of the season in Malaysia. "Somebody, or someone, doesn't want me to win this year," he said afterwards. Hamilton later insisted he was referring to a "higher power".
Has @LewisHamilton moved on from Malaysia?#F1 #JapaneseGP 🇯🇵 pic.twitter.com/CCLlUTDbll

— Formula 1 (@F1) October 6, 2016
Following a thorough analysis at their Brixworth headquarters, Mercedes have since diagnosed the cause of his engine blow-up - a big-end bearing failure. In response, Mercedes have revealed they will adopt a conservative strategy in Suzuka this weekend.
"It appears the guy above doesn't want me to win right now, but I've made a point on my Instagram and I don't have too much to say about it," Hamilton added on Thursday.
"I put all my feelings on there so they [the fans] have the right to their own opinion, but as you've seen from my posts you've seen how passionate I am about this team."
On Wednesday evening, Hamilton posted a series of gushing messages on his social media accounts paying tribute to his car crew and engineers.
On the surface, it appeared as though he was playing down his actions of the previous week in which he seemed to allude at a conspiracy theory.
But in regard to the posts, Hamilton added: "I've been planning to do it for a while. I've been building that up for a couple of weeks and it turned out to be the perfect time to do it."
Hamilton later tweeted that his performance was "meant to be fun, not at all disrespectful". 
Today was meant to be fun, not at all disrespectful. Some people take themselves to seriously. I had a blast, highlight of my day!

— Lewis Hamilton (@LewisHamilton) October 6, 2016
Re press conference, it's been the same for 10 years. It's not the media or mediator, it's the format. Fans should be asking the questions!!

— Lewis Hamilton (@LewisHamilton) October 6, 2016