Daniel Ricciardo claimed an elusive maiden win of the season at a dramatic Formula One Malaysian Grand Prix on Sunday, the Australian handed victory when a race-leading Lewis Hamilton retired with a blown engine.
Ricciardo was shadowed across the line by his 19-year-old Red Bull team mate Max Verstappen, a result that gave the former champion team a first one-two finish since the 2013 season-ending Brazilian Grand Prix in their dominant heyday.
Nico Rosberg finished third for Mercedes, fighting back from 21st after being spun around by Sebastian Vettel at the start and also collecting a 10-second time penalty for causing a collision with Kimi Raikkonen in the other Ferrari.
The result prevented Mercedes from wrapping up a third straight constructors' title at the home race for title sponsor Petronas but allowed Rosberg to extend his championship lead over team mate Hamilton to 23 points with five races remaining.
The Briton, who kept clear of the chaos unfolding behind him to build on a dominant pole, was comfortably on course to score a 50th career win when his engine exploded in a burst flames, with 16 circuits of the 56-lap race to run.
"I just can't believe that there are eight Mercedes cars and only my engines are the ones that have been going this year," the 31-year-old triple world champion, who also suffered a series of reliability woes earlier this season, told reporters.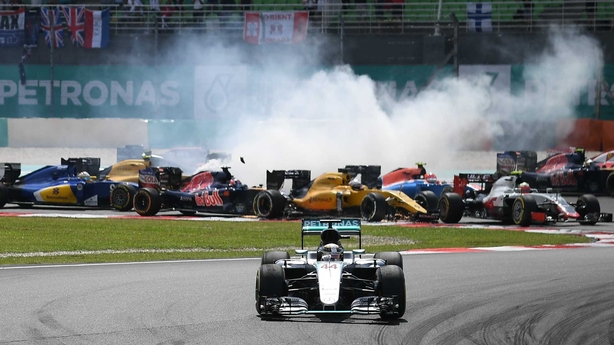 "Something just doesn't feel right but there's nothing I can do about it.
"These next five races, I know me and my mechanics have got it in us but who knows what those next engines that I have are going to do," the visibly disappointed Briton added.
Ricciardo, who lost a certain victory to his Mercedes rival at the Monaco Grand Prix in May due to a bungled pitstop, was more than happy to accept his good fortune in Malaysia.
"It obviously went the other way at Monaco, so I'll take this today," Ricciardo said after marking his fourth career win by drinking champagne from his boot in his now famous 'shoey' celebration.
"No hard feelings to Lewis but I'll definitely take the win," added the Australian, who last won at the 2014 Belgian Grand Prix and had claimed four podiums in the last five races.