Lewis Hamilton leads the Formula One championship for the first time this season after cruising to a record-breaking fifth victory at the Hungarian Grand Prix.
Hamilton led from start to finish in a race which he controlled from the very outset after overtaking pole-sitter Nico Rosberg on the long run down to turn one.
With just one more race to go before the summer break - next Sunday's German Grand Prix - Hamilton has moved six points clear of his Mercedes team-mate Rosberg in his quest for a hat-trick of consecutive titles.
Red Bull's Daniel Ricciardo joined Hamilton, now a winner in five of the last six grands prix, and Rosberg on the podium after he finished a distant third.
Hamilton, the defending champion, believed he was robbed of a certain pole on Saturday night after he was forced to abort his final timed lap in qualifying following Fernando Alonso's spin in his McLaren. The mistake by the Spaniard, and unfortunate timing for Hamilton, paved the way for Rosberg to start Sunday's race from the front of the grid.
Yet despite a string of poor starts this season, it was Hamilton who out-gunned his championship rival with a bold move on his team-mate at the long, right-hander on the opening lap. Matters then got worse for Rosberg, who dropped to third behind Ricciardo, before he swept around the outside of the Red Bull with an impressive overtake at turn two.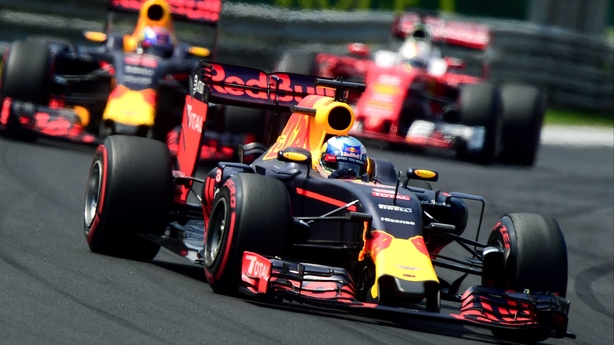 But with passing largely impossible at the Hungaroring, Rosberg faced an uphill task of getting past Hamilton. And so it proved.
Hamilton controlled the race - even though at one stage he was told by his Mercedes team to pick up his pace - with Rosberg falling into Ricciardo's clutches before the second and final round of pit stops.
"Okay, Lewis, Ricciardo is about to get on the back of this train, so we really need to open this gap up," Pete Bonnington, Hamilton's engineer, said.
"The team did a fantastic job with the strategy. This is a great result for us as a team, but yeah, what a day" - Lewis Hamilton
"I'm driving to the best of my ability with these tyres," Hamilton replied. Bonnington added: "If the cars bunch up, we'll be bringing Nico in first. The risk is we're putting the win in jeopardy."
Ricciardo pitted for a second time at the end of lap 33, and suddenly Hamilton turned in his fastest laps of the race. When Hamilton and Rosberg then stopped for a second time eight and nine laps later respectively, they both emerged ahead of Ricciardo, and from there the race was all but over.
A frustrated Hamilton raised his middle finger at Esteban Gutierrez after he lost more than one second lapping the Mexican driver - indeed Gutierrez was hit with a five-second penalty for ignoring the blue flags - while the Briton also lost a small chunk of time after running wide in the closing stages. But in reality, his win was never under threat. Hamilton has now triumphed more times in Hungary than any other driver in the sport's history.
Sebastian Vettel finished fourth for Ferrari while the Red Bull of Max Verstappen held off Kimi Raikkonen to finish sixth.
Jolyon Palmer appeared on course to earn the first point of his grand prix career following a sterling display, but the British rookie spun while running in 10th and dropped three places before crossing the line in 12th.
Jenson Button endured a miserable afternoon after a hydraulic issue in the opening laps dropped him to the back of the field.
He was told to continue which prompted a rather sarcastic reply from the 2009 world champion. "Fantastic," he said. "Race from hell this is going to be."
And it was, as he spent most of the race at the back of the field, before he retired with only a handful of laps remaining.
"The start was everything," said Hamilton as he reflected on his 48th career win.
"I had one of the Red Bulls on the inside of me so I was pressured quite a lot into turn one. The team did a fantastic job with the strategy. This is a great result for us as a team, but yeah, what a day."
Rosberg added: "It was all down to the start in the end. In turn one I ran out of space so I had to get out of it, and that was it really. I tried to put all the pressure possible on Lewis, but of course it is not possible to pass on this track."