A furious Daniel Ricciardo accused his Red Bull team of "running around like headless chickens" after their pit-stop blunder cost him an almost certain victory in Monaco.
Pole-sitter Ricciardo looked set to triumph at the blue-riband race and win his first grand prix in nearly two years only to arrive for his second pit stop with his mechanics caught off guard.
A painfully slow stop ensued as the Red Bull crew frantically attempted to find all four tyres and fit them to the Australian's car.
"It's two weekends in a row I've been screwed now"
Ricciardo, who was denied victory at the last race in Spain following another strategical blunder by his team, emerged from the pits in second place behindeventual race-winner Lewis Hamilton.
Despite his best efforts to pass Hamilton at a circuit where overtaking is virtually impossible, Ricciardo was forced to settle for the runners-up trophy.
"It's two weekends in a row I've been screwed now," said Ricciardo. "I got called into the pits for slicks, and the tyres weren't ready. They should have been ready.
"I didn't make the call. I got to the pits and everyone's running around like headless 'chooks' (chickens).
"I'm massively, massively disappointed. I don't like being up here being miserable, because I got a podium in Formula One, so it should be a good day, but when it happens two weekends in a row it is hard to take. It sucks."
While Red Bull team principal Christian Horner apologised to Ricciardo for the faux-pas, he claimed the unique pit-wall and garage layout of this most historic of venues contributed to the embarrassing mix-up.
"Having seen Mercedes put the ultrasoft on Lewis Hamilton's car, the call was made in plenty of time to go one step harder in compound with the supersoft because we believed it had a better range," explained Horner.
"The pit-wall is upstairs, the garage is downstairs and unfortunately the set of tyres we called for were at the back of the garage so there was a scramble.
"They had the soft tyre ready and when the call came they couldn't get the tyres to the car which probably cost 10 seconds.
"It was gutting to lose a victory like that. All we do is apologise to Daniel that we hadn't given him a good enough service today. The miscommunication on tyre management let us down."
It topped a difficult afternoon for Red Bull with Max Verstappen, the 18-year-old who became the sport's youngest-ever winner last time out in Spain, failing to reach the chequered flag after a collision with the barriers. He had weaved his way up to ninth place before coming unstuck.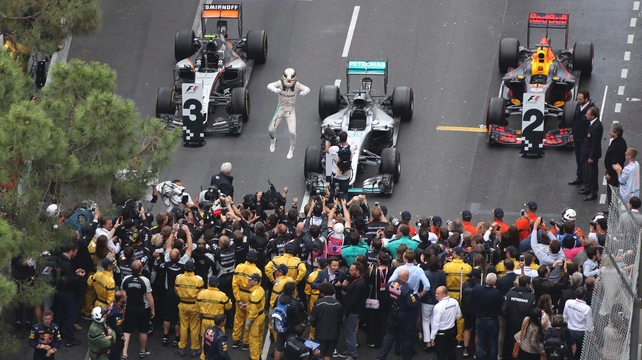 It was Verstappen's third shunt of a error-prone weekend, bringing him firmly back down to earth after his Barcelona heroics.
"He had a very strong first half of the race, running in the top 10 and pulling off some great moves," said Horner of the Dutchman who started in the pit lane after his qualifying crash.
"He saw Nico Rosberg not far ahead but conditions caught him out. He apologised to everyone for yesterday. He is balanced and intelligent and he'll take this and learn."