Max Verstappen took advantage of a jaw-dropping first-lap collision between Lewis Hamilton and Nico Rosberg to become Formula One's youngest-ever winner of an incredible Spanish Grand Prix.
Eighteen-year-old Verstappen showed maturity beyond his tender years on his Red Bull debut to fend off the challenge from Ferrari's Kimi Raikkonen, who at 36 is twice as old as the Dutchman.
The tone was set for a race that will live long in the memory after pole-sitter Hamilton lost control of his car and crashed into Rosberg at turn three, taking both Mercedes drivers out of the grand prix in one swoop.
Niki Lauda, Mercedes' non-executive chairman, instantly apportioned blame to Hamilton describing the world champion's actions as "too aggressive".
Hamilton and Rosberg, yet to comment on the incident, will now report to the stewards with the opening-lap incident under investigation.
Ferrari's Sebastian Vettel crossed the line in third to complete the podium. Daniel Ricciardo, who led the opening phase of the race, was forced to pit on the penultimate lap with a puncture.
Verstappen, who was only promoted from Toro Rosso to Red Bull after Daniil Kvyat was dropped last week, eclipses Vettel's youngest-ever winner record, set at the 2008 Italian Grand Prix, by an incredible two years and 137 days.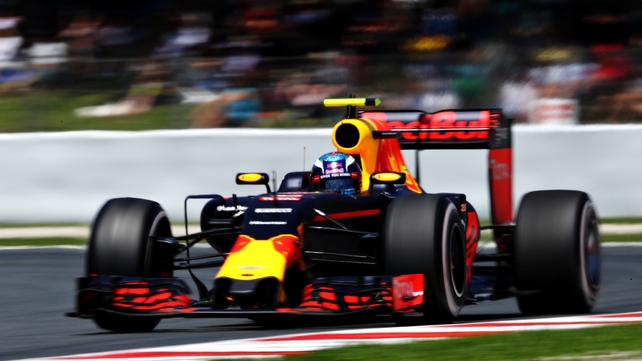 "Max Verstappen, you are a race winner, fantastic, what a debut," Red Bull team principal Christian Horner said over the team radio. An emotional Verstappen replied: "Thank you very much, Christian."
While Verstappen was completing a historic win, Hamilton and Rosberg were locked away in the Mercedes' debrief truck with the team's hierarchy of Toto Wolff, Paddy Lowe and Lauda, following one of the most stunning collisions in recent memory.
Indeed the picture of the two Mercedes cars sitting in the gravel trap at turn four is set to be one of the defining images of this season.
Hamilton, starting from pole and bidding to win his first race of the new season, immediately lost the lead to Rosberg and in attempting to pass his Mercedes team-mate he ran on to the grass at turn three.
The world champion then spun, and crashed into Rosberg with both drivers out of the race. Hamilton held his head in his hands before launching his steering wheel out of his cockpit in utter fury. The incident had the hallmarks of a racing incident, but Lauda, not one to mince his words, had already made up his mind.
"It is stupid, we could've won this race," Lauda said. "Lewis is too aggressive. I need to talk to them and hear their explanation and then we will see what happens."
Mercedes boss Wolff was more measured than Lauda, and told Channel 4: "Niki has a driver's opinion and it's fair enough - as a driver you see it black and white, from a team's perspective we've looked at the pictures and the data and it's not clear-cut.
"Nico had a really good turn one and turn two, Lewis tried to dive in, Nico closed the door. I'd say let's wait and see what the stewards say. It's not a situation where you can attribute 100 per cent of the blame. Both of them are upset about the situation. There wasn't any finger-pointing."
The safety car was deployed following Hamilton's dramatic crash with Rosberg and Ricciardo led from Verstappen.
But the latter opted for a different strategy, pitting one less time than his new team-mate, to find himself in the lead with 22 laps remaining. From there, he did not look back to complete an incredible victory.
"It feels amazing," Verstappen said.
"I can't believe it. It was a great race and I have to say thank you to the team to give me such a great car.
"To win straight away in the first race is an amazing feeling."
Ricciardo recovered from his late puncture to finish fourth ahead of Valtteri Bottas and Carlos Sainz. Jenson Button crossed the line in ninth for McLaren.