Nico Rosberg claimed his second win of the new Formula One season in Bahrain after capitalising on a first-corner collision involving Lewis Hamilton.
Rosberg, winner of the season opener in Australia a fortnight ago, got the better of a slow-starting Hamilton to snatch the lead and from there he never looked back.
Hamilton dropped to ninth after his coming-together with Williams' Valtteri Bottas, but recovered to finish third with Ferrari's Kimi Raikkonen splitting the Mercedes pair.
Whilst off-track politics have plagued the start to Formula One's new campaign - notably the furore over what to do next with the unpopular qualifying format - the on-track spectacle has been rather more fascinating.
After an entertaining Australian Grand Prix, described by triple world champion Niki Lauda as the best in recent years, the start to Sunday's race in the desert was even more dramatic.
Indeed Ferrari's Sebastian Vettel, the man deemed to be the greatest challenger to Mercedes' dominance, was out before the grand prix had even begun.
Plumes of smoke emanated from the back of his Ferrari, and the German was forced to park his car. Jolyon Palmer was another casualty on the parade lap after he headed to his Renault garage with a technical failure and did not return.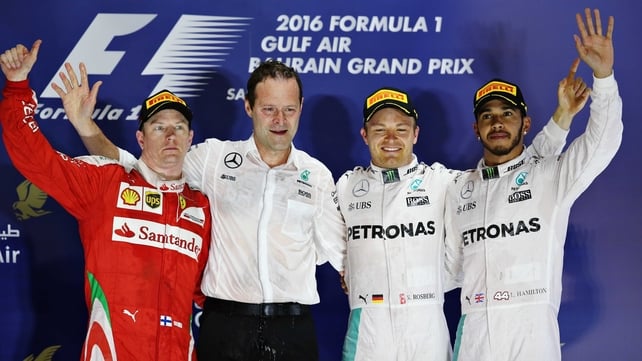 Hamilton's poor getaway cost him in Melbourne, and another sluggish start saw him slip behind Rosberg on the long drag down to turn one. It then got worse for the world champion as a fast-starting Bottas slammed into his Mercedes, forcing him into a minor spin.
When Hamilton managed to regain his composure, he had fallen to ninth, whilst also sustaining damage to the floor and front wing of his Silver Arrows. Bottas was held accountable for the incident and later served a drive-through penalty.
There was drama behind, too. Sergio Perez had to pit for a new front wing after an incident with Carlos Sainz Jnr, which saw the Spaniard sustain a puncture.
For Hamilton, who has now failed to taste victory since he clinched the championship at October's United States Grand Prix, it was all about how well he could recover.
Rosberg was scampering into the distance, but Hamilton, with sparks flying off the undertray of his damaged Mercedes, began carving his way through the field.
By the end of lap one, the Briton had progressed to seventh, which became fifth on lap seven, and then third one lap later.
While Hamilton was charging through the pack, Jenson Button's day came to a premature end when he retired with mechanical gremlins. Fernando Alonso, sidelined for this race with a rib injury, winced at the back of the McLaren garage at his team-mate's demise.
#BOOM #BahrainGP #RACE #F1 #TeamNR6 @MercedesAMGF1 pic.twitter.com/0Q2oWHibzI

— Nico Rosberg (@nico_rosberg) April 3, 2016
The opening round of pit stops saw Mercedes split their strategy with Rosberg taking on a set of the grippier, soft tyres, while Hamilton opted for the more durable medium compound.
For a moment it appeared to be playing into the Briton's hands as he managed to keep pace with both Rosberg and Raikkonen, but he soon began to slow and he was faced with no option than to stop for a fresh set of rubber earlier than his team-mate and the Ferrari in second place.
From there his charge stopped as he failed to place Raikkonen under any pressure. Indeed it was the Finn, who was keeping Rosberg honest. Their gap at the time of the chequered flag was 10 seconds with Hamilton 30 seconds adrift of his team-mate.
In the end it was a regulation victory for Rosberg, who claimed his fifth victory in as many races stretching back to last season - with his early lead in the championship extended to a healthy 17 points.
Daniel Ricciardo crossed the line fourth for Red Bull with Romain Grosjean scoring yet more points for newcomers' Haas following a fifth-placed finish.
Max Verstappen, Daniil Kvyat, Felipe Massa, Bottas, and Stoffel Vandoorne, deputising for Alonso, netting a single point on his grand prix bow, completed the top 10.
"It has been an awesome weekend," said Rosberg, who moved on to 16 career victories. "The key was the start. I got a great getaway. I was very happy with today and it is absolutely awesome to get another win."
Hamilton added: "We managed to get it back up there. It was damage limitation. Congratulations to Nico, an easy race for him I assume, but I am glad it was not more points lost as I could have not finished the race."