Lewis Hamilton broke the lap record in Bahrain to secure pole position for Sunday's race ahead of his Mercedes team-mate Nico Rosberg.
The world champion posted a blistering time of one minute and 29.493 seconds under the lights to finish the session marginally faster than Rosberg with Sebastian Vettel in third.
But the new qualifying format which had been condemned to the Formula One scrapheap only to be resurrected for the Bahrain race, courted criticism once more.
FIA president Jean Todt, Bernie Ecclestone, the sport's chief executive, and the team bosses will hold a summit meeting ahead of Sunday's race to determine what to do for the next race in China in a fortnight's time.
Hamilton made a mistake on his first flying run in the final phase of qualifying to hand the initiative to Rosberg. But the 31-year-old Briton returned for a second run with a lap that will send out a warning to Rosberg, who won the opening race in Australia, and Vettel, too.
Despite Ferrari hoping this power-reliant track would suit them rather more than Melbourne's Albert Park street circuit, Vettel was more than half-a-second slower than Hamilton. His team-mate Kimi Raikkonen was even further back and will start from fourth.
While Q3, the shoot-out for pole, provided greater entertainment than the season opener, the grid was already determined with three minutes of the session remaining making the new countdown clock somewhat irrelevant.
It seems unlikely that the sport can continue with this seemingly-doomed format for much longer.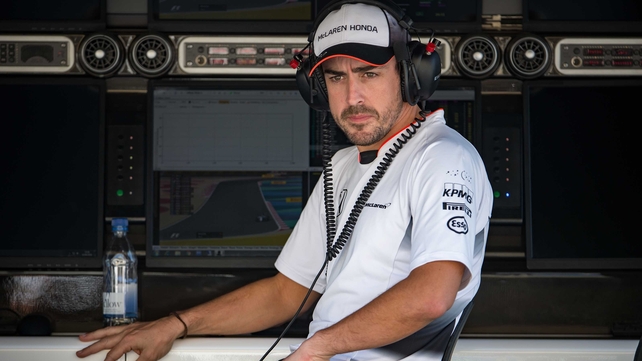 Q2 - the second of the three timed sessions - started in rather farcical fashion after the light at the end of the pit lane signalling drivers to go on to the circuit was jammed on red. A marshal vigorously waved a green flag to indicate to a rather confused Raikkonen that the 14-minute session had begun.
Jenson Button was rippling with confidence on Friday night after he posted the third-fastest time in practice. The 2009 world champion believed a top-eight grid slot was on the cards, but he could manage only 14th.
And to make matters worse, Stoffel Vandoorne, the Belgian who is making his debut here in place of the injured Fernando Alonso [pictured above], will start ahead of him. Vandoorne, who could be handed a full-time seat instead of the out-of-contract Button for 2017, was one tenth faster than his team-mate and will start from 12th.
But that was about as entertaining as Q2 got. The camera panned to Max Verstappen, who was next to be "eliminated", but instead of being on track, the 18-year-old had his crash helmet off and was collecting his weight receipt in the pit lane.
This is not what the sport's powerbrokers had in mind when they wanted to make qualifying more unpredictable.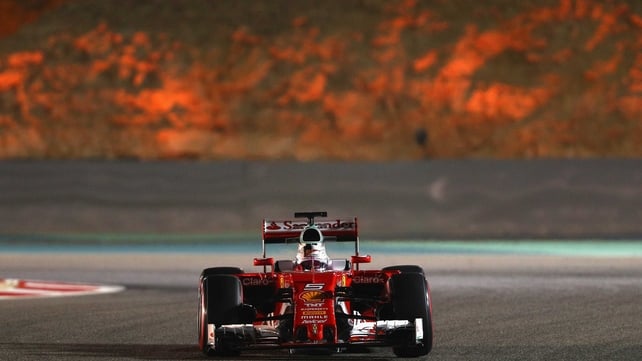 Earlier, Pascal Wehrlein, the highly-rated German was the star performer of the opening phase after he qualified an impressive 16th - just on the bubble of making it through to Q2.
Sauber's Felipe Nasr was the first driver to fall, while Jolyon Palmer soon followed. The Briton, who impressed on his debut in Melbourne, will start from the penultimate row of the grid in 19th.
His Renault team-mate Kevin Magnussen qualified ahead, but will be demoted to the pit-lane after he failed to stop for a mandatory weigh-in during practice.
Vettel, who has already made his feelings known about the qualifying format, repeated his complaints.
"Naturally with this format everyone has to go out more or less straight away so there is a lot of time spent sitting in the garage," he said.
"It is not right that in the last few minutes nothing is happening. That is usually when people should be smashing their lap times. Not only in Q3, but in Q1 and Q2 as well."
Rosberg added: "We should listen to everyone watching on the TV and the fans at the race track to see what they say. If they seem to not like it, as I am sure they won't, then we should change it."
Reflecting on his pole lap, Hamilton, who eclipsed Mark Webber's 11-year record, said: "I was struggling to put laps together but luckily the one lap I did put together was the last one."