Lewis Hamilton hailed the Mexican Grand Prix crowd as the greatest he has ever witnessed during his nine-year Formula One career.
Close to 140,000 motor-racing fanatics descended on the newly-revamped Autodromo Hermanos Rodriguez to create a spine-tingling atmosphere.
The two-hour build-up to Sunday's race, the first here in 23 years, was one that will live long in the memory for all those fortunate enough to be privy to it.
Sergio Perez, the only Mexican on the grid, was given a rockstar welcome on the driver's parade ahead of the race. He pumped his chest in response to the tens of thousands of fans waving Mexican flags, chanting his name and sounding air horns.
Hamilton, who finished second behind race-winner Nico Rosberg, was presented with his trophy on the unique podium which faces into the stadium section of the track that hosts over 40,000 fans.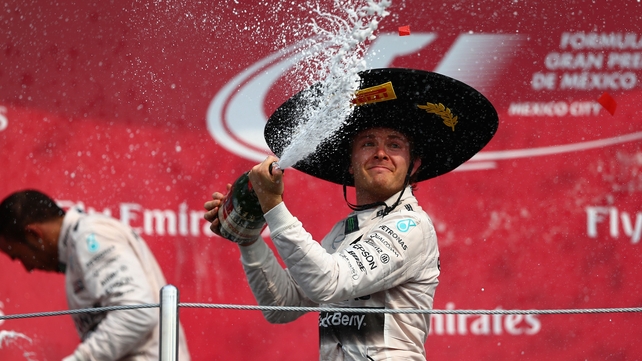 "What a crowd we had today," said Hamilton, who sealed his third world championship in Austin last weekend. "It was just incredible. In the whole entire time I have been in Formula One I have never seen anything like it. It was like a football game."
Hamilton's views were echoed by his Mercedes boss Niki Lauda, the three-time world champion, who has been involved in Formula One for the best part of five decades.
"This is the best I've ever seen in all my life," said Lauda. "The way they organise it, the whole crowd is going with it and that's it. Unbelievable.
"The magic is the Mexicans. The magic is the organisers who made this happen and the way they organised the spectator places for me was the best I've ever seen. And then the podium right in front of all the people.
"Formula One got back where you can feel it and touch it and this is the most important thing."
All eyes were on pole-sitter Rosberg and Hamilton on the run down to turn one after they banged wheels at the United States Grand Prix last week.
But after Rosberg retained the lead on the 900-metre stretch to the opening corner, Hamilton was unable to challenge his Mercedes team-mate for the win.
At one stage, Hamilton resisted a call from his team to pit for a second time, but he ultimately obeyed the order.
"I was pushing the whole way," Hamilton explained. "You can't follow the other car. As soon as you get closer and closer you lose all your downforce so it was impossible to get close enough."