Kris Meeke has spoken of his delight at securing a second year driving in Citroën's line-up for the 2015 World Rally Championship, telling RTÉ Sport he hopes security and experience will help him to be competitive throughout the season.
Last week, Citroën confirmed Meeke and co-driver Paul Nagle were staying for 2015 after a 2014 season in which they scored podium finishes in Monte Carlo, Argentina, Finland and France.
"It's a fantastic opportunity," said Tyrone man Meeke. "I've worked so hard all my career to get a proper opportunity at world championship level, and that opportunity came this year in 2014.
"It's not too many events into the 2014 that I was already thinking, 'At this level you really need a second year to learn', because rallying is one of those sports where experience is everything."
"I was always having to prove something, not only ever rally but every stage. It was nearly like – every stage was your last one"
He said that news of the second year gave him a security and predictability that has been absent from his career, and will, he feels, improve his performances.
"If you look back over my whole career, it's been very much stop-start the whole way," he said.
"Opportunities have come and gone. And even mid-season, when I had a suspected [full] season in front of me, it was never guaranteed that I was going to the next rally.
"So I think that throughout all my career I was always having to prove something, not only every rally but every stage. It was nearly like – every stage was your last one.
"The only time I got a full, guaranteed programme was in the Peugeot in the IRC [Intercontinental Rally Challenge], and we won that championship.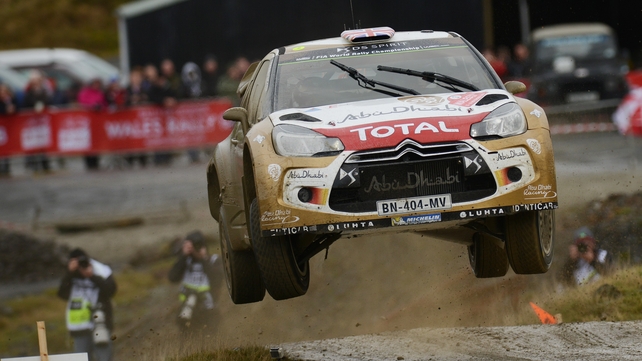 "Knowing that your season's guaranteed and that everything's in front of you, it's a lot easier to settle yourself and not go chasing at every rally.
"If you're given the impression that you're not going to get to the next rally unless you prove something here it adds that extra little bit of pressure. That always has been with me throughout my career."
Meeke said that he hoped to use the experience of this season so that "hopefully we can be competitive throughout the full season in 2015".
He acknowledged that Citroën team principal Yves Matton had, to a certain degree, taken a risk in signing him, given that he is now 34, but said his motivation was as strong as ever.
"He put his faith in me and I would like to think that I repaid that faith to some degree with my results and my performances throughout this year."
Looking ahead to next year, Meeke said: "I'm hoping that every event will be reasonably familiar to me, especially in the second half of the season. You just continue to build on that.
"Everyone's open next year. In 2013 and '14 the cars were frozen from a technical point of view, so no-one was allowed to introduce many new parts. Next year that will change: everyone's is allowed to introduce new parts to the cars.
"So everyone will try to improve: Volkswagen, Hyundai, M-Sport and obviously Citroen.
"We've already been testing the car for next year, for the new parts and components, and we'll be taking a step forward. But everyone will be taking a step forward, they hope.
"It remains to be seen who makes the biggest gains. We would sincerely hope our gains will pull us a bit closer to the Volkswagens, but it's going to be a nice challenge."