Lewis Hamilton has sensationally claimed Nico Rosberg deliberately crashed into him in today's controversial Belgian Grand Prix.
The incident occurred on lap two of the race at Spa-Francorchamps, with Hamilton leading after passing Mercedes team-mate and polesitter Rosberg off the line.
Approaching the right-hander at Les Combes at the end of the Kemmel Straight, Rosberg attempted a passing manoeuvre on Hamilton, only to seemingly back out.
In doing so, it resulted in contact between the two for the first time, with Rosberg's right front-wing endplate clipping Hamilton's left-rear tyre.
It created a puncture that resulted in a long three-mile return to the pits for Hamilton, ultimately wrecking his race in which he retired at the end of lap 39 of 44.
As for Rosberg, he went on to claim second place and has now opened up a 29-point cushion over Hamilton with seven races remaining.
The incident resulted in a heated, angry meeting between Hamilton, Rosberg, Mercedes motorsport boss Toto Wolff, technical executive director Paddy Lowe and non-executive chairman Niki Lauda.
Following the meeting, Hamilton dropped a bombshell when he said: "We just had a meeting about it and he basically said he did it on purpose. He said he did it on purpose.
"He said he could have avoided it. He said 'I did it to prove a point', he basically said 'I did it to prove a point'.
"And you don't have to just rely on me. Go and ask Toto, Paddy and all those guys who are not happy with him as well."
Mercedes motorsport boss Toto Wolff made it clear Rosberg was at fault as he opted not to move line.
"Nico felt he needed to hold his line. He needed to make a point, but for Lewis (from his perspective), it was clearly not him who needed to be aware of Nico," Wolff told Press Association Sport.
"He (Rosberg) didn't give in. He thought it was for Lewis to leave him space, and that Lewis didn't leave him space.
"So they agreed to disagree in a very heated discussion amongst ourselves, but it wasn't deliberately crashing. That is nonsense.
"It was deliberately taking into account that if Lewis moves or would open up then it could end up in a crash."
Wolff added: "The incident, as I see it, is not acceptable for us.
What we saw there was that Nico was not prepared to take the exit, and that caused the collision. That is not something we want to happen."
Prior to the meeting Wolff had suggested the possibility team orders would now be imposed, and even the prospect of taking action against Rosberg.
"We've not hit the self-destruct button yet, but there is a lot at stake," added Wolff.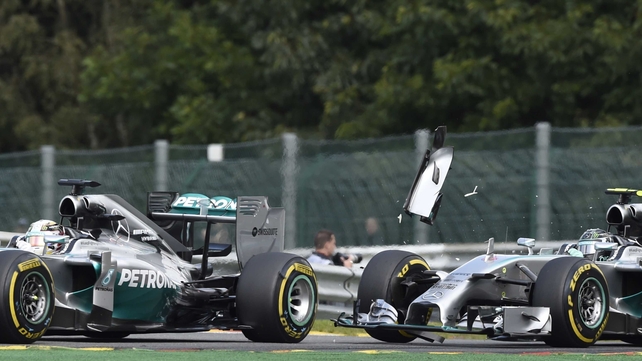 "If you don't manage this properly now it could end up at that point.
"It's one thing enjoying great races and letting them fight with each other, but you look like a fool at the end of the season if you have not won anything.
"I'm extremely upset about what's happened today, not about the fact that two cars have crashed into each other, I'm very upset because we've defined rules all together and we've broken those rules.
"I feel let down. Whoever it would have been, Lewis or Nico, I feel let down and the team has been let down."
Asked about a Hamilton remark suggesting Rosberg would get nothing more than a slap on the wrist, Wolff said: "If Lewis has said that, that there's going to be no consequence, he's not aware of what consequences we can implement.
"We've seen the limits of the slap on the wrist. Maybe the slap on the wrist is not enough."
Before implementing any sanction, however, Wolff has confirmed he will allow the heat to evaporate from the situation.
"We had a collision that could have been avoided, a second-lap collision, it was Nico who attacked and he shouldn't have done it," said Wolff.
"We had a collision that could have been avoided, a second-lap collision, it was Nico who attacked and he shouldn't have done it." - Toto Wolff.
"It was also to show he was not prepared to give in. With hindsight, if he could turn back time, Nico would probably not do it again in the way he did.
"I thought with the two of them, with the way they have previously driven against one another, that it wouldn't come to this point. But we are at that point and it needs to be managed going forward.
"We are going to sit down with everybody again and decide what to do, when everybody is in a cooler, calmer frame of mind."
Hamilton conceded to being "gobsmacked" with regard to Rosberg's remarks, with the trust between the two shattered.
"When you're out there you have to trust people to think with their heads and not do things deliberately," said Hamilton.
"But after that meeting I don't really know how to approach the next race. All I know is I've got to push."
Hamilton knows, though, he again faces another uphill climb to claw back the deficit to Rosberg.
"This weekend is damaging to me," said Hamilton. "I don't know how I'm going to get back those 30 points, but what I do know is I've got a great group of people behind me.
"The poor guys on my side of the garage have had quite a lot of bad races, but I know with their support and from the fans I can bring them some good results moving forwards.
"Whatever the case I will always put the team first and I won't take anything into my own hands."
Rosberg refused to take any blame for his actions as he told reporters: "I have seen the incident and I don't want to say what it definitely is.
"The stewards judged it as a racing incident and that's the way that one can describe it."
When asked to comment on Wolff's remarks in describing the incident as "unacceptable", Rosberg added: "'Unacceptable' doesn't put the blame on either of us.
"From a team point of view it is not acceptable and I fully agree with that. At all times we must avoid such incidents."
It was an incident, though, that resulted in Rosberg being roundly booed on the podium on four separate occasions.
Rosberg ultimately had to settle for second behind Red Bull's Daniel Ricciardo, who has now won three races this season and two on the spin, thrusting himself into contention for the world title again given the war that has broken out in the Mercedes camp.
Ricciardo finds himself 64 points adrift of Rosberg and 35 behind Hamilton.
Williams' Valtteri Bottas completed the podium, with the Finn up to fifth in the drivers' standings, 11 points behind Ferrari's Fernando Alonso who was seventh.
Ferrari's Kimi Raikkonen achieved his best result of fourth since rejoining the team this season, finishing ahead of Alonso for the first time, with Red Bull's Sebastian Vettel fifth and Jenson Button sixth.