Williams development driver Susie Wolff and Sauber team principal Monisha Kaltenborn led the tributes from the world of Formula One following the death of Maria de Villota.
It is understood De Villota was on a tour promoting her autobiography - Life Is A Gift - at the time of her death at the age of 33, with reports in Spain stating she was found in a hotel room in Seville.
De Villota was the daughter of former F1 driver Emilio and competed in F3, GTs, touring cars and the Superleague Formula before signing for Marussia in March 2012.
On 3 July last year, De Villota was involved in a freak accident at Duxford Aerodrome that resulted in her losing her right eye.
Despite spending a month in hospital, De Villota rebuilt her life and became part of the FIA's Women and Motorsport Commission.
A statement on De Villota's Facebook page, signed by her family, read: "Dear friends: Maria has left us.
"She had to go to heaven like all angels. We are thankful to God for the extra year and a half that he left her with us."
"She was an inspiration, not just to women in this sport but also to all those who suffered life-threatening injuries" - Martin Whitmarsh
De Villota proved an inspiration for many women drivers including Wolff, who emotionally recalled being motivated by numerous messages of support from the Spaniard ahead of her first significant test with Williams at Silverstone in July.
Speaking to Press Association Sport, Wolff said: "We both agreed her accident should never have happened. It was a stupid, freak accident.
"It had no relation to which gender of driver was in the car that day and she very much said to me after it 'it's up to you to go out there and show them that it (a woman driver in F1) is possible'.
"I can remember her sending me the message before the test. She said 'I can imagine you are starting to get apprehensive, but don't think twice about it. You can do it. Just do what you do'.
"She knew from the testing she had done, and the time she had had in the car, that it was possible.
"She knew that women could compete at that level and that's why, after her accident and her not being able to do that any more, she just wanted someone to know it was possible.
"Out of the paddock and out of the motorsport bubble, she was an incredible character, she was a fighter.
"She had such a spirit for life. What she came through was a testament to her strength of character and her positive outlook on life. She was just an incredible lady, no matter what she did on the race track. She was just an incredible character."
Kaltenborn came to know De Villota through the Women and Motorsport Commission that was founded in June 2012, just before the latter's accident.
Reflecting on De Villota's life, Kaltenborn said: "We all have our issues, but nothing compares to what she went through.
"When I met her the first time, we spent this day and a half in Paris and it was great being with her. She was so bubbly, full of life and so excited about her test she was going to do.
"She said she couldn't believe it, that she had been given a chance, but then things went so terribly wrong. We even saw once an X-ray after her accident, what had actually happened to her head, and we couldn't believe it. But from her you can only learn to have that much strength in life.
"There is no moment I don't remember of her when she didn't have a smile on her face. No matter what happened she always had this smile."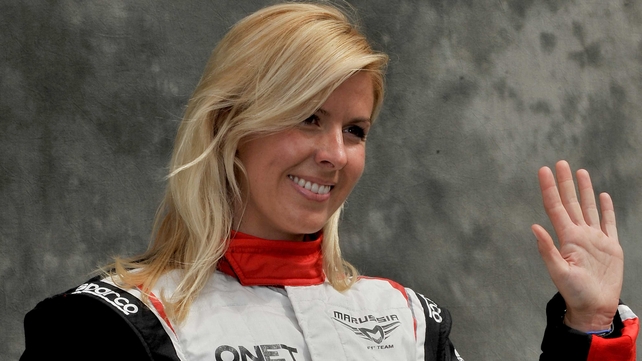 All the teams in the F1 paddock offered expressions of condolence to De Villota's family.
McLaren team principal Martin Whitmarsh, and chairman of the Formula One Teams' Association, provided an ideal summation.
Whitmarsh said: "She was an inspiration, not just to women in this sport but also to all those who suffered life-threatening injuries. Her story, determination and subsequent inspiration flowed from F1 through sport as a whole."