By John Kenny
Mondello Park say they will not be hosting a round of the European Rallycross Championship (ERC) in 2014, a series which was due to come back to Ireland next year after a gap of almost 20 years.

The Kildare venue was included in the provisional ERC calendar for this year, but a clash with the newly formed European Rallycross Challenge, meant that IMG, the company who took over the running of the ERC, agreed to include Mondello in their 2014 series instead.

However, the landscape has changed since that agreement was brokered with IMG now hoping to run a new World Rallycross Series and if Mondello Park were to be involved, it would now cost them well over three times the amount required to host a European round.

Discussions between John Morris, the circuit's managing director and IMG have come to an end and there is now very little prospect that International Rallycross, be it in its World or European guise, will be back in Ireland next year.

The ERC is a star studded series, which has included this year the likes of Ireland's Kris Meeke, plus former world rally champions in Sebastian Loeb and Petter Solberg.

Dubliner Derek Tohill also recently won the 2013 ERC Touring Car series for two wheeled drive machines in his Ford Fiesta.
Indeed Ireland has a decent pedigree in Rallycross, an event which is series of short sharp races on a mixture of tarmac and gravel in an enclosed environment which came into being due to the fuel crisis of the 1970.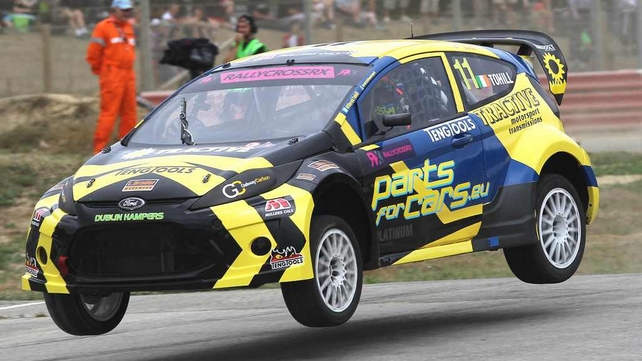 The likes of Dermot Carnegie, Chris Evans and Ollie O'Donovan have won the British series while Tohill is also a former European Division 2 champion.

In the late 80s and 90s, crowds of over 10,000 turned up at Mondello to see the Group B cars do their thing, but the European Championship has not returned since the for almost two decades due to safety concerns.

However concerns have long since vanished due to the upgrade works at the circuit and IMG were by all accounts, more than happy to bring the series back to Ireland due to the fact that Mondello has much better facilities than many of the European Rallycross circuits currently hosting rounds of the ERC.

However with IMG now looking at introducing a World Championship in 2014, it means that Mondello were facing a whopping three-fold increase in costs and they have now withdrawn from discussions with the series backers.

"We were provisionally offered a round of the world championship next year, but we have with withdrawn our interest in it because it financially does not make any sense." said Morris

"We were close to getting it this year (ERC) and it was nearly all systems go. We were included in the provisional calendar, but when we discovered that we were clashing with the new challenge series, we went back to IMG and in our discussions we agreed to hold off until 2014."

Morris confirmed that he had further talks with IMG over the summer and that was when the subject of a new world championship came up.

It is unclear whether there will be an ERC series next year and Morris is adamant that the Kildare track was only offered a world championship event for next year,

He continued: "We spoke to IMG in the summer and they were only interested in a world round for Mondello, the hosting of which would have more than tripled the price.

"We could not guarantee the crowds that would cover the cost of hosting a round of such a series and we withdrew from those discussions ago.

"It would appear that those discussions are now at an end.

"It is a pity because the organisers were very very keen to come to Ireland and we in fact were pencilled in to be one of the live TV ERC rounds on this year's provisional calendar."

With the IMG now looking at the world championship, there may be room for a smaller ERC series in 2014, which could, in theory, include an Irish round, but all that is conjecture at the moment.