Sebastian Vettel won the battle of the Red Bulls to claim the 27th victory of his Formula One career.
Vettel was involved in an exhilarating battle with team-mate Mark Webber late in the Malaysian Grand Prix that at one stage forced team principal Christian Horner on to the radio to admonish the triple world champion.
The 25-year-old German, however, ultimately held sway to take the chequered flag at the Sepang International Circuit by 4.2 seconds from Webber.
Behind them Lewis Hamilton stepped on to the podium for Mercedes for the first time as he kept team-mate Nico Rosberg at bay over the closing stages, with the duo involved in their own private tussle.
But that was also not without intervention from team boss Ross Brawn who twice informed Rosberg of the team's strategy, forcing him to hold station.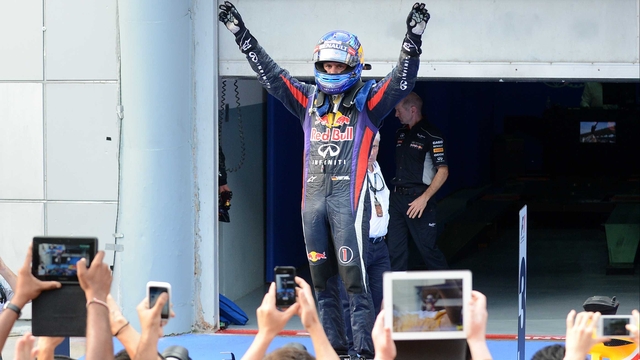 For Ferrari's Fernando Alonso it was a 200th race to forget.
Despite the wet conditions at the start as rain fell for half an hour around 40 minutes beforehand, and with all the drivers lining up on the intermediate tyre to cope, the opening lap was remarkably clean.
That was, however, bar one minor incident and a stunningly foolish decision that followed which brought a very premature end to Alonso's grand prix.
In the opening cut and thrust Alonso damaged his front wing, to such an extent it was clearly askew and occasionally throwing up sparks as it caught the track, but he opted not to pit at the end of lap one.
Alonso's likely belief was that he could continue until a few laps into the race, knowing he would have to switch to slick tyres as the rain had blown away and the track would swiftly dry.
So, as he battled with Webber down the home straight, the wing gave way and lodged underneath his car and, being unable to turn, it forced him off the track into turn one, fortunately avoiding the Australian in the process.
At that stage Vettel had managed to open up a lead after a typically clean start from the 38th pole position of his career.
However, the German was the first to dive into the pits to switch to slicks after five laps, which proved too early as he soon lost the lead to Webber, who waited until after lap seven to change his rubber.
It was during the first flurry of stops there was a monumental howler from Hamilton as he drove into McLaren's pit box by mistake, clearly forgetting he had changed teams at the start of the season.
From there he was quickly waved through by his former team's pit crew before finally changing tyres with his own team, but not without considerable embarrassment.
Another incident saw Jean-Eric Vergne drive into Caterham's Charles Pic in the pits as his Toro Rosso team mistakenly released their man into oncoming traffic.
Disaster then followed at the second round of pit stops for Force India who, for this season, have changed their wheel gun technology.
Paul Di Resta had already been compromised by a slow stop for team-mate Adrian Sutil ahead of him when they double parked at stop one for the switch to slicks.
But, having brilliantly scythed his way up from 18th to 11th, which included easing his way past Sutil at one point, there was an issue with the change of his front-left tyre.
It ultimately resulted in retirement after 23 laps, with Sutil soon following suit after his second stop as he too had a problem with the front left.
Come the third stop, a four-car battle had unfolded between the Red Bulls and Mercedes, but as has so often been the latter's problem, they were unable to get one tyre to work over the other, this time the hard compound.
Although having passed Vettel in the stops, Hamilton soon had to concede second to Vettel as he dropped back into the clutches of Rosberg.
Following the fourth stop, Vettel and Webber then slugged it out, forcing Horner to tell the former: "This is silly Seb, come on."
But Vettel won the day, much to Webber's clear frustration when the duo met in the cool down room post race.
Over at Mercedes, Rosberg twice complained he was quicker than Hamilton.
Brawn, however, replied: "Negative Nico, negative. Lewis' pace is what we are asking him to do. He can go a lot faster as well, so please be in control as well.
"There is a massive gap behind and nothing to gain in front. I want to bring both cars home."
After pulling into the pits and being thanked by Brawn for a good drive, Rosberg replied: "Remember this one."
After the podium ceremony there was clear friction between Vettel and Webber, the latter of whom was far from happy.
Vettel said: "It was a very close, wheel to wheel, not much room for either of us, a tight battle.
"I was probably a little too keen too soon as I was on the softer (quicker) tyre at the end (compared to Webber on the slightly slower rubber).
"But I enjoyed the fight. If there is something to say we need to talk internally
"But we both enjoyed it. I know I'm standing in the middle and probably enjoying it a bit more."
Vettel later issued an apology to Webber as he said: "I want to say sorry to Mark.
"He was trying to save the car and tyres, but I took a lot of risk in passing him when he was trying. I didn't ignore that, but I shouldn't have done it."
As for Webber, he typically pulled no punches. "The first part of GP went very well," he said.
"In the end we got the right strategy, and it was about controlling the race, getting everything in the race right, but the team told me to turn the engine down.
"But I want to race as well. Seb made his own decisions and he will have protection as usual and that's the way it goes."
As for Hamilton, given his situation, he felt guilty being on the podium.
"If I'm honest he (Rosberg) should be standing here, he's a great team-mate and did a fantastic job," said Hamilton.
"We brought the car home and I'm glad to get a result for them, but it's not the best feeling being up here.
"Racing is racing, and I have to look forward."
As for his first cock up of a pit stop, Hamilton said: "I did a Jenson (Button) as he did that a couple of years ago.
"I've had so many years making pit stops with McLaren, but I got it wrong, so a big apology to my team-mate."
As for McLaren, there was another pit-stop error which wrecked Button's race at a time when he was likely to finish fifth.
At least team-mate Perez collected his first points for the team by finishing ninth.