Donegal's Damien Faulkner, something of the "forgotten man" of Irish motorsport, is back in full-time motorsport having completed his comeback season in the USA.
The Donegal man has secured a full time contract to race in the 2013 American Le Mans Series (ALMS).
Faulkner, 35, has a huge racing pedigree and has multiple international titles to his name, including the European Palmer Audi Championship as well both the British Porsche Carrera Cup and the Porsche Mobile One Supercup, a series that supports European rounds of Formula One weekends.

Faulkner's last Supercup success was back in 2009, but the following two years were pretty lean as he was restricted to a series of one-off drives as well as supplementing his living as a driver coach.

However, determined to get back behind the wheel and back into the full time professional ranks, Faulkner went to the United States in 2011 and picked up four drives with Black Swan Racing and in the process became the first Irishman since the legendary Derek Daly to win his class in the 12 hours of Sebring.

Those four races led to a full season this year as he switched teams, moving to Green Hornet Racing to partner with 57-year-old team owner Peter LeSaffre, and the pair did all 10 rounds of ALMS, registering one win and taking five pole positions.
"I was always determined not to quit" - Damien Faulkner
"It's been a long road back," said Faulkner. "But I had a good year for in the Green Hornet Racing Porsche in 2012, taking a win at Long Beach after winning pole position five times.

"In fact the season could have been so much better because on the other four occasions that we were on pole, we got taken out of it while leading the race."

Faulkner is perhaps the only Irish international driver currently racing paid to pursue his passion, with most others having to bring sponsorship to their chosen teams.

In a near 20-year career he has a long driving history, having raced in Karting and Formula Ford in Ireland in the early 1990s before moving to the UK to race in Formula Vauxhall Junior and Formula Ford.

The Irishman then moved to the emerging British Formula Palmer Audi class in 1998 where he finished third in the 1999 season.

In 2000, Faulkner dominated the new European Formula Palmer Audi series, taking six wins on his way to claiming the title.
His prize for winning the series assisted him in finding a seat in the 2001 American Champ Car feeder series - Indy Lights.
He drove for Dorricott Racing, capturing two wins on his way to third place overall and he also went back to Mondello Park during the season, winning his class in a one-off FIA Sportscar Championship race.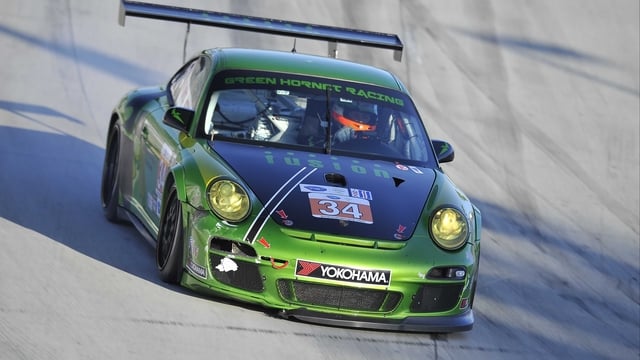 A fallout with his management company after his Formula Palmer Audi win, and his subsequent races in Indy Lights, didn't help Faulkner's ambitions.
However, he picked himself up and in recent years he has become synonymous with the Porsche brand and is currently one of the fastest and most sought after Porsche drivers in the world.
Having achieved great success in Porsche series' in Britain and across Europe, Damien joined ALMS in 2011.

He won his first ALMS race at the famous 12 Hours of Sebring and he is now a regular and highly regarded Sportscar driver in the USA.

"Back in 2009 and 2010 I didn't do a lot of racing.

"In fact all I did was one Supercup race and a couple of Sportscar races in the middle east and did some driving coaching along with the Dubai 24 hour race.

"It was the second time in my 19-year career that I took an enforced break, but I was always determined not to quit.
"Now I have signed up to a significant deal for the 2013 season. I don't want to go into it too much as the official announcement hasn't been made, but suffice to say it's a great offer and I'm excited about the New Year.
"I'm also doing the Rolex 24 at Daytona in January for Alex Job Racing in the Porsche.
"That should be interesting as Alex Job Racing used to be the Porsche works team in the US and are the defending ALMS GTC champions."
The Rolex 24 at Daytona features international stars of Prototype and GT-class racing around the clock in the ultimate test of driver and machine.
Past race winners include Indy Car champion Dario Franchitti of Scotland and Columbian Juan Pablo Montoya, the former McLaren F1 driver now competing in NASCAR in the USA.