The fight for this year's Formula One world title between Sebastian Vettel and Fernando Alonso will go down to the wire in Brazil next Sunday.
Vettel was forced to settle for second in today's United States Grand Prix, a race that was a stunning advert for F1 in America, behind the brilliant Lewis Hamilton, who conjured the 21st win of his career.
Crucially, with Fernando Alonso third, it means there is now a 13-point gap between the Spaniard and Vettel heading to the Brazilian Grand Prix at Interlagos next week.
It was not the race Red Bull expected, however, because although the 15 points from Vettel's runner-up spot mean they are constructors' champions for a third consecutive grands prix, there was little celebration on the pit wall. 
But it was a thoroughly deserved victory for Hamilton, who was robbed of wins in Singapore and Abu Dhabi as he suffered mechanical issues when leading.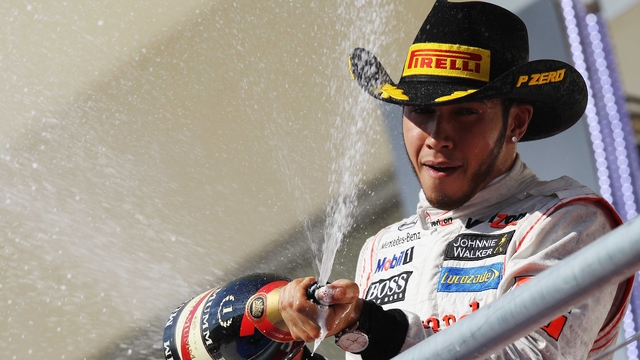 All the talk immediately before the race, however, had centred on a seemingly controversial move from Ferrari in deciding to break a seal on the gearbox of Felipe Massa's car.
In doing so, it immediately incurred a five-place grid penalty for the Brazilian, dropping him from sixth to 11th.
More importantly it promoted Alonso on to the clean side of the grid from eighth to seventh, giving him better traction at the start as the dirty side had been the described as potentially like starting "in the wet" by Massa.
It was a clever tactical move from Ferrari which they blatantly said was done because "the interests of the team come before anything else".
It sparked a fierce debate in the paddock as Ferrari had effectively found a loophole in the regulations to aid their own cause and keep Alonso in the championship hunt.
It proved crucial because emerging out of the signature uphill turn one Alonso had gained three places to climb to fourth behind a Red Bull one-two.
Unsurprisingly Hamilton, on the dirty side, lost second place to Mark Webber as Sebastian Vettel was away and clear from the 36th pole position of his career.
Ordinarily, with Vettel out in front into the first corner that would signal a comfortable cruise to the flag, but not on this occasion.
Hamilton eased his way past Webber on lap six that signalled a stunning battle between the Briton and Vettel as they went head-to-head and wheel-to-wheel at one stage.
In the first half of the race Hamilton managed to close to within a second, but as his set of medium-compound Pirelli tyres started to lose their grip, he never got close enough to attempt a pass.
Ahead of the first round of pit stops Alonso's cause was further assisted when Webber was forced to retire on lap 17 as yet another alternator failure to afflict a Red Bull saw him grind to a halt.
Following the flurry of activity in the pitlane, Hamilton then began to chip away at Vettel, eking out tenths of a second here and there until crucially closing the gap to within a second.
That allowed him to use his DRS on the long straight between turns and 11 and 12, but for a number of laps the 27-year-old continued to fall just short.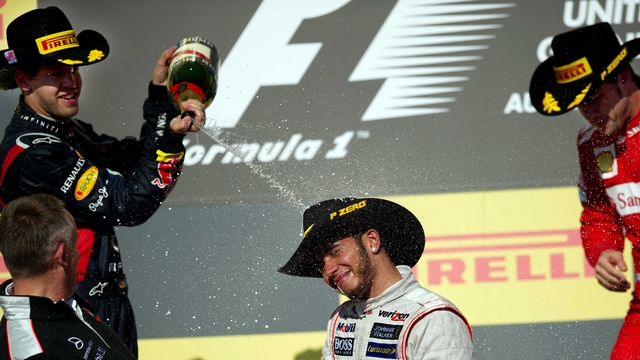 Then on lap 42 of the 56 Hamilton finally managed to get close enough to Vettel to execute a manoeuvre into turn 12, the duo inches apart at one stage before Hamilton made the move stick.
For Alonso, it was crucial as in one fell swoop Hamilton had taken seven points off Vettel, limiting the damage as the Ferrari was a long way adrift in third such was its pace compared to the leaders.
Hamilton, however, failed to pull away from Vettel and the last few laps were tense, but the Briton did enough to hold on for the win, with Alonso a staggering 40 seconds down the road.
The trio were followed by Massa and Jenson Button, fifth in his McLaren after starting from 12th, followed by the Lotus' of Kimi Raikkonen and Romain Grosjean.