By Tadhg Peavoy
Eugene Laverty has the potential to be massive. The Northern Irishman has just finished second in the World Supersport Championship for the second year running. These two finishes came in just three seasons of competition in the class. He is now jumping up to the World Superbike Championship, where he will race for Yamaha.
As I sit in the opulent surroundings of the Westbury Hotel, Dublin, Laverty and his girlfriend and press manager Pippa Morson drink green tea and relax – Laverty has the air of a chilled-out customer who lets nothing perturb him. But, with the season only just over, he tells me he is still irked by failing to win the Supersport crown. 'It definitely [does bother me], that's why I stayed behind the second year. I've yet to win a major championship. I've fought for the British 125[cc] and Supersport Championships – in fairness, both the years I came into them I wasn't going to be favourite for the title. In my first year in World Supersport I wasn't expected to fight for the championship. I thought "I'll stay behind one year and I'll be favourite to win this championship" and that's what I was. I did pretty much everything right,' he says.
'I won eight out of 13, but didn't manage to win it because there was a rival who was just ultra consistent; you normally don't find that in racing, where someone finishes on the podium in every single race, and he beat me to it [Laverty's rival Kenan Sofuoglu]. It was so frustrating because I felt it was mine.'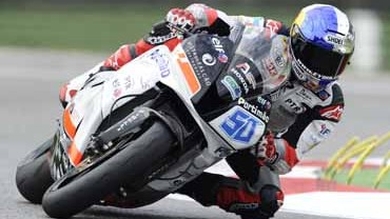 Riding around a track at breakneck speed is not everyone's idea of an ideal job, but Laverty has been doing it since he was a child and finds it second nature. 'I don't recall the first year of riding a bike because I was riding them from three-years-old. I had two older brothers and they'd been riding bikes for a long time. I had only been riding a bicycle with stabilisers and my brothers thought it would be a good idea to see how I got on with a motorbike, and, I managed to ride it somehow. As with infants when they are picking up languages – they just pick it up like that. I think putting a kid on a bike at that age really seems to speed up the development. So many riders I've spoke[n] to were riding a bike when they were three - before they rode a bicycle without stabilisers. Maybe there's a secret in that somewhere,' he says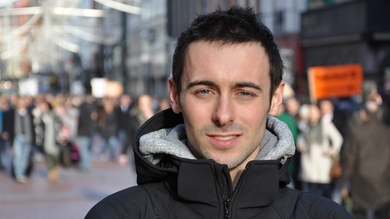 Laverty's father had also ridden motorbikes as a younger man and was a road racer. Laverty senior's bikes were lying around and his brothers used the bikes to pick up the sport. 'My two older brothers, my Dad had got them into bikes and I suppose they were bored one day, "What can we do next?" so "Let's put Eugene on it",' he says.
Both Laverty's brothers ride in the British Superbike Championship and will be favourites for the title again next year, making the sport very much a family affair. 'My eldest brother Michael fought for the British Superbike Championship this year and just missed out. There are a few other sets of brothers that race, but not really; we are all competitive. All three of us are very fast,' he says.
'There is only one other family, in America, the Hayden brothers, that are similar.'
Laverty's career began by riding in the British 125cc Championship in 2004, the first step towards what has been a very quick rise to World Superbike. However, Laverty felt no nerves in making that jump. 'I just took it in my stride. I'd been running around the British Championship paddock since 1998, because my eldest brother Michael started then. I was always watching and spectating. I didn't feel like a British Championship because I felt quite at home,' he says.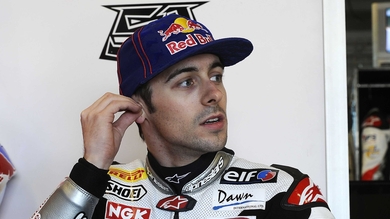 Riding in Britain is the way for Irish riders to show their wares and attempt to break into the big time and it was the only option the Lavertys considered. 'In Northern Ireland and the Republic of Ireland it's difficult to make a break if you're just riding in Ireland, if you really want to show your potential you really have to go to the British Championship,' he says.
'It's a lot of expense too; you have to get the ferry over. If you live in England you can drive to every round. We were fortunate in that our parents supported us to allow us that opportunity.'
It was in Qatar that Laverty won his first Supersport race in 2009, when Laverty won that race he felt he would most likely go on to further glory and contend for silverware, but was not entirely sure of his abilities. 'I knew I was good, but I didn't know how good I was. I had two tough seasons in the British 250cc World Championship due to poor machinery – and I'd never had bad machinery [before]. You begin to think "What is my level?",' he says.
'But I learnt a lot in those two years, so when I went to World Supersport I was confident that in the second season I could be fighting for the World Supersport Championship. In 2009 – when I won that race – I still thought, "That was nice, but I'm still not going to be fighting for the championship". It wasn't until round four, when I won my second race, that I realised that I'm a contender for this. [I thought] the other riders had too much experience on 600cc machines, whereas I was only still a rookie; then, I started to realise that [experience] wasn't everything. I was able to pick up new circuits - the next three tracks after that were all new to me: Monza, South Africa and America - and I was racking up podium finishes. I even won in South Africa. I began to realise that experience doesn't really count for everything. When you've got raw speed you can fight with the top guys.'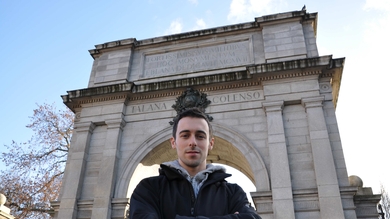 In 2009, Laverty lost the Supersport title by a mere seven points to Cal Cruthlow; however, that agonisingly narrow defeat wasn't too crushing for Laverty. 'It wasn't that heartbreaking because I'd come into the season just looking to establish myself as a rider, I definitely didn't expect that and it's nice when you exceed your expectations by that much,' he says.
'I'd been written off for a couple of years [after performing badly in the 250cc championship] so I don't think anybody expected me to do that. In racing there is a fine line between giving a reason for your results and producing an excuse. Often you just have to get on with the job, because people don't see it as a reason - they see it as an excuse.'
Laverty had two tough seasons from 2007 to 2008, when he rode for Aprilia and Yamaha. In the 250cc Grand Prix World Championship he finished 25th and 21st, and also finished 21st in the World Supersport Championship. This poor run Laverty accredits to riding sub-par bikes. So, the jump to riding for Parkalgar Honda in 2009 was the key to making the grade and elevating himself to contender status. 'Parkalgar Honda are a Portuguese team and British based. They gave me the shot at it. They took a gamble on me, but it was a calculated risk. They knew I was capable, but again, I don't think they realised that I was going to be as strong as I am,' he says.
'I owe a lot to them; they gave me the opportunity to get on a bike that was capable of winning a championship.'
As is so often the case in success stories, there was a personal element to Laverty's jump from a mid-range to a top-range bike. 'My crew chief from a Red Bull Rookies project [Mark Woodage], I became quite close to. He was involved with Parkalgar Honda. If you've got somebody fighting your corner in the team that speaks volumes; he realised the potential,' he says.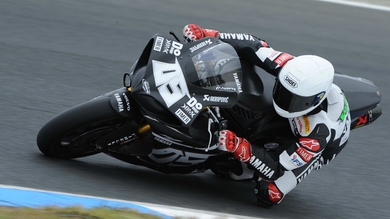 Kenan Sufuoglu was the man who prevented Laverty taking glory in 2010; Laverty speaks highly of his rival and shows him much respect. 'I can get on well with him. He can be a strange character at times, when I'm faster than him. I don't know if he's intimidated. I can speak to a rival any which way: if they're really fast or I'm kicking their ass it doesn't matter. Because you've got to be neutral not to show any sign of weakness. If I'm fast on a weekend, he finds it hard to look me in the eye almost. Away from the paddock he's a nice character. He is a fierce rival, me and him in any championship - be it MotoGP or whatever – there are very few riders who would like to come up against either one of us. He's the only guy that I've really struggled with [on the track]. Most other guys I can outsmart.'
The ultimate goal for any world-level motorcyclist is to compete in MotoGP and Laverty is no different in that regard. 'I'm just one step from the top now and it's within my grasp. I've proven myself that I'm capable. [MotoGP] is the place I want to be. I see myself moving there in the next couple of years,' he says.
Laverty has replaced Cal Crutchlow in the Yamaha team for World Superbike 2011 following Crutchlow's jump to MotoGP. 'That's why I've stepped into the Yamaha seat, because it seems to be the stepping stone,' he says.
'If I can have one very successful year in 2011 World Superbike it's possible I could move to MotoGP, but I don't want to start getting excited about that. I just have to concentrate on winning races in World Superbike and if I can do that the opportunities will arise.'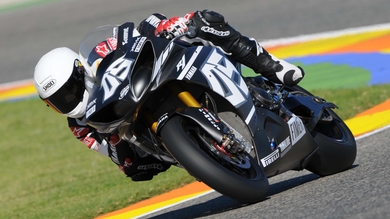 As regards the current crop of MotoGP stars, Laverty finds Casey Stoner to be the rider of the future. 'Casey Stoner is the full package. The things he can do on a bike are unbelievable and I think it's only the guys that are at my level that can appreciate that. Outsiders look at it and say Jorge Lorenzo is the fastest guy out there, but I think Casey Stoner will surprise a lot of people this year.'
The huge figure of Joey Dunlop remains large in Irish bike-riding and Laverty cites the bike legend as his hero, as much for Dunlop's personality as well as his riding abilities. 'Dunlop was very modest; he did wonders; won world championships. He did charity work and went off to Romania and helped people,' Laverty says.
'It wasn't a big media effort; he just snuck off and helped people. The fact he did that shows he was a genuine person.'
Pictured below: Laverty's hero Joey Dunlop.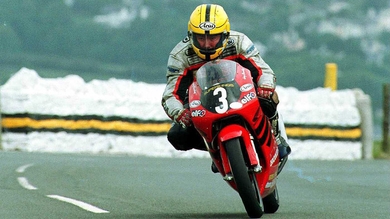 Laverty himself is involved with the CJ Riders Fund, which raises money within the motorcycle industry to provide medical equipment and improve the safety at British motorcycle races. Laverty rode with Chris Jones, who died racing at Cadwell Park in 2005. Jones' parents setup the CJ Riders Fund and as Laverty knew Chris the charity is close to his heart.
Laverty also hopes to do more charity work as his profile grows. 'The idea of helping those less well off than you appeals, because it's giving back. I've been given the opportunity be successful in this sport and if I can help off the back of my name then why not,' he says.
It is often said that motorsport athletes are the fittest of all. Laverty explained to me that in fact motocross riders have the most bike-fitness. Whereas Laverty feels riders in his discipline can take more time off; they can take a month off and not lose much bike-fitness. Laverty describes himself as 'a busy rider' and likes to cycle and run regularly to give himself an edge on riders who aren't as physically fit. 'On a bike you can move yourself forward a huge amount in the seat, and backwards as the fuel load goes down and the tyres wear. I like to be quite active in the bike to counteract that,' he says.
'There are some guys who are quite out of shape, and they are sat in the seat – it's a sofa for them. I'm stood on the foot rest and hovering in the seat like jockey. We have two do that for two races in the day and I want to be able to do that in the last lap.'
Born in Ballymena, Laverty makes it quite clear to me that his connection with Ireland is strong and that he most certainly calls himself Irish; the Leprechaun logo adorning his merchandise certainly emphasises that. 'I choose to be Irish rather than British, but I can be both. The British like to adopt you if you're doing well. I stay out of the political side of it. I see Ireland as a landmass. It doesn't matter if you're from the north or south,' he says.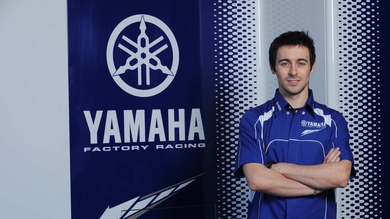 Having got to know Laverty somewhat over the course of several hours, his placidity and calm nature are evident throughout. It is obvious to see the man has an aura of peace which he brings on to the bike; almost as though he feels born to ride.
Follow Laverty riding for Yamaha in the World Superbike Championship on Eurosport throughout 2011. The first race is Phillip Island, Australia, on 27 February 2011.
Tadhg Peavoy was in conversation with Eugene Laverty on 19 November 2010.