Try to schedule an interview with Shauna Bannon during a fight camp and you may receive a voice note relaying her tireless schedule for the day, with a couple of small gaps where the proposed back and forth can take place.
The "Mama B" show starts at the crack of dawn.
Amidst gruelling strength and conditioning sessions, focused-technical classes with head coach Paddy Holohan, physiotherapy slots and sauna sittings, there is barely a moment for Ireland's second ever female UFC fighter to grab a bite to eat.
Yet there is some time in her day that is more sacred than the work that goes into maintaining her undefeated 5-0 record, especially as her UFC debut tonight in London looms larger.
"The only free time I have for the rest of the day is the time I'm going to spend with Jayce, and I won't be scheduling anything during that time with the fight coming up," Bannon explains.
After a decorated international kickboxing career, Bannon drifted into mixed martial arts by chance when Holohan began using a Tallaght community hall for his classes. After claiming silver at the amateur world championships in 2019, she was gearing up for a move to the professional code, when her plans hit a speed bump.
"I was pregnant and we were heading into a lockdown," she recalls.
"Nobody knew what was going on. Honestly, I thought my life was over. I couldn't see any positivity in the situation. I thought I'd never do MMA again, that I'd never fight again. I thought I'd just be a Mam and I'd have to get another job.
"Not a lot of people comeback after a pregnancy and compete at a high level, some do, but the odds are very small. I knew my situation with Jayce's father wasn't really going to work, we had broken up shortly after, so I wondered what kind of support I was going to have."
Jayce arrived into the world in 2020 and any thoughts of him having a negative impact on his mother's fight career were evaporated when she claimed gold in the amateur World Cup the following year.
Bannon refers to him as, "my why", and in every interview she undertakes, she underlines how the birth of her son has inspired her to greatness in the MMA world.
After going pro in April 2022, Bannon's career has been a whirlwind.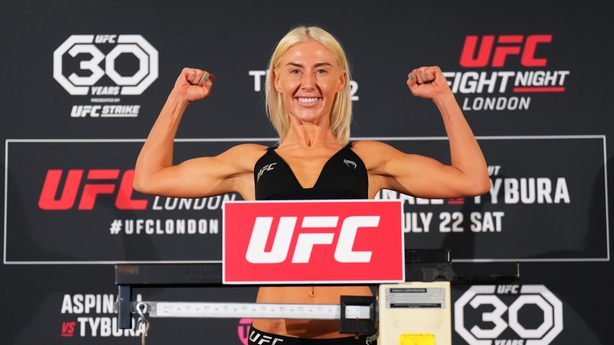 She claimed two national titles before receiving a call-up to the premier women's fighting promotion, Invicta FC, which was the same route Irish UFC legend Aisling Daly took to the big dance. Two victories with Invicta led to her UFC signing and now only Bruna Brasil stands in the way of her claiming a debut win in the infamous Octagon.
A straw-weight with star quality, Bannon has become training partners with the likes of Daly and Molly McCann, fighters who she would have aspired to follow in the footsteps of.
"Mama B" is very in-demand this week, she has media obligations as long as her arm. That said, her athletic career is secondary to her role as a mother, which includes the endless planning that must happen to facilitate her training.
"Anyone who has a child knows, nothing goes according to plan when you have a child. At the moment, he's potty training so I might be delayed a half-an-hour just waiting for him to get a poo out," she reveals, laughing.
"This is a team effort, though. I'd be lost without my friends and family who look after him when I need to be training. Every five minutes of my day is planned, and it's a lot, but if it was easy I wouldn't want to do it. I'm doing this for him so it makes it all worthwhile."
Not a lot of people remember a great deal from their time as a toddler.
When Bannon was three, she was already beginning her journey in martial arts under the tutelage of her father, Martin Bannon, the head coach at Tallaght Martial Arts and a legend in his own right.
We need your consent to load this Instagram contentWe use Instagram to manage extra content that can set cookies on your device and collect data about your activity. Please review their details and accept them to load the content.Manage Preferences
Due to the spotlight that's been on the Irish starlet and her constant conversations about him, when he's older, Jayce will have an encyclopaedia of articles, videos and interviews he can go through to see firsthand how instrumental he was as a source of motivation for his mother.
But what does Bannon hope he sees when he's old enough to revisit her fledgling days as a professional fighter:
"For the past month, he's really been struggling because we haven't been together as much. He's noticing that I'm leaving a lot more and he'll say, 'Mammy you're not going training again!' It absolutely kills me, but I know I have to do this to give him a better life.
"I really hope that when he's older he'll see that this is all for him, to give him a better life and to give him the life and opportunities that he deserves."