Bellator becomes the envy of every mixed-martial-arts promotion each time Peter Queally emerges in front of the partisan Irish crowd at 3 Arena.
In full voice, the Irish fans bellow every world of 'Zombie' by The Cranberries as the Waterford man makes his final walk to the cage. Footage of his emphatic entrance is all but sure to go viral each time it happens, harking back to the infamous night in 2014 when Conor McGregor put the fighting world on notice with a quick dispatch of Diego Brandao.
"This arena, it's my whole career," said Queally, sitting in a plush room in the Gibson Hotel, walking distance from Friday's night's battleground, which will host his meeting with former UFC and WEC champion Benson Henderson.
"This is what made me in the fight game. In my early days, I was gaining a lot of acclaim from people in the know for my tours of Russia and South Africa, but the general public didn't know anything about it. Without the fights here, I don't know if I would have been able to breakthrough in the way that I have."
The Star of the Show
Although he was one of the most established pros signed during Bellator's heavy European recruitment campaign in 2018, nobody would have expected the battle-hardened SBG fighter to become the star of Bellator's Dublin soirées.
Keep going back to this today. Can't think of a better, more emotionally-charged walkout in 2021. Love the way it was shot, too. pic.twitter.com/x6K9wuR0br

— Ariel Helwani (@arielhelwani) November 6, 2021
Having cut his teeth among the golden generation of Irish MMA fighters, Queally always had an old-school mindset, letting his fighting do the talking for him.
He values attrition and grit over showmanship and social media savvy, some of the most valuable currency in today's fight game. Based on Bellator's capture of Geordie Shore reality television star Aaron Chalmers early on in their European adventure - a significant attempt to bolster viewing numbers outside of the MMA bubble - a fighter's fighter taking the spotlight was hardly part of their plans.
If you dropped an alien on the North Dock as Queally struts down the ramp, they would probably think they're in the presence of a king. The watching world wishes they were among the singing Gaels and those in attendance live vicariously through the 37-year-old, preparing to throw every punch with him once the opening bell rings.
However, Queally's legacy at the 3 Arena runs a lot deeper than the pomp and ceremony that we we've become accustomed to, regardless of the result of Friday night's main event.
"I've often described the 3 Arena as a fortress for me, but it's not really," Queally explained.
"I've had some tough nights there, some really tough nights. Saying that, one thing I do know, no matter how hard it gets for me, the crowd will always be there behind me. A lot of fighters don't talk about this, but fighting is scary.
"Sometimes I'm in my dressing room just before I go out wondering why I didn't use my accounting degree and have a normal life. But the second I hit the crowd, I know I've made the right decision."
Highest of Highs, Lowest of Lows
Your mind immediately jumps to the Ryan Scope fight when you ponder Queally's conquests at 3 Arena. The electrifying comeback win bridged the gap from Europe's elite to the world's best for the Irishman.
It was pure pandemonium in The Point that night, but in every storied career like Queally's, the man in the arena not only experiences the highest of highs, but the lowest of lows.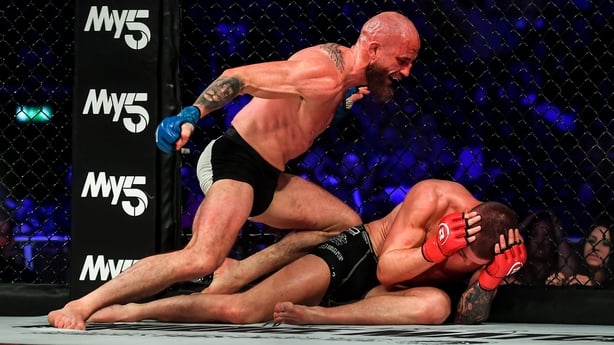 There was the Joe McColgan defeat at BAMMA 26 in 2016 when the UFC were thought to be very keen on Queally's signature. Again, after a three-year hiatus from the venue, Queally returned for one of the biggest domestic fights of the decade, when he was edged out by rival Myles Price.
If you ask him, Queally will tell you that the first loss of his career to Chris Boujard was the toughest to take. However, his last outing at 3 Arena, a second round loss in a championship bout with Patricky "Pitbull" Freire - a man who Queally held a victory over from their first meeting - was pretty rough too.
Although it was only for about an hour, Queally even considered retirement.
"My girlfriend could tell you herself, I just had a great sadness come over me for about 10 days after that fight. I barely left the house, I was being very short with her and basically showing no interest in anything.
"In the end, I had to tell her, 'Look, I'm unbelievably sad, I can't even explain how I feel'. I just wanted to be alone. I felt like there was a hole in my heart.
"You've been following my career for a long time, you know how long I've been scratching and clawing my way to the top. To get there and to lose, it felt like my career was in a free fall."
Legacy Secured
Once famed for being the invader on foreign soil, Queally has become a hero in his homeland.
While some of the Bellator cards have been criticised for the presence of "gimme" fights - bouts matched specifically to provide a favourable outcome for Irish fighters - Queally has always taken the most difficult challenges available to him.
He caters to everyone on fight night, the casual fan wants to be part of his epic entrance and the hardcore fan wants to see him fight the world's best.
Bellator is all too aware of what he brings to the table and if he had any doubts about his place among the organisation's lightweight top tier, the clash with celebrated lightweight, Henderson, has certainly reassured him.
"I'm still here and I'm only one win away from being the man again, that's what fighting is all about," he remarked.
Through his showings at 3 Arena, his legacy is set in stone, but you'll find it hard to convince him of that.
In his mind, he's still the same kid who unsuccessfully challenged an accomplished amateur boxer to a straightener on Brickey Rangers GAA ground all those years ago, and launched a storied career in the hurt business on the back of the defeat.
Queally has already been to the top of the mountain, but it's almost like he doesn't want to acknowledge it.
He's still "scratching and clawing" his way to the peak, same as he ever was.