Rhys McKee is one of the first names that springs to mind for European MMA fans when considering tough tenures with the UFC.
When Conor McGregor became the first simultaneous double champion in the history of the promotion back in 2016, McKee was considered a shoo-in for a future contract as his signature stopping power knocked a host of hot prospects out cold.
The Ballymena man established himself as one of the best lightweights in Europe over a number of years, so it puzzled many when UFC chose to extend the offer for him to join their ranks after one fight at welterweight - a stunning jab knockout of established Norweigan campaigner Hakon Foss in Cork.
In the midst of the pandemic, McKee had to grasp the opportunity with both hands, even though it was a short notice bout with one of the greatest prospects the sport has ever seen, Khamzat Chimaev - a man who has since proven too much for the elite title challengers at 170 pounds.
After a first round defeat to the Chechen poster boy, "Skeletor" was rewarded with a bout against a ten-fight UFC veteran, Alex Morono. Despite a thrilling encounter, McKee's decade-long dream came to an end in a matter of months when he was handed his second UFC loss in as many outings.
"It's hard to deal with when you're watching guys fight in the UFC on Saturday nights," McKee revealed.
"You're seeing other guys getting way handier matchups, and for me to get cut after facing two tough opponents, it doesn't really make sense. People still understand how good I am though, everyone facing me looks at me like I'm their golden ticket [to the UFC]. A lot of fighters in the UFC are fighting way easier opponents than I did, and that's lost on a lot of fans. But I know I'll be back one day, I have absolutely no doubt about that."
If McKee's heart wasn't in it anymore after his brief spell in the UFC, it would have been highlighted during his October clash with the famously durable Aleksi Mäntykivi.
The Finn left the fray with a face like a butcher's block after one of the best pugilistic performances of McKee's career. After three rounds of McKee tagging the his foe liberally, referee Rich Mitchell stepped in to call time on the action after a flush right blasted Mäntykivi - a death by a thousand cuts.
This Saturday at the SSE Arena in Belfast, 26-year-old McKee will take another significant step to rejoining the UFC's elite should he manage to get by another one of Europe's standout welterweights, Justin Burlinson, when they meet for Cage Warriors' vacant welterweight strap.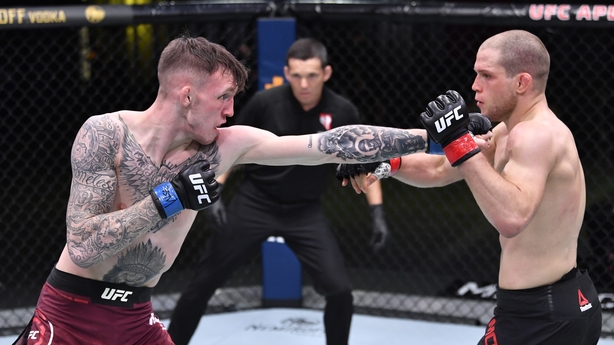 Cage Warriors has been the final banner that over 100 fighters have fought under before going to the UFC. In terms of Irish charges, Conor McGregor, Cathal Pendred, Neil Seery, Aisling Daly, Paul Redmond, Joseph Duffy and Ian Garry all signed on the dotted line with the UFC on the back of successful runs with the Graham Boylan promotion.
Although he left the UFC 18 months ago, the Northern Irish knockout artist is adamant that the door is still open for his return.
"If I was a 32-year-old fighter and I went in and lost two in a row, if I lost one more I'd never go back because you just don't come back after losing three in a row in the UFC. I was only 25 so I think they thought, 'let's not take the chance on him losing one or two more', because then I would've been damaged goods," he said.
"The way I see it is, they've sent me back to fix the blemishes in my game so I can come back on a winning streak. And mark my words, by the time I do go back to the UFC I'll be ready to go on a tear again."
With a host of prime talent in the region, when Cage Warriors first batted around the idea of a Belfast show at the beginning of the year, it felt like it could be a historic night for the scene up North.
As well as McKee, the promotion boasted a former lightweight champion in Joe McColgan and an interim featherweight champion in Paul Hughes. However, with McColgan and Hughes unavailable, McKee has become the main attraction on the marquee.
'To be back in Belfast at this stage of my career, it really means the world to me'
McKee admits that he would've enjoyed sharing the card with his friends, but can see the benefit in him taking the spotlight on Saturday night, especially when it comes to sending a message to the UFC brass.
"This is a homecoming fight," explained McKee. "The people who have been supporting me since I was 17, they've never got to see me fight live while I'm in my prime. To be back in Belfast at this stage of my career, it really means the world to me."
"Without Joe [McColgan] and Paul [Hughes] being on the card, as much as I would've loved to share a Belfast card with them, this stage is truly mine. I know I'm going to thrive in that kind of environment. I want everyone to leave the venue knowing that Rhys McKee is a UFC calibre fighter."