MMA coach John Kavanagh has said he's "proud" of how Conor McGregor has dealt with recent controversies and aired his belief the negative headlines surrounding the Dubliner have not damaged the sport.
In November 2018 McGregor was fined €1000 and disqualified from driving for six months for speeding, while last November he was fined another €1000 after being convicted of assaulting a man in a Dublin pub.
McGregor stepped back into the octagon last month for the first time in well over a year, ending the challenge of Donald Cerrone with a first-round knockout.
Kavanagh, who has mentored the 31-year-old throughout his incredible rise to the top of the sport, admitted the fighter has made mistakes, but insists they are errors he's learned from.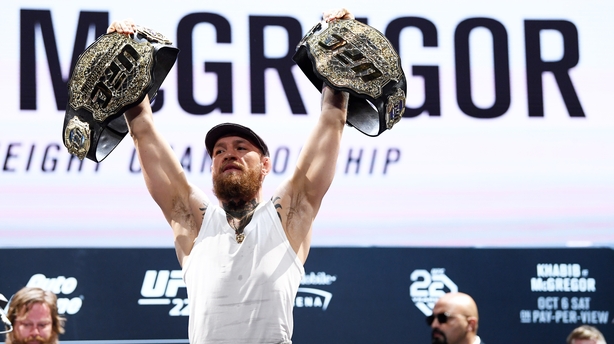 "I'm incredibly proud of Conor. I realise it was him individually who has made the sport so well known," Kavanagh told RTÉ 2fm's Game On. 
"I get stopped by 60-year-old ladies asking me how his wrestling training is coming along. I know it was him who made it a huge sport in Ireland so I'm very, very proud of that.
"It comes with the territory. Negative headlines get more clicks than positive headlines. That's just the media game. 
"He's spoken himself about his slips and his mistakes. He's had to pay for those outside of the sport. I feel we're on a good comeback story - he had a great win in January - but yeah, like most things in life you take the good with the bad, you roll with it and try to improve, learn from mistakes and get better as a human being and an athlete as you go on. 
"It's a very weird rise from being an unknown guy in Dublin, doing a sport no one has heard of, to being a global superstar. Everything you say and do is analysed.
"He had to make his mistakes very publicly and visibly. I'm proud of how he's come through those things. He's owned up to his mistakes. He's trying to make himself a better person and I'm behind that.
"I'd like to think [his mistakes haven't damaged the sport]. I think people who are interested in the sport realise it's not one person."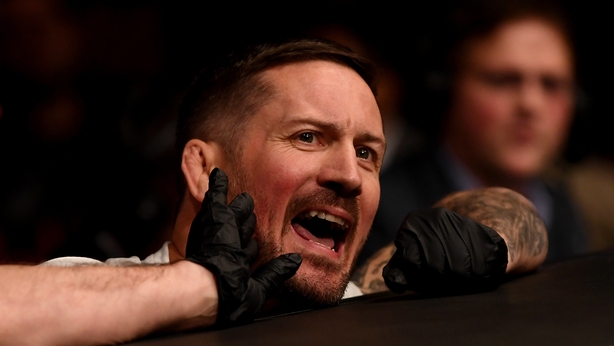 Kavanagh has spent the last two years striving to have MMA officially recognised as a sport in this country at government level. 
He admitted he's been frustrated in recent years at the perception around a sport which has exploded in popularity. 
"We had to put together a huge amount of documentation between child safety, good governance, membership quotas and all of that, so we're at the stage now of just beginning the application process," he added.
"We're hopeful we'll have it done maybe in the next twelve months. Just recently France recognised MMA. They've gone underneath the boxing association. We're in the process of applying to go underneath a national governing body for all martial arts in Ireland. It's called IMAC (the Irish Martial Arts Commission).
"I'm a huge Katie Taylor fan. I feel like every time she's had a great achievement I'd hear her coaches being brought on to shows and the only conversation would be, 'what a great achievement, what an inspiration' and so on.
"Every time one of my guys had a great night or achievement... I was only ever brought on to discuss, 'well is this a real sport? Are you promoting violence?'.
"Id be like, 'I just watched Katie Taylor pound some girl's head into the canvas and they're getting high fives everywhere!'. I just wanted to have it so that kids that are interested in MMA have a recognised route through the sport.
"When Conor started to make waves we probably had about 15 MMA clubs in the country.
"As of now, we're coming up to a hundred clubs. In general you're talking about 50 to 150 members in a hundred clubs, so there is a lot of interest.
"One of the biggest things that MMA has done is, for under 18s, they've removed head contact altogether. We just train them to throw strikes to the body and the legs.
"We don't allow any head contact in competition. There is obviously the grappling element which is more akin to wrestling or judo. It's a tough sport, but it's as safe as any other sport out there."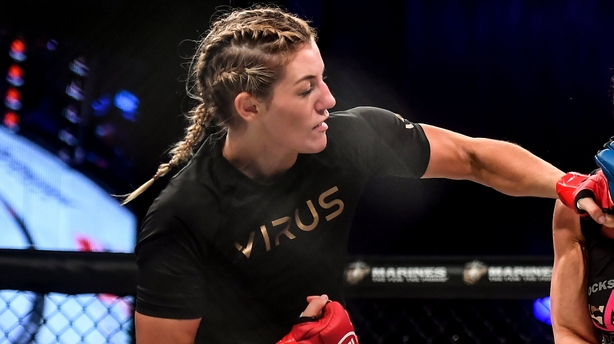 Kavanagh has 14 fighters competing in this Saturday night's Ballator event at the 3Arena in Dublin, which will be headlined by Belfast's Leah McCourt (above), making history as the first Irishwoman ever to top a major MMA card.
McCourt is coached by Owen Roddy but Kavanagh - who gave an insight into how he prepares fighters for blockbuster nights - is a massive supporter.
"It's hard not be a Leah fan. She doesn't train in my gym, but I've been watching her for a long time. There's some great stories in MMA. She has a very, very tough match-up (against 34-year-old German Judith Ruis) but Leah has a great habit of rising to the occasion. I hope she does the business. 
"I have a full-size octagon in my gym and I actually have a wallpaper mural around it of ten thousand people. I got a professional photographer to take panoramic shots of a packed crowd.
"I have that plastered on my wall so as the fighters are walking into that octagon they see thousands of people staring at them. Sometimes we even do crowd noises on the sound system.
"I try to mimic what the effects of Saturday night will be as much as possible.
"However, nothing matches up to the reality."