The cheers may have been as loud as ever but it was a more humble Conor McGregor who took to the stage last night in Las Vegas for his pre-fight weigh-in.
As he addressed his fans, he apologised for being late.
"It's hard work getting the kids ready and bringing them to the event so thank you for your patience," he said.
He added that he was dedicating tonight's fight to his mother at home in Ireland.
McGregor stood alongside his opponent for the welterweight bout, Donald 'Cowboy' Cerrone.
Chants of 'olé olé' from Irish fans as @TheNotoriousMMA #ConorMcGregor takes to the stage for his pre-fight weigh-in in Las Vegas. @ufc @rtenews @RTEsport pic.twitter.com/GVcAbnl906

— Brian O'Donovan (@BrianOD_News) January 18, 2020
The American holds the record for the most wins in UFC history but it is Conor McGregor who is the bookies' favourite.
This is despite the fact he hasn't fought since losing to Khabib Nurmagomedov in October 2018.
Over the last two years the Dubliner has been in the courtroom more that the octagon on both sides of the Atlantic.
In July 2018 he pleaded guilty to disorderly conduct after throwing a metal handcart at a bus carrying UFC fighters in New York.
In November that year, in Dublin, he was disqualified from driving over a speeding offence.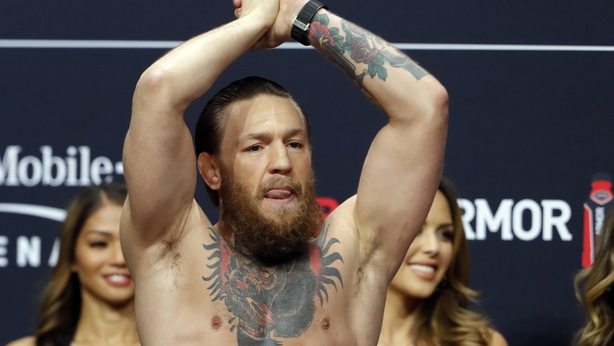 Last March he was arrested in Florida after being accused of smashing a man's phone.
And in November he was convicted of assaulting a man in a Dublin pub.
At a pre-fight press conference this week a journalist tried to ask about McGregor's legal difficulties but he was booed and interrupted.
McGregor said he'd been through certain things that had shaped him.
"But if you were to ask my family or the people who know me, I am no different," he said.
Back at last night's weigh-in, there were green jerseys and tricolours on display in the stands and chants of 'olé olé' filled the arena.
A promotional video playing on big screens at the event included clips from news reports of McGregor's previous court appearances.
Fans are starting to gather here in Las Vegas ahead of the pre-fight weigh-in for the return of @TheNotoriousMMA #ConorMcGregor to @ufc. #UFC246 @rtenews @RTEsport pic.twitter.com/dL4w3XbB6a

— Brian O'Donovan (@BrianOD_News) January 17, 2020
One Irish fan told me McGregor was a legend and when I asked about his legal troubles he replied: "we all make mistakes."
Another Irish man said that despite the controversies, McGregor had achieved wonderful things.
"I think we might have seen the worst of Conor McGregor but I don't think we've seen the best of him yet," he said.
McGregor returns to the octagon, reports @BrianOD_News in Las Vegas #rtesport pic.twitter.com/b7Gya7DFqZ

— RTÉ Sport (@RTEsport) January 18, 2020