Conor McGregor's coach John Kavanagh has said that a trash talking persona is integral to his fighter's personality and will never not be part of the build up to any of his fights.
McGregor suffered his second career defeat in the UFC in the early hours of Sunday morning Irish time when he was defeated by Khabib Nurmagomedov.
Speaking on the Joe Rogan Experience podcast, Kavanagh addressed McGregor's divisive persona and said it was fundamental to his personality.
"He's never going to not be him. That's a side of his personality. It's a dividing line. My parents are not mad about it. But kids in my gym love it!
"Conor's never not going to do that.
"In Dublin, where he's from, there was always that guy in the class that was just a sharp wit. He had the quick reply. And from the moment I met him, he was just that guy. You can't make a tiny mistake around him or he'll make you feel stupid. I've been on the end of it.
"But I remember that guy in school and it just so happens that he has a lethal left hand on top of it.
"In the build-up for Diaz 2, he didn't stop. It wasn't like he was there 'oh I hope I don't lose this time...'
"He went in with the same this time."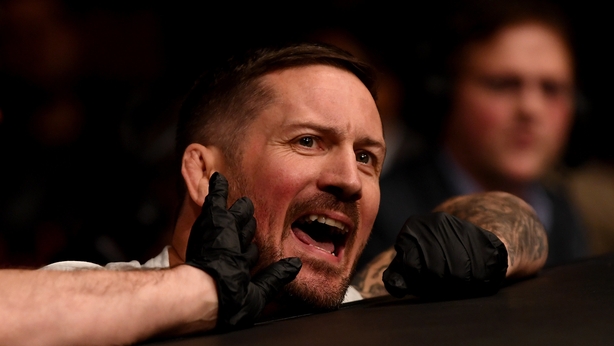 Despite this, Kavanagh said that in McGregor's ideal world, he wouldn't be called upon to participate in a media build-up and would simply fight every weekend.
"In the lead-up to this, he didn't want to do much media or press. And they came to an agreement that it would be done.
"He'd rather do none of it and have no build up.
"Conor's ideal world would be to fight in every UFC every Saturday night. Have a fight on Saturday night. Have a fun night on Sunday night and then get ready for the next fight.
"He loves fighting. Why else would he do it? I've scratched my head about this. If I had that money, d'you think I'd get into a cage with Khabib? No, thank you!"
Kavanagh said he believed the next step for McGregor would be a re-match with Nurmagomedov.
"I won't pretend to understand the business side of this. I only deal with what's put in front of me. I think it will be the Khabib rematch. I think it will be that.
"Now, I'll be getting torn apart on Twitter with people saying he doesn't deserve it but I'm only saying what I think. But that's what I see him (McGregor) talking about so that's where my mind is."