Conor McGregor is being sued by Michael Chiesa over a violent incident at a New York arena.
The Irish fighter is accused of causing the American mixed martial artist physical and psychological harm when he hurled a metal dolly at the window of a bus at the Barclays Centre in Brooklyn.
Chiesa, who said he was pulled from UFC 223 after the incident, claims he has suffered financial damage as a result of the fracas and it has affected his future earnings.
The size of damages being sought has not been disclosed, although his lawyers say it "exceeds the jurisdictional limits of all lower courts".
McGregor pleaded guilty to disorderly conduct over the April 5 incident, but avoided going to jail after striking a deal with prosecutors.
According to papers filed at the Kings County Supreme Court in Brooklyn, Chiesa was injured when the dolly was thrown at the window of a bus carrying him and a number of others following a UFC 223 press conference.
They say Chiesa [pictured below] as a result was "rendered sick, sore, lame and disabled; that he has experienced pain, suffering and a loss of enjoyment of life and will experience same in future".
The document lists claims for damages for negligence, assault, battery and "intentional infliction of emotional distress".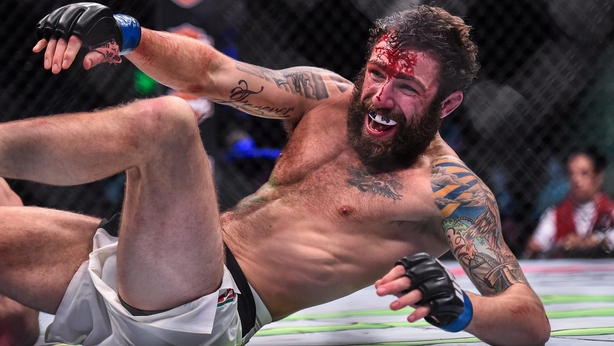 McGregor and his company, McGregor Sports and Entertainment Ltd, are named in the civil action.
The document also lists the Barclays Centre and its owners, BSE Global, as well as a number of employees, as defendants.
It states that the Barclays Centre, BSE Global and the unnamed individuals "owed a duty to (Chiesa) to engage in proper security measures to protect him and other patrons of the subject location and failed to do the same".
"The injuries sustained by (Chiesa) were caused by and due to the negligence, carelessness and recklessness of the (defendants)," the papers sate.
McGregor has not commented on the civil action, although he said he regretted his actions after pleading guilty to the criminal charge of disorderly conduct in July.
The Irishman is due to make his return to the UFC octagon in October after a near two-year hiatus.
He will fight Russia's Khabib Nurmagomedov in a headline clash at UFC 229 in Las Vegas.
Nurmagomedov took McGregor's 155lb title in April, with the Irishman stripped of it due to inactivity.