Irish fighter Joe Duffy is looking forward to a thrilling clash of styles when his compatriot Conor McGregor pits his striking skills against the wrestling of Russian Khabib Nurmagomedov in their UFC lightweight title showdown in October.
Knockout artist McGregor won the lightweight title back in November 2016 to become the first man to hold two UFC belts at the same time, but he was stripped of both without ever mounting a defence.
The fight against 29-year-old Russian Nurmagomedov in Las Vegas is his first attempt to reclaim either title and Duffy, who competes in the same stacked lightweight division, is expecting a classic encounter.
"What makes this fight most intriguing is that you're looking at probably the best wrestler in the whole of the UFC against the best striker in the whole of the UFC," he said.
"That's the beauty of it. They're both going to be looking at each other's strengths and training specifically for them. I think it's going to be a great fight and that we'll see that the one with the best preparation wins."
Duffy, who is targeting a December comeback following shoulder surgery, is one of only three pro MMA fighters to defeat McGregor, scoring a submission win in the Cage Warriors promotion before the pair moved on to the UFC.
Famed for his ground game, Nurmagomedov would seem to be favoured by the fact that all of McGregor's losses have been by submission, but Duffy says that his fellow 30-year-old's style poses a serious threat to the unbeaten Nurmagomedov.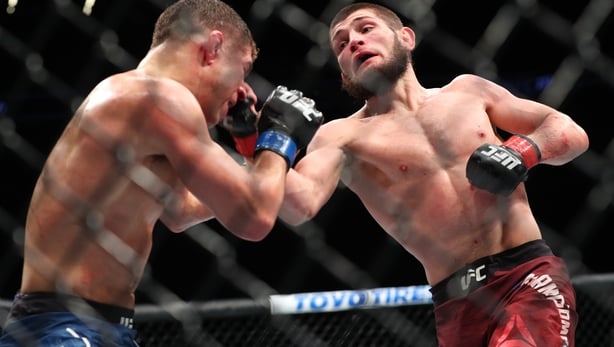 "Khabib had problems against a southpaw before, it's not as easy to use the shoulder roll [to defend punches] against them," he said.
McGregor eschewed title defences in the UFC in favour of a lucrative boxing match against Floyd Mayweather in Las Vegas last August that raised his profile and earned him millions of dollars, despite ending in defeat.
He now returns to the UFC 155-pound division, which is a shark tank of dangerous fighters such as Tony Ferguson and Dustin Poirier.
"It has almost always been the most competitive division. Of the top 50 guys, any one of them could beat the other on any given night. That's the level we're competing at," added Duffy.
"If Khabib wins he's going to want to defend the title, a fight against Dustin is probably imminent, and people will want to see him fight Tony too.
"If he wins those two fights, it probably solidifies him as the greatest lightweight of all time. But if Conor was to win, it would cement his legacy and it's all down to what his next move is. That's the thing with Conor though - you never know what he's going to do."