Britain's first and only UFC champion, Michael Bisping, has announced his retirement from mixed martial arts.
Bisping made history in June 2016 by wrenching the UFC middleweight crown from Luke Rockhold with a stunning first-round knockout in an upset victory after being given only 17 days' notice.
He made one defence of the belt, overcoming Dan Henderson by decision, before being beaten by Georges St-Pierre last November while he was brutally knocked out by Kelvin Gastelum in the same month.
The loss to Gastelum proved to be the final bout for Bisping, who said on his 'Believe You Me' podcast: "I've teased this for a long time now - I might fight again, I might not - and unfortunately it's not a fight that I'm announcing, I am going to announce my official retirement from mixed martial arts.
"It's been a long journey. I started training in 2003 so 15 years as a professional fighter and 12 or 13 years in the UFC. You can't do it forever, I've done it for a long time."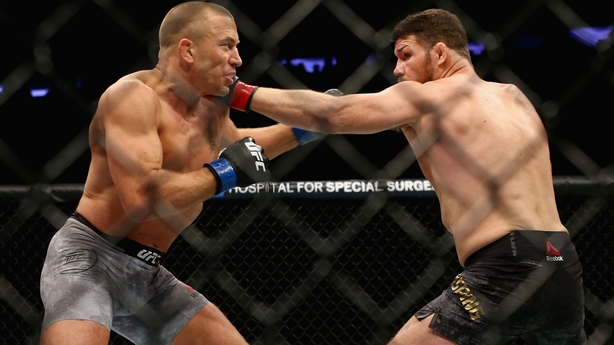 Nicknamed 'The Count', Bisping finishes with a record of 30 victories and nine defeats in MMA and holds the joint records for the most UFC fights (29) and wins in the company (20).
One of those victories came against Anderson Silva, widely regarded as one of the all-time great fighters, and put him in pole position to face Rockhold after Chris Weidman pulled out due to injury.
Despite the late notice, Bisping avenged an earlier defeat to Rockhold in a career highlight.
The 39-year-old held out hope of one final homecoming bout in London but admitted his decision to walk away was in part due to issues with both eyes.
He suffered a detached retina in his right eye five years ago which required surgery and revealed problems surfaced in his left eye after his setback against Gastelum.
Bisping added: "After the Gastelum fight, I started having issues with my good eye. I said I was going to be done fighting then - but then I did contemplate another fight.
"I was negotiating with the UFC to fight Rashad Evans in London which is probably a good thing that that never happened.
"It ain't worth it. I mean, what else am I going to do? I've won the belt, I've had tons of wins, I've done everything I set out to achieve, what's the point?
"You've got to know when to walk away. I'm almost 40 years old and the time is now."