Conor McGregor's next goal is to build a financial empire and eclipse Real Madrid icon Cristiano Ronaldo to become the highest-paid athlete in the world.
The 29-year-old UFC lightweight champion has spoken of his ambition ahead of the premiere of "Notorious", a documentary film charting his rise to the face of one the world's fastest-growing sports.
In the film, McGregor makes no secret of the dreams that drove him to become a two-weight UFC champion and fight unbeaten boxing great Floyd Mayweather in front of an audience of millions, but his current aims are more banking than sporting.
"You know, I just dream of hitting that 'billy' mark, if I'm being honest," he told Reuters. "I'm cruising toward that billion-dollar mark."
McGregor wants to top the Forbes 100 list of the world's highest-paid athletes through a combination of new business ventures such as tailored suits and "Notorious" brand whiskey plus fight purses, pay-per-view and sponsorship revenue.
"Ronaldo was number one last year, I was number 24, with $34 million in revenue," McGregor said, adding that he pocketed $140 million from his 10th round technical knockout defeat by Mayweather in their boxing match in August.
"Next year, if it stands as is, Floyd will be number one, I'll be number two, and Ronaldo will be number three (on the Forbes list). If I fight one or two more times I will overtake him (Mayweather)," added McGregor.
"So that's what my goal is right now - number one, highest-paid athlete Forbes 2018, make my way towards the billion-dollar mark, and then continue to go."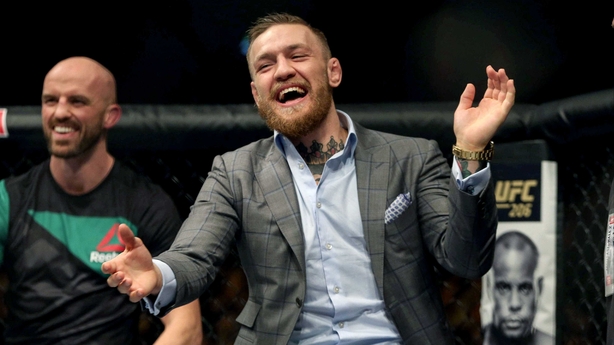 McGregor said he will be looking to co-promote future fights with the UFC as well as getting a stake in the company -- an unprecedented situation for an organisation that tends to steer its roster of fighters with an iron fist.
"It is certainly something I will seek. I will seek equity in the company, I will seek to be a part of the company... it makes sense from all angles, but we'll see. We're in the negotiations stage."
The 29-year-old, who hasn't fought in the octagon since beating Eddie Alvarez to claim the UFC lightweight title a year ago, enthused about rapper P Diddy's business ventures and outlined his own plans to build a similar financial empire.
"You know P Diddy doesn't even make music? $750 million he's worth. Highest-paid celebrity, highest-paid rapper, multiple years in a row. He doesn't even make music, he makes vodka. We're following this formula," he said.
It's a far cry from the spartan conditions shown in the early part of the film as McGregor embarks on his fighting career, training in a run-down gym and fighting on local cards to make a name for himself.
"The world I was in then to the world I'm in now, it's alien to me. It's just a completely different ball game. It took me back, it almost humbled me," he said.
"(But) I'm just the same person. As far as everything else, there's a lot around me that has changed. But me? I'm the same person. I'm cocky, I'm arrogant but I'm hard-working, I'm humble. I'm a mix of things," he said.
McGregor, who has come in for plenty of criticism for his public use of racist and misogynistic language while promoting his fights, apologised for his recent use of a homophobic slur backstage at a UFC event in Poland.
"I must remember constantly that I am a role model to kids, I am an athlete, I am a man, I have a son, but I'm 29, I'm only a kid myself and I'm trying to figure it all out," he said.
Displaying a humility he is not usually known for, McGregor said he is not upset by the criticism or the scrutiny.
"Who would I be to complain about that? People have real problems. People wake up every day cold, there are people sleeping on the street, people starving, and you hear famous people complaining about this?
"Life is good for me. So what if I'm scrutinised or thrown under the bus a few times a week? I'm truly, truly blessed to be in the position I'm in and there's not a day goes by that I don't wake up and thank my lucky, lucky stars," he said.
"Notorious" is in selected cinemas in Ireland before being made available on DVD and for download on 20 November.