Joe Duffy rushes in to the warm sanctuary of Tristar Gym and tries to shake off the cold. But on a frigid March morning in Montreal, this kind of cold is hard shook.
Outside, the mercury was dipping down towards minus 19c, snow squalling around Rue Ferrier in the north inner city. Here, in the shadow of the volcanic hilltop of Mont Royal which gave Canada's second city its title, is where Duffy drops his gym bag these days. The son of Donegal, by way of the Welsh valleys, has gloves and will travel.
But tomorrow at UFC Fight Night in London, the 29-year-old mixed martial artist ventures into less chartered territory. Duffy faces Reza Madadi in a lightweight contest that will headline the undercard at the O2 Arena. That much he knows. After that? Who knows.
"It's weird. When I was a teenager, I always dreamed of the UFC," Duffy told RTÉ in Canada before his departure across the Atlantic.
"That's what you're dreaming of. I always knew I'd make it, it was only a matter of time. But when you get there, it's only then you realise what all is going on behind the scenes, how much more there is to it. Whatever way it all pans out, it pans out. There is no disappointment, the tide goes out you have to go out with the tide."
Maritime analogies are to be expected from the seafarer's son. Despite his life's journeys (he was raised in Ebbw Vale), when he references 'home', he means the fishing village of Burtonport. Later, when pressed on what he misses most about that same home, Duffy will say family and friends…and the sea.
In London this weekend though he's in danger of finding himself unmoored. The bout with veteran Madadi is the last on his contract with the UFC. Negotiations on a new deal started but never finished. Having stormed into the world's biggest MMA organisation on the crest of an Irish wave two years ago, Duffy could now be headed out to test the waters of free agency.
"The way it's gone lately, the UFC seem to be going into the entertainment industry, into that flashier side of things," says Duffy, signed up on the back of his exploits in the Cagewarriors promotion in 2015, a time when Conor McGregor was still merely the UFC's hottest prospect and Duffy was still the only pro to have defeated the Dubliner. "They seem to want guys who are going to talk more. I'm just going to do it my way, I'm going to be me.
"Hopefully the UFC would look at that and see it as an asset, rather than a hindrance. A lot of the Irish roster has thinned out on them but I don't know [if that helps me]. It's all down to how attractive the Irish market is to them."
#UFCLondon: @tristargym's @Duffy_MMA gunning for a finish
?? https://t.co/CCTNe5B5KJ pic.twitter.com/Co9CNp6m9o

— UFC Canada (@UFC_CA) March 15, 2017
Duffy is far from alone in wondering where the UFC is headed. The organisation changed hands for a record $4 billion last summer and it's still hard to tell what way the winds of change are blowing. With the status of their two most marketable assets - McGregor and Ronda Rousey - scattered up in the air, Dana White and the new regime have left a chunk of the roster floating.
But in close confines, Duffy finds positive signs. Tristar is a storied combat sports academy because it's the home of Georges St-Pierre. MMA's original superstar dominated the UFC at a time when McGregor was still a reluctant plumber with an tattoo-free chest. St-Pierre had been absent for over three years but has agreed to return to the fold.
The Canadian icon's status was earned largely through combat and character, with no room for caricature.
As St-Pierre's stablemate, Duffy could also be seen as an anti-McGregor. While the Notorious one peppers social media feeds with pictures of himself draped over another supercar, Duffy borrowed his girlfriend's runaround for the spin over to the gym on this morning.
"I think there is something in [being the anti-McGregor]," he says. "Whenever you look at fights, they're always pushing a goodie and a baddie. But [being normal] was Georges' character and people loved him. That's why he sold so well, he was himself. With the opposite of that, the baddie, people are going to love it and some people are going to hate it. I think there's only so much road you can go down though.
"It's about honesty, which is a big thing right now. When you're not honest, I think people see straight through. And I think it's happened more since Conor has come along. Others have seen his success and tried to copy that but look, a lot of people see straight through that."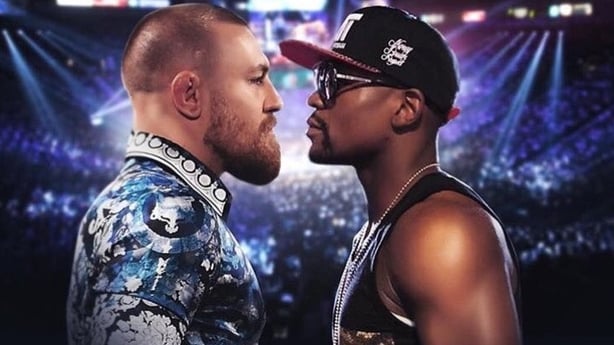 As someone who switched from MMA to boxing with great success - going 7-0 as a pro in the ring before turning his attention back to the octagon in 2013 - Duffy is better placed than most to judge the merits or otherwise of the cartoon clash of McGregor and Floyd Mayweather that inches interminably closer.
He says he'd "be surprised" if it does come to pass but "from McGregor's point of view, it's the perfect situation. He has nothing to lose."
Even out of context, that last word is not one that emanates easily from Duffy's lips. Tomorrow in London he will look to run his UFC record to 4-1. It's the '1' that will be driving him on.
His only defeat came to Dustin Poirier last year in a thrilling Las Vegas contest that was originally to have been a headline homecoming bout in Dublin months earlier, but Duffy suffered a concussion in training. Although he bounced back with a sizzling victory last time out, the feeling of that Vegas night still motivates him.
"Alien is the perfect word for it. Since I was a teenager, everything seemed to click for me. From about 13 on, most competitions I would enter I would win. You get into a pattern, a norm, that you just don't really think you're going to lose any more," Duffy says as he straps up his hands for the sparring that was about to come. "The feeling after the Poirier fight…I remember being in the elevator at the hotel [later that night] — as fresh now as the day it happened — and someone seen my eye and said 'oh what happened to you?'
"I had to explain I was [a UFC fighter]. And their next question was 'oh, how did you get on?' And I remember the feeling of getting the words out — 'I lost'. Just saying it, I hated it. I hated those two words — 'I lost'. It's so rare, in the last ten, even 15 years, that I had to say 'I lost'. They got stuck in my throat.
"That was the thing in my last camp, how much that was in my head, those words. I would say it to myself every session, sweating it out, every workout. I didn't want to have to ever say those words again."
Unknown territory may be on the horizon but for now another such session beckons and Duffy lifts his well-travelled gym bag. Just visible inside are his boxing gloves - green and gold. You can take the boy out of Donegal…