Eamon Dunphy has shared his admiration for Conor McGregor and urged the Dubliner not to squander whatever cash he earns in the octagon. 
McGregor breezed to a spectacular victory at Madison Square Garden in the wee hours of Sunday morning, swatting aside the challenge of Eddie Alvarez to become the first fighter in UFC history to hold belts over two divisions simultaneously.
The 28-year-old's dominance of the sport has reached such a level that in the wake of his win McGregor was making calls for a share of the entire organisation.
While Dunphy has mixed feelings about the brutal nature of MMA, he has been charmed by the Notorious's rise to the top.
"I admire his, what do they call it, chutzpah!" Dunphy told Today With Sean O'Rourke.
"I admire what he's done, where he's come from and the way he celebrates it. I watched one of his fights and it wasn't my thing. It's very, very dangerous, very tough, and quite nasty at times.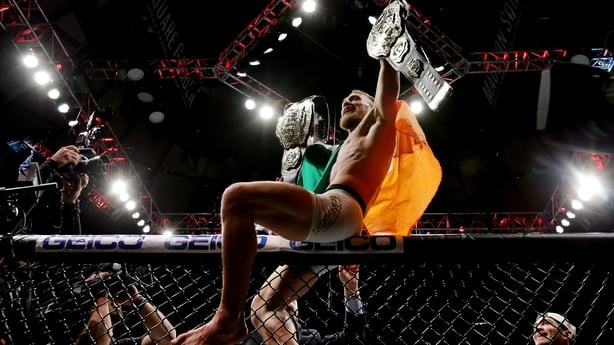 "It's hugely popular among young people. I'm not knocking it for the sake of knocking it, it's just a level of violence that I think is inappropriate for a sport."
McGregor has vowed to take his time out before making his next move - he's expecting his first child in the new year.
Life in such a mercilessly combative sport has its pitfalls, and Dunphy urged his compatriot to make sure he quits while he's ahead. 
"I hope he gets his readies and keeps them because so many boxers have ended up down and out, people who are in that position in a sport that is tough and takes its toll."