Conor McGregor has flatly denied he is considering a career break and vowed to "break" Eddie Alvarez at UFC 205.
The featherweight champion will challenge Alvarez (28-4) for the lightweight belt in his bid to become the first fighter to hold two UFC titles at the same time.
It had been reported in the Irish Mirror that the 28-year-old could walk away from the sport but, speaking ahead of his fight with Alvarez on 12 November, McGregor insisted he isn't going anywhere.
"Look, stay tuned to what I'm announcing but, don't be listening to people like that," he said. "People like that know nothing about what is going on here. I'll reveal all in time.
"Of course I love it. I don't stop. It's all I do. I continue to show up, I continue to fight, I continue to put on these amazing events for these amazing fans of this sport.
"Of course I love what I do and not only am I not getting tired of it, I'm actually getting better at it."
McGregor is adamant that he will end Alvarez's career when the two clash, though he did admit that he respected the 32-year-old's tenacity in the Octagon.
In a typically bullish conference call, McGregor said that Alvarez wouldn't cope with the challenge as the American has never faced a competitor of his calibre.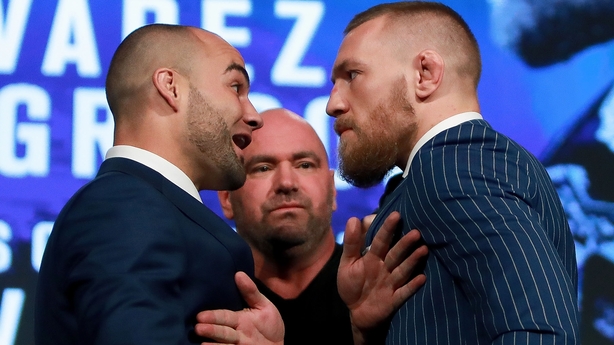 "I'm looking forward to going in. He's claiming it's an easier contest," he said.
"I look forward to seeing the eyes, when the eyes roll, and the electric shock darts through his whole body and goes to his knees. And then he comes up in survival mode, and that panic sets through his whole body, his whole face.
"His wife and kids will never recognise him again"
"That's something I'm looking forward to, and I will go out there and I will punish him for that, for those words that he's saying. I'm going to retire him on this night.
"I'm going to hurt you badly. I'm going to rip you up badly, I swear to God. I'm going to toy with this man. I'm going to really, truly rearrange his facial structure.
"His wife and kids will never recognise him again. His friends and the people that he knows will know that he's not the same man after this contest. So he's going to be in a shock when he sees that."
"I'm just going to butcher him and punish him and not let him out of there.
Alvarez has suggested that "The Notorious" is vulnerable if a fight goes the distance, something that was observed by others prior to his defeat of Nate Diaz at UFC 196.
McGregor, though, rejected those claims and says he has become a stronger, more durable fighter.
"I'm swinging in the fifth round. I'm pushing now in the fifth round," McGregor said.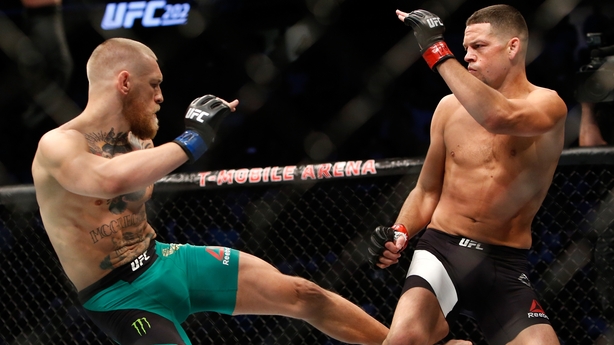 "I've gone to that next level on this. I've been very focused on my cardiovascular endurance and my weight management and my nutrition.
"Now my body mass has come down, I'm leaner at 155, and my VO2 max has gone through the roof. My resting heart-rate is extremely low, so I'm ready. I hope he is, because he's talking like he can outlast me over 25 minutes.
"But it's a long 25 minutes in there against a guy who can strike you from any angle, from any position.
"I've ended fights from everywhere. Everywhere, I've finished fights. So good luck to him."