By Joe Callaghan in Las Vegas
Conor McGregor insisted he has erased all doubts about his place in the world of combat sports after bouncing back from the darkest night of his career.
The Dubliner emerged from the most gruelling fight in recent mixed martial arts history, narrowly seeing off Nate Diaz in a barnstorming battle of wills in Las Vegas earlier this morning.
It was sweet, sweet revenge for McGregor after seeing his perfect UFC record ripped up when he surrendered to Diaz back in March.
"I don't care what anyone says, I brought this game to another level. They can deny that all they want, but I did," McGregor said in his post-fight press conference.
"They said I was done and it certainly lit a fire under me. Every single person doubted me. Every single fighter doubted me. Doubt me now."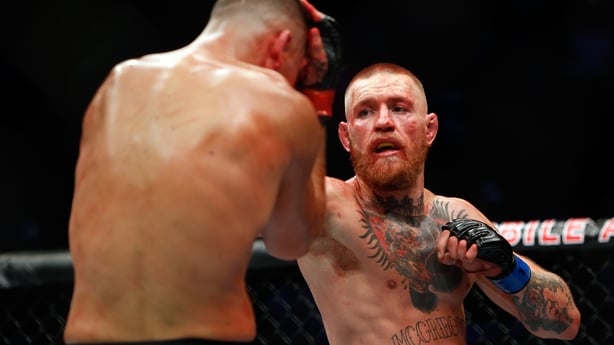 The doubts had been there after the nature of McGregor's maiden UFC loss earlier this year. He walked straight into the Diaz propellers that night before being ultimately beaten on the ground.
On this very different night, however, he had learned so many lessons.
"I cracked him, I mean three times I think I dropped him, yeah?" McGregor said of his three punishing knockdowns in the space of the first two rounds before Diaz roared back and the pair went toe-to-toe to the very last.
"I could have went in there and pressed. But I was patient, I learned that lesson. I just had to be patient, not fall into my shots, not rush. I anticipated him to be there for the full five rounds and he was. The game plan worked well. [Coach] John Kavanagh's book is in stores now - Win Or Learn. We learned this time."
McGregor hobbled into the post-fight press conference on crutches with fears that he had broken his foot or even torn his cruciate. He insisted it was only deep damage to his shin, but the effects of this truly brutal bout were clear on his face.
"It was a hell of a fight. He's a hell of a competitor. The whole lot of it brought out the best in me, forced me to look at myself truly," said McGregor.
"It was not easy, It was a war. I got to show my heart in there. I took it to him and stayed in it and got the win so, I'm very happy."
Diaz had enjoyed a career night in a UFC life that has not always been kind during his stunning submission of the then undefeated McGregor in March.
It might not have felt like it when he lost by the narrowest of margins, but this classic added even more to his reputation.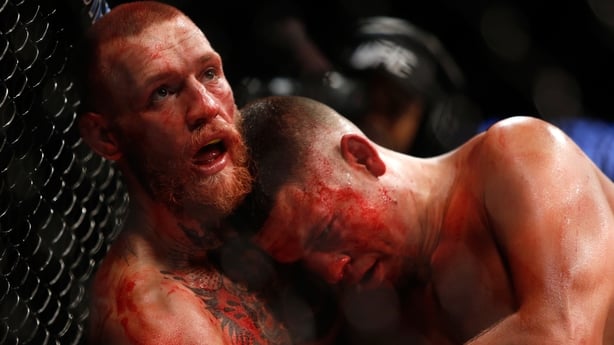 Having been told he needed to win the fifth round by his corner, he did exactly that with a takedown at the death. It had been just too little, too late. Still, when the bell sounded, he reached down and picked McGregor off the canvass in a stirring show of sportsmanship.
"The fight was over. We just fought 25 minutes. He tried, I tried to take each other out and it didn't get done," said the Californian.
"It's like, 'Hey man, until next time, it's all good, until we're set to go again it's all good'. What do you want to me to do - keep kicking the guy while he was down. It's all good, the fight was over."
Diaz insisted his next outing will only be a rubber match against McGregor.
"Whenever. Whenever they're ready to rock," he added. "I'm not doing shit until round three. You're not going to see me until then. If they want to set it up as soon as possible, let's do it. We'll see what happens."
McGregor will take his time before committing to his next move but he is adamant he will, sooner or later, give the people what they want - a rubber match with Diaz.
"I'm going to go down in weight," he insisted on another record-breaking night when he set a new mark for a base UFC purse with $3 million, a payday that is likely to pass eight figures when pay-per-view dollars roll in.
"I'm the 145 champion. The 155 pound [championship] is there. When I fight Nate again, it will be at 155lbs. It will be on my terms
"We'll see...we've got a lot to talk about, but I'm in a beautiful, beautiful position now and that was built on hard work, and I'm going to capitalize on that."