Ari Emanuel stood and looked out on the assembled hordes, the master of all he surveys.
So...this is what $4bn buys you.
Emanuel is a talent agent turned entertainment impresario and the real-life inspiration for Ari Gold, the character so brilliantly brought to life on both small and big screens by Jeremy Piven in Entourage.
While the Hollywood version of himself operates on the precipice of mania, Emanuel looked cool, a whole lot more collected, on his UFC unveiling at the MGM Grand on Friday afternoon, in spite of the mayhem erupting all around him.
As the primary owner of WME-IMG, Emanuel was catapulted to more prominence, in the sporting world at least, when his agency won a frenzied bidding war for the world's leading mixed martial arts organisation this summer.
He had already taken over from Lorenzo Fertitta as UFC owner this month.
However, Friday's ceremonial weigh-ins for UFC 202 was the first time he has taken centre stage since spearheading the biggest splurge in sports business history. And that was significant.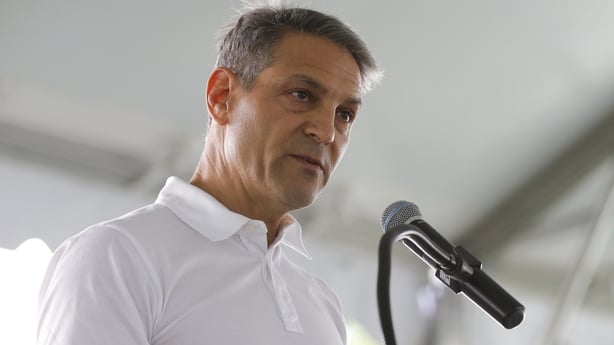 Emanuel chose to check-in just when Conor McGregor delivered another riotous pre-fight get-together on the Las Vegas Strip.
This one though was the most unlikely.
All week, the absence of any visible Irish presence only added to the suspicion that UFC 202 was one Sin City showdown too many in the space of just 13 months for the Dubliner.
McGregor meets Nate Diaz for a rescheduled rematch that, in the stifling heat of late summer here in the desert, has struggled to find as much air as its startling first instalment in March.
Back then the veteran Californian stripped the 'Notorious' one of momentum, and hype, and invincibility, and plenty more in a bout that broke all UFC pay-per-view records.
Those historic marks seemed secure this week as the rematch dubbed 'Bad Blood' didn't appear to be stirring the soul to the same degree, the farcical bust-up between the respective camps at Wednesday's press conference grabbing plenty of headlines, but not putting many more bums on seats as ticket sales remained sluggish.
And then something strange happened.
HERE WE GO!!!!! #UFC202@NateDiaz209 vs @TheNotoriousMMA 2 https://t.co/P6pGO4OQyv

— #UFC202 (@ufc) August 19, 2016
Not quite a mirage out of the Mojave, but hundreds, and possibly thousands of Irish fans materialised and suddenly pitched up in Las Vegas on Friday afternoon.
They hadn't crossed the Atlantic but had come from cities on the West Coast, with the overwhelming majority of the late arrivals students enjoying their J1 summers Stateside.
It wasn't an invasion nearly on the levels of his title-winning weeks here last July and December, when he claimed belts against Chad Mendes and then Jose Aldo Jr,  But it was a surprise - and a pleasant one - for McGregor, his employers and in particular his new boss.
Emanuel looked to be savouring every moment as McGregor and Diaz stepped on to the ceremonial scales, having already officially weighed in earlier in the day.
Predictably, given their fierce recent history and Wednesday's chaotic scenes, thing got heated on stage at the MGM Grand's cavernous convention centre when Diaz and McGregor were brought together for a final face-off.
Four burly Las Vegas police officers helped to just about keep the peace, the one who held McGregor back earning a thankful pat on the shoulder from the new owner.
Yet, just over 24 hours later, there will be nobody to protect Emanuel's $4 billion baby once the cage door closes on McGregor and Diaz at the T-Mobile Arena.
The UFC's most marketable asset continues on his own personal crusade here, bidding to right the wrong he walked into earlier this year when he brought Nate Diaz off a beach on less than two weeks notice for a fight that was two rungs above the featherweight division he had bulldozed in unprecedented fashion in the previous two years.
"It's something that's part of the game," McGregor said this week of dealing with the first loss of his UFC tenure.
"You've just got to take it. It ain't nice. The highs are very, very high, and the lows are low. But you suck it up, break it down in to what went wrong, and correct the mistakes."
To that end, McGregor and his coach John Kavanagh have been immersed in an intensive pre-fight camp in the desert for well over a month now.
'The Notorious' revealed that he has spent over $300,000 on the camp, which has focused particularly on his striking skills and his ground game. Neither had been nearly as effective at welterweight against Diaz in March when the veteran took everything his younger rival could throw at him before turning the tide and submitting McGregor.
For all the physical readjustments, there remains a suspicion that mentally, McGregor is still playing catch-up, unable to grind down Diaz like those who came before.
The Californian and his fellow fighting brother Nick have ratcheted up the pressure on the 28-year-old, who more than anything has cut an angry figure in the build-up. 
That can go one of two ways. The anger needs to be channelled correctly tonight.
You sense it will take a particularly perfect shot for McGregor to fulfil his prediction of knocking out a rival, who has suffered only one KO in his long fighting life. McGregor's most glaring error in their first meeting was the fact that he looked a fighter obsessed with a knockout, swinging himself into a stupor.
Energy needs to be utilised better this time round. If instead things go longer and both fighters are dragged into deeper waters, Diaz's primary advantages - height, reach, weight, experience, durability even - could again count for plenty.
"He should have killed me when he had the chance," McGregor roared to the approval of the recent arrivals on Friday. "Now I'm back...I'm going to kill you and all your team."
Diaz responded in typical fashion.
"He's already dead from the last time," said the 31-year-old, slightest of favourites with the Vegas sports books. "This is a new guy so it's kill or be killed again."
He may not break his own records tonight at the T-Mobile Arena, but how this one plays out could go a long way to deciding McGregor's place in this new $4 billion empire. Emanuel had better strap himself in.