(*Warning: contains strong language*)
Fines and bans may be hanging over him, but Conor McGregor kept on keeping on in Las Vegas on Thursday afternoon, insisting that he had acted in self-defence in the chaotic press-conference skirmish between the Irish fighter and Nate Diaz's respective camps at the MGM Grand the day before. 
While McGregor was busy promising to avenge the first defeat of his UFC career with knockout of Diaz this weekend, sources in the organisation confirmed that both fighters' wider entourages have been banned from all UFC 202 activities.
Later on Thursday afternoon the promotion's president also revealed that he expects Saturday's headline duo to face significant action over the farcical furore when Diaz and his camp staged a walkout that quickly descended into an exchange of airborne water bottles and cans of energy drinks. 
"I was in fear of my life yesterday. Bottles were flying, I was ducking."
After a low-key workout at the Red Rock Casino with his coach John Kavanagh on Thursday afternoon, McGregor took aim at both Diaz and his elder brother Nick in a brief but blistering rant.
He also again insisted that he was not the aggressor but was acting on the defensive when he hurled two full aluminium cans from the stage at the Diaz camp the day before.
"Like I said I was in fear of my life yesterday. Bottles were flying, I was ducking," he said in front of a raucous but significantly smaller crowd than previous pre-fight public workouts as the Dubliner's fourth Sin City bout in the space of little over a year struggles to match the hype of the previous three.
"It was just self-defence on my part. I dunno [about fines] I was afraid for my life. I just got the f**k out of there, got my head down and kept running. That's it."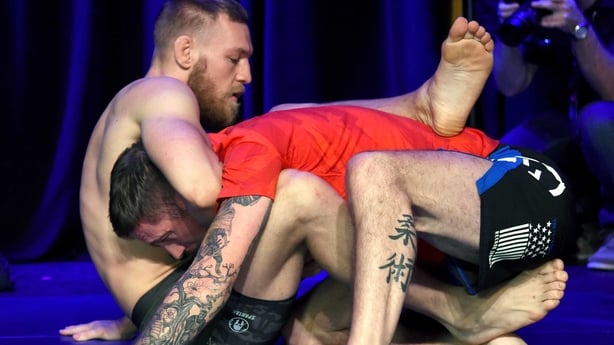 UFC president Dana White said that he expected both fighters to be hit with huge fines by the Nevada State Athletic Commission once the dust finally settles in the desert.
It's unlikely that any sanctions will be handed down before the pair face off at the T-Mobile Arena but action could be on the way soon after.
"They're both getting punished," White said in an interview Thursday afternoon. "I guarantee you both of these guys are going to get massive fines and there's probably going to be a hearing, too, after the fight.
"There could be suspensions, community service. It's going to be ugly."
Things haven't been pretty of late for McGregor. He has sold himself as the master of mind games but has continually been visibly irritated by both Diaz brothers in the lead-up to this rematch.
"It's a big fight, it always was. We came here ready for war."
He again took aim at the pair on Thursday, opening his offerings with expletives. "F*** the Diaz brothers. F** those cockroaches," said the featherweight champion, again moving up to welterweight for this bout.
"It's a big fight, it always was. We came here ready for war, not ready to throw little b***h bottles and go running. We're here ready to fight so let's go.
"Listen, that fairytale he's after having is coming to an end. Those little fans giving him this invincible feeling that he can't be knocked out... he can be knocked out and he will be knocked out."
McGregor had been midway through answering a question on the potential effect of a second successive defeat on his legacy when Diaz and his entourage staged their press-conference walkout.
When queried again on that issue on Thursday, he quickly fired back. "My legacy is set in stone," insisted the 28-year-old.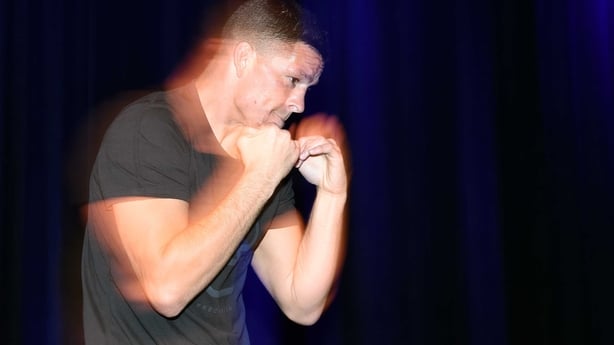 "It was set in stone when Jose crumbled in 13 seconds. This is just something else, outside of it. This is just a straight fight. I'm happy with that because that's what I came here for. I came for a straight fight."
For his part Diaz, who inflicted the first defeat of McGregor's UFC tenure on the Dubliner in March's first instalment, expressed little regrets over the unedifying scene the day before.
"I'm here as a businessman, to do what I do. We're all in the business and I want to behave myself and come out here and act right," said the veteran, who appeared to have thrown the first bottle in Wednesday's mini-riot at the David Copperfield Theatre.
"But I've got to keep it real... not even keep it real, but stay true to myself and what I believe in. And I believe the motherf***er came in with his team acting like a head honcho, s**t, I've got a whole gang ready to ride.
"They came in like [they owned] it but we got a whole army here."