What a difference three months can make. For Conor McGregor, what a difference 25 pounds was to make. 
The last time the Dubliner took to a post-fight press conference stage here at the MGM Grand, he was toasting 13 seconds that sent his career hurtling into even greater orbit. That was December. This was March.
And all was changed utterly as Saturday turned to Sunday in Sin City.
McGregor was humble, magnanimous in the wake of the first defeat of his UFC career. How could he be anything but? Having tapped out to Nate Diaz, who had taken the headline welterweight fight of UFC 196 on less than two weeks' notice, there were no hiding places in the desert. 
"It's a bitter pill to swallow," said a downcast McGregor afterwards, a fellow vanquished champion, Holly Holm, sitting alongside him.
"I took a shot and went at it. I was simply inefficient with my energy. Nate took [my shots] very well. The weight helped him take those shots. I was inefficient with my energy. I made errors. 
"His range was a factor, my left hand was falling short. My wheel kicks missed and that did more to my energy than his. It was a battle of energy in there and he won. He went into autopilot and I went into panic mode. 
"This is the game. I am happy to have come out and continue and stay in this fight. It didn't pay off. This is the fight business. It's another day. I will come back."
.@btsport's exclusive interview with @TheNotoriousMMA talking all things #UFC196 and the next stage... https://t.co/73N7wcl11h

— #UFC196 (@btsportufc) 6 March 2016
He had moved up two weight divisions in the space of three months for this one. A planned lightweight title shot had disappeared when Rafael Dos Anjos broke his foot in training.
So McGregor, the featherweight champion after that December KO of Jose Aldo Jr, told the UFC to make this rearranged main event at 170lbs. It was an unprecedented move. As it turned out, it was probably without precedent for a good reason. 
"It is what it is. It was me fighting a heavier man and he could take a hell of a shot. He and Nick [Diaz's elder brother, another gritty UFC veteran] have that style. They can take it. He stayed in my face and capitalised on it. I make no excuses. This is... what it is. I came up short.
"I was connecting with him [in the first round] and his were whizzing past the head. But in the second round he popped me with a left and caught me off balance.
"He got my neck. [I tried to] do similar to the Chad [Mendes fight] where I rolled and came back to my knees. I simply didn't have it in me. There's many lessons to be learned but I'm happy that I will learn and grow and come back."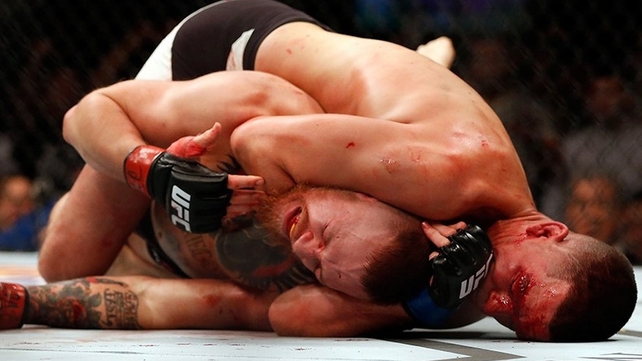 This defeat may have been the first of McGregor's UFC run but it was the third of his career. All three marks on his record have come by submission.
The 27-year-old had spoken in the past how tapping out in his most recent defeat to this six years ago had left him traumatised. He expected that this tap, in front of over 14,000 pairs of eyes in the arena and millions more looking on, was going to hurt even more.
"You're damn right [it will]," he admitted. "It's a tough pill to swallow. We can run from adversity or we can face our adversity head on."
So much trash has McGregor talked as he ascended to the top of the mixed martial arts game that any road bump was always likely to lead to a lot of gloating from those who had been on the receiving end. A host of fighters took to social media to rub salt into McGregor's wounds. 
"I know there's a lot of people celebrating this, celebrating another man's victory. I cannot understand that," said the Dubliner, as he contemplated his next step. "At the end of the day I'm featherweight champion and I feel that it is right to go back down there and to remind them."
Who he ends up reminding remains to be seen. Aldo was quick to jump on Twitter and stake his claim for a shot at the title he had held for so long. "See you at #UFC200," the Brazilian wrote. "Your fairy tale is over. You got nowhere to run now. Time to [sic] a rematch, pussy." 
"Humble in victory, humble in defeat." @TheNotoriousMMA... #UFC196 https://t.co/lvFRyJtMZr

— #UFC196 (@btsportufc) 6 March 2016
McGregor had already seen the salvo when asked about it in the post-fight press conference. He resisted any temptations to rattle back in kind but did point the finger at Aldo for turning down the opportunity to fill in for Dos Anjos.
"He had an opportunity to show up here and he didn't," said McGregor. "He had said any time, any place, anywhere and it wasn't. Now another man gets a victory over me and he celebrates. That's the sign of a loser, the sign of runner-up.
"It's hard not to give Aldo another go but he pulls out a lot, he doesn't show up. At least Frankie [Edgar, the other leading contender should McGregor indeed move back down to 145lbs] gets in there. I'll keep my ear to the ground and I'll listen to what the fans want most."
What won't happen next is a break. McGregor has always looked to stay busy these past two years. But that was when he was busy winning. Losing - more specifically losing all of his momentum - could change that approach.
"I'm still really enjoying it," he insisted. "I'm not tired of it. I still feel UFC 200 is there for me. But I will sit [and think]. I'm not cut, I'm simply heartbroken."